close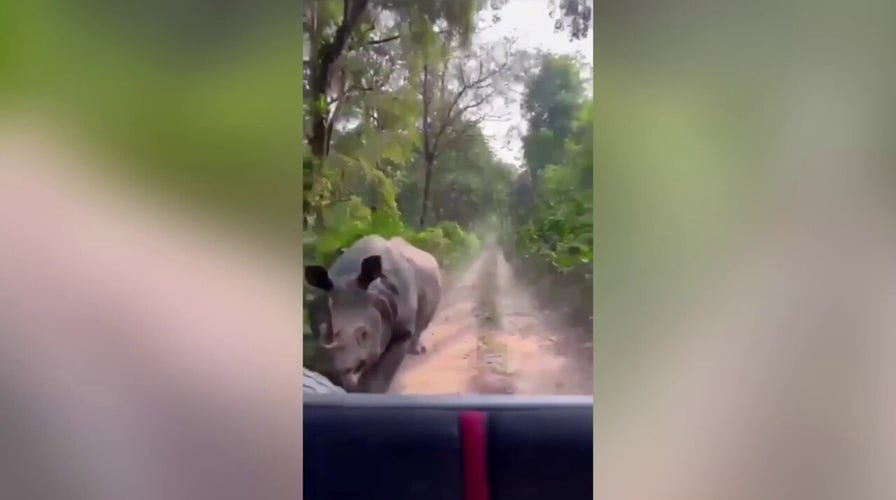 Video
Frightening video of Rhino charging at tourists in Indian national park
Tourists were startled when they were chased by a giant rhino while driving through a national park. The video, filmed on 30th December, shows the moment the rhino began charging at the vehicle. CREDIT: SWNS
Viral videos posted online show rhinos aggressively chasing visitors in India safari parks as the drivers do their best to outrace the beasts.
In the first video, filmed on Dec. 30, 2022, a rhino in the Manas National Park in Assam, India charged at tourists while they were in a forested area. The video starts with tourists in a different car recording the rhino in pursuit before cutting to the very vehicle the rhino is pursuing.
From there, the intense video captures a half minute of what would end up a half-mile pursuit. The tourists can be heard shouting throughout the video, urging the driver to pick up the pace as the rhino remains very close to the vehicle for the duration of the footage.
The rhino eventually grew tired, and the tourists were able to speed away, leaving the animal behind.
CALIFORNIA WHALE WATCHERS EXPERIENCE 'ONCE-IN-A-LIFETIME SIGHTING' OF GRAY WHALE, NEWBORN CALF
The second rhino charge, posted on Twitter on Dec. 31, showed a rhino at the Kaziranga National Park in Assam for charging at tourists for just 45 seconds of a chase that lasted for at least a mile.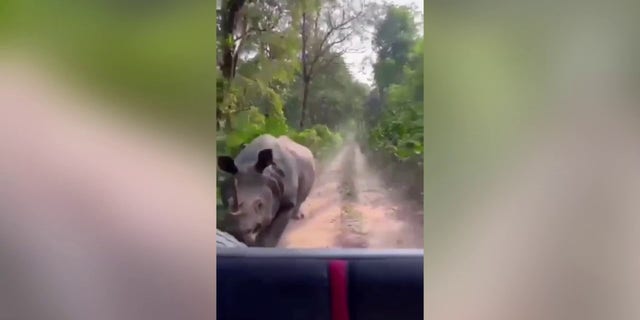 Tourists were startled when they were chased by a giant rhino while driving through a national park. The video, filmed on Dec. 30, shows the moment the rhino began charging at the vehicle.
(CREDIT: SWNS)
The tourists in the second video scream "bhaga" – or "speed up" – throughout the video as they remain in a wild panic. The rhino is farther behind the vehicle at the start but catches up halfway through as the driver appears to have difficulty maintaining top speed.
OVER 6 DOZEN FLORDIA MANATEES SUFFERING FROM STARVATION SENT TO REHABILITATION CENTERS
Press Trust of India reported that three jeeps tried to outrun the rhino, and the rhino actually brushed against the tires of the rear jeep.
Officials at the park reported no injuries among any of the guests despite the clear terror visible on the face of the woman in the video.
SLOTH STRIKES IMPRESSIVE POSE AS ITS BABY SNOOZES ON ITS BELLY
The two parks sit about 150 miles apart and across a river from each other among a number of other wildlife sanctuaries and national parks in India.
Rhinos can aggressively defend their territories, with some guarding up to a square mile of land, according to PBS.
CLICK HERE TO GET THE FOX NEWS APP
Videos of aggressive rhino behavior can occasionally pop up online, such as in February 2022 when a safari guide in South Africa had to shelter in a tree while a rhino tried to get at him. A research group had tranquilized and collared the rhino, but when it woke up it started going after the guide and crew.
Peter Aitken is a Fox News Digital reporter with a focus on national and global news.