close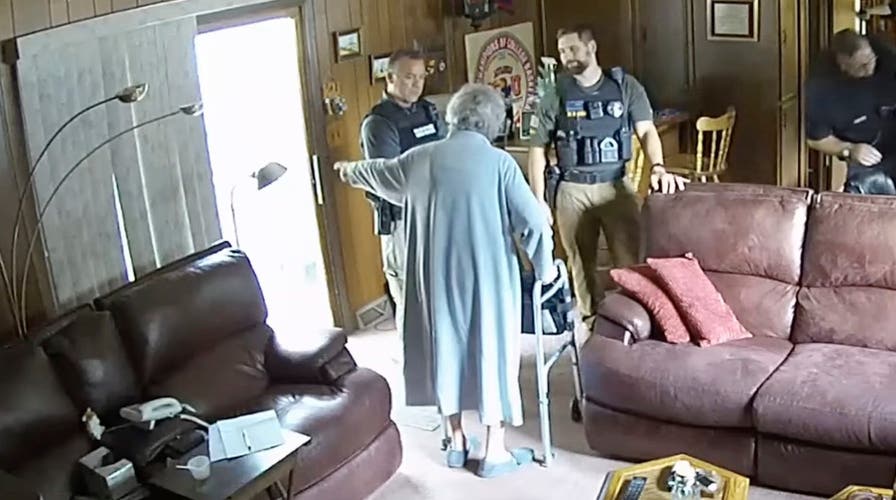 Video
Video shows Kansas 98-year-old scold officers raiding her home before warrants were withdrawn
Marion County Record co-owner Joan Meyer died a day after local police searched her home and office during an investigation later dropped by prosecutors. CREDIT: Marion County Record
Joan Meyer, the 98-year-old co-owner of a storied Kansas newspaper who died the day after police served search warrants on her home and office, appears on newly unveiled surveillance video shouting at officers to get out of her living room.
"Don't you touch any of that stuff," she says at the start of the minute-long clip, wearing a robe and slippers and standing behind a walker.
"Ma'am," one officer begins, before she cuts him off barking, "This is my house!"
Meyer's son, Marion County Record Publisher Eric Meyer, made the clip public Tuesday after a state official said an online search cited as a reason for the raid was not a crime.
KANSAS PROSECUTOR WITHDRAWS SEARCH WARRANT USED IN CONTROVERSIAL NEWSPAPER RAID AFTER OWNER'S DEATH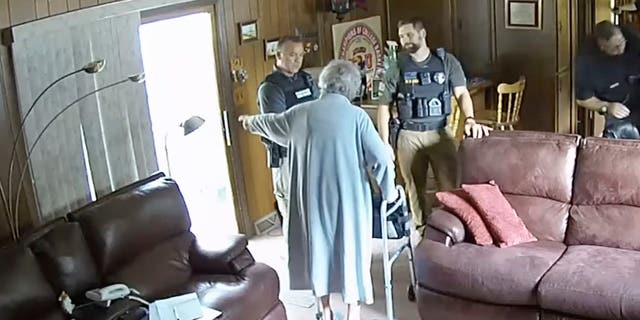 This screen grab of security camera footage provided by Eric Meyer shows his mother, Joan Meyer, ordering police officers to get out of her house as they searched it Aug. 11, 2023, in Marion, Kan. (Eric Meyer via AP)
"How many computers do you have in the house, ma'am?" an officer asks at another point in the video.
"I'm not gonna tell you," Meyer replies, pushing past him with her walker. "Get out of my way."
WATCH: Video shows Kansas 98-year-old scold officers raiding her home before warrants were withdrawn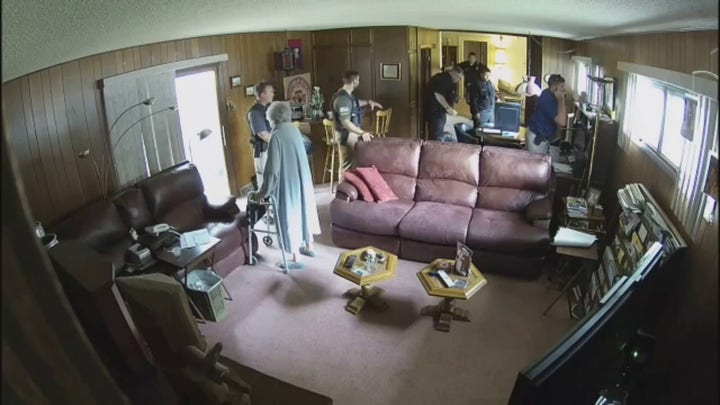 Video
The younger Meyer has blamed his mother's death on undo stress caused by the raids, which he calls "illegal" and has likened to "Gestapo tactics."
The raid drew national First Amendment concerns and, last Wednesday, Marion County Attorney Joel Ensey withdrew the search warrants and ordered Marion Police to return all seized items, finding no legal basis for the case against the paper or its staff.
"It is not a crime in America to be a reporter," Bernie Rhodes, an attorney for the Meyers and their newspaper, told Fox News Digital.
The raids on Meyer's home and the Record's newsroom came after reporters looked into allegations a local sweets shop owner named Kari Newell allegedly drove a car while her license was suspended for a prior DUI. The paper had also been investigating allegations about the city's new police chief, Gideon Cody, and a claim that the department turned a blind eye to Newell driving without a license.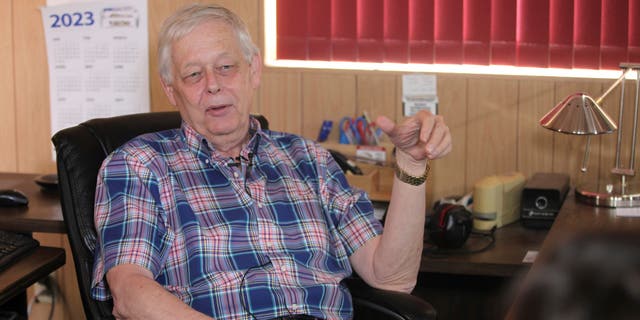 Marion County Record Publisher Eric Meyer speaks with reporters about the aftermath of a police raid on his newspaper's office and his home Aug. 14, 2023, in Marion County, Kan. (AP Photo/John Hanna)
The Record, however, hadn't run a story about Newell's DUI case prior to the raid, and reporters were still researching the case and hesitant to trust the initial source due to a potential conflict of interest, according to an editorial published after Meyer's death.
Cody earlier this month accused the Record and one of its reporters of identity theft and unlawfully accessing a computer, leading to the raids and seizures.
LAST WORDS FROM MATRIARCH OF SMALL-TOWN PAPER WHO DIED AFTER DUBIOUS POLICE RAID: 'HITLER TACTICS'
Before she died, Joan Mayer described the police department's behavior as "Hitler tactics," Rhodes said.
Chief Cody has not responded to requests for comment.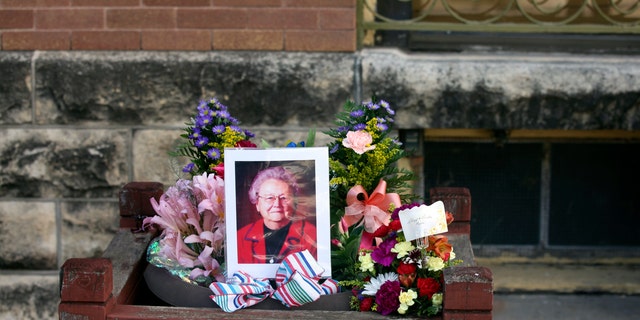 A tribute to the late Marion County Record co-owner Joan Meyer sits outside the newspaper's office Aug. 14, 2023, in Marion, Kan. (AP Photo/John Hanna)
In a series of court filings used to justify the warrants, he claimed there was probable cause to believe the paper had stolen Newell's identity and hacked her personal information.
Those affidavits, however, were not filed until three days after the searches they were supposed to justify, according to Rhodes.
CLICK HERE TO GET THE FOX NEWS APP
"The affidavits establish that Marion Police Chief Gideon Cody knew that Phyllis Zorn, a reporter for the Record, had been given a copy of Kari Newell's driver's record and that the only thing Zorn did was verify the authenticity of that record by going to the public website of the Kansas Department of Revenue," the attorney told Fox News Digital. "She did not access the Kansas Criminal Justice Information System. What Zorn did is perfectly legal under both Kansas and U.S. law."
The Marion County Record was founded in 1874 by E.W. Hoch, whose family owned the newspaper for more than a century before Meyer and her husband bought it in 1998 to save it from takeover by a corporate chain, according to The Reflector. Bill Meyer, who died in 2006, had worked with the paper since 1948.
The Associated Press contributed to this report.
Michael Ruiz is a reporter for Fox News Digital. Story tips can be sent to [email protected] and on Twitter: @mikerreports