More than a dozen Washington state Democrats have introduced a bill that would make voting in the state compulsory for residents.
The bill to establish "Universal Civic Duty Voting," introduced by Democratic state Sen. Sam Hunt and co-sponsored by 13 others, would require each Washington state resident who is eligible to register to vote to either register to vote or obtain a waiver from the requirement.
Each registered voter must then return a ballot at each primary and general election under the bill.
A person is not required to provide a reason for requesting a waiver to vote, and voters are not required to select any candidates for any office, but they must return the ballot to be in compliance with the law, according to the Senate bill report.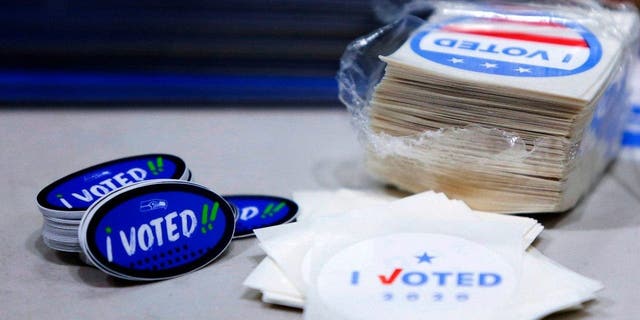 "I voted" stickers with the Seahawks logo are pictured on Election Day at a voting center set up at the CenturyLink Field Event Center for people that need to register or get other assistance in the vote-by-mail state in Seattle, Washington on November 3, 2020.
(Photo by JASON REDMOND/AFP via Getty Images)
GUN RIGHTS GROUPS SPEAK OUT AS WASHINGTON STATE DEMS EYE BAN ON SEMI-AUTOMATIC RIFLES
There is no penalty for failure to return a ballot.
"People must register for the selective service, serve on a jury, and pay taxes; they should also be required to cast a ballot," the bill states. "Civic duty voting declares that everyone counts and that everyone has a responsibility to have their vote counted."
The bill faced a public hearing in the Senate Committee on State Government and Elections on Tuesday.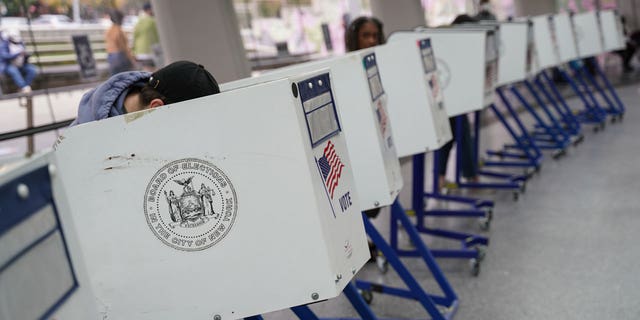 Pictured: Voters casting their ballots at a polling station during early voting in Brooklyn, New York City, U.S.
(Lokman Vural Elibol/Anadolu Agency via Getty Images)
WA GOV. INSLEE'S EQUITY SUMMIT TELLS STATE AGENCIES 'OBJECTIVITY,' 'INDIVIDUALISM' ROOTED IN 'WHITE SUPREMACY'
State Sen. Phil Fortunato, a Republican, objected to the bill during the hearing, saying forcing people into voting "rubs [him] the wrong way."
"This is another requirement that we are forcing on the electorate," he said. "This should be a proud moment. This should be something that people want to do."
"This is the United States of America for a little while longer, and in that situation, we should not be compelled to do something that we may or may not want to do," he added. "Just like we shouldn't be compelled to have to speak or to not speak."
A companion bill in the state House, introduced by Democratic state Rep. Sharlett Mena and co-sponsored by three others, was referred to State Government and Tribal Relations on Jan. 10.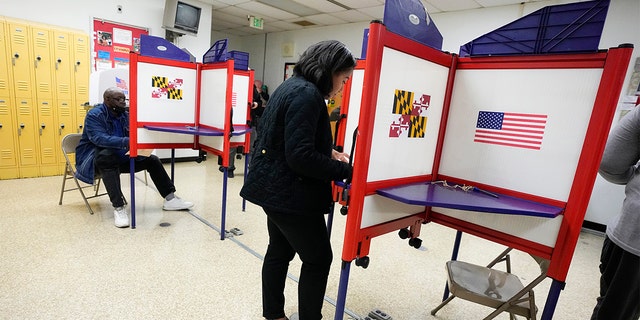 People fill out ballots during early voting at Westside Skill Center, Oct. 31, 2022, in Baltimore, Maryland. Midterm elections are being held on Tuesday, Nov. 8. 
(AP Photo/Julio Cortez, File)
CLICK HERE TO GET THE FOX NEWS APP