close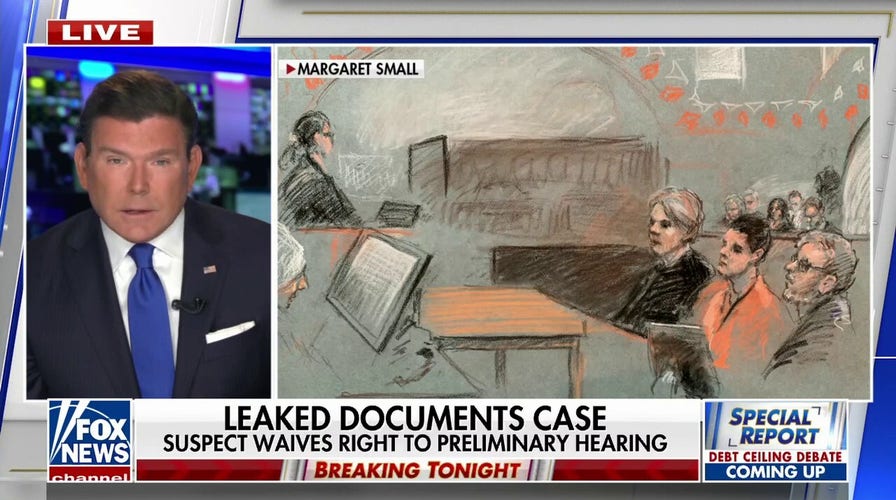 Video
National security document leak suspect waives right to preliminary hearing
Fox News correspondent Rich Edson has the latest on the investigation into Jack Teixeira after secret documents appeared on Discord on 'Special Report.'
Secretary of Defense Llyod Austin did not beat around the bush Friday in a meeting with allied defense officials following a significant intelligence leak earlier this month, telling the U.S.' international partners that he "take[s] the issue very seriously."
"We will continue to work closely and respectfully with our deeply valued allies and partners," he told leaders from the Ukraine Defense Contact Group at the onset of its 11th meeting at the Ramstein Air Base in Germany. "I've been struck by your solidarity and your commitment to reject efforts to divide us.
"And we will not let anything fracture our unity," he added.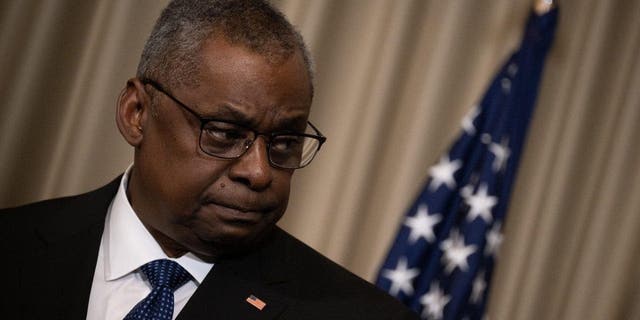 Secretary of Defense Lloyd Austin speaks to journalists during the closing statement of the U.S.-led Ukraine Contact Group meeting at Ramstein Air Base in Germany April 21, 2023. (Photo by Sebastian Christoph Gollnow/picture alliance via Getty Images)
JUDGE DELAYS LEAKED DOCUMENTS SUSPECT JACK TEIXEIRA'S COURT HEARING AFTER DEFENSE ASKS FOR MORE TIME
Since the military intelligence leak was first reported earlier this month, concern has mounted that the breach could create fissures in the alliance that has vowed to back Ukraine in the war against Russia.
Questions over whether allies will be more hesitant to share intelligence with the U.S. have surfaced, along with concerns that the U.S. could clamp down on its dissemination of information on the warfront in an abundance of caution.
However, Austin has set out to make clear that the intelligence leak will not drive a wedge between Washington and its Western allies as investigators continue to look into how the breach occurred.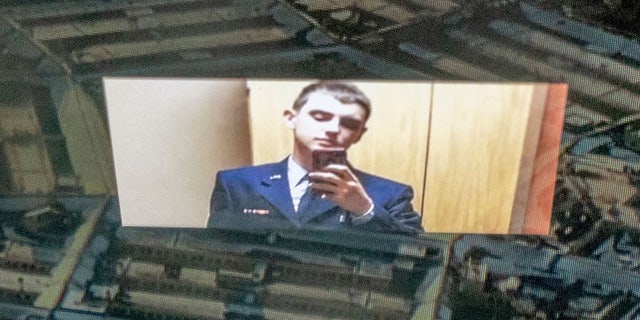 This photo illustration created on April 13, 2023, shows the suspect, National Guard member Jack Teixeira, reflected in an image of the Pentagon in Washington, D.C. (Photo by STEFANI REYNOLDS/AFP via Getty Images)
PENTAGON LEAK SUSPECT JACK TEIXEIRA CHARGED IN FEDERAL COURT, TELLS DAD 'I LOVE YOU'
Airman 1st Class Jack Teixeira, a member of the Massachusetts Air National Guard, was charged last week with violating the Espionage Act after he was allegedly found to have released classified documents involving the war in Ukraine on a gaming chat room known as Discord as far back as December.
Air Force officials are investigating how a lone airman could have possibly accessed and distributed potentially hundreds of classified documents.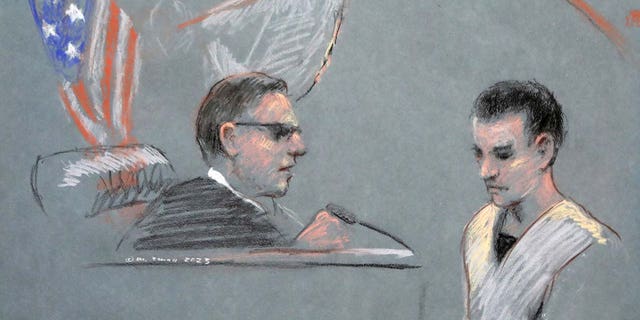 Jack Douglas Teixeira, a U.S. Air Force National Guard airman accused of leaking highly classified military intelligence records online, makes his initial appearance before a federal judge in Boston April 14, 2023 in a courtroom sketch. (REUTERS/Margaret Small)
CLICK HERE TO GET THE FOX NEWS APP
The intelligence mission has also been revoked from the Air National Guard 102nd Intelligence Wing based in Cape Cod – where Teixeira served – which granted it access to the documents pending further review.
Caitlin McFall is a Reporter at Fox News Digital covering Politics, U.S. and World news.