close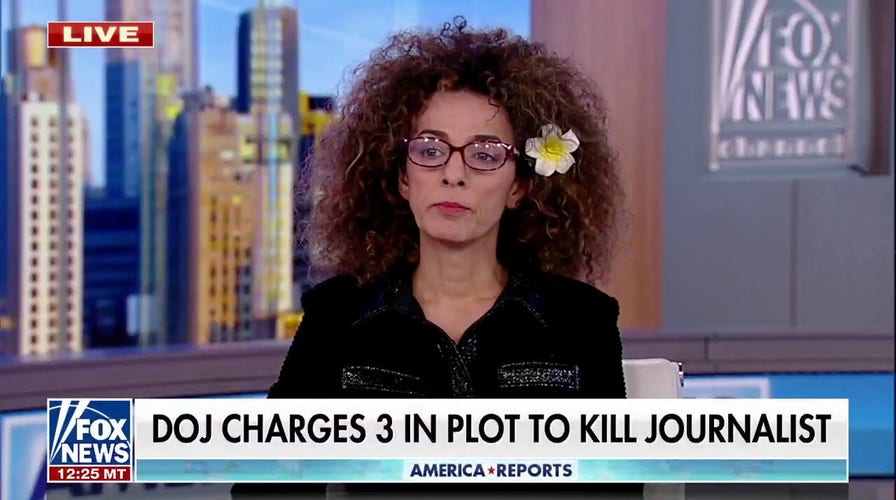 Video
Alinejad speaks out after Iran's plot to kill her: This is a national security issue
Journalist and activist Masih Alinejad tells "America Reports" why she wants to meet with President Biden after the plot against her.
The United States is tracking warlike announcements by Iran's regime that it deployed two military ships to Brazil that are also headed for the Panama Canal, where Tehran declared it will establish a military presence.
A U.S. State Department spokesperson told Fox News Digital on Tuesday, "We are aware of these claims by Iran's navy. We continue to monitor Iran's attempts to have a military presence in the Western Hemisphere."
The Iranian regime-controlled news outlet Tehran Times reported Saturday that "Iran's 86th flotilla warships is now sailing along the western shores of Latin America, the Navy second-in-command said."
Fox News Digital learned on Tuesday from a Western security source that Iranian warships have not yet docked in Brazil.
Sen. Marco Rubio, R-Fla., told Fox News Digital in a statement that "Iran's growing presence in the Western Hemisphere should come as no surprise as the Biden Administration has a history of appeasement and engaging with authoritarian regimes. Tehran's ability to expand its military presence in our hemisphere should be a warning sign, especially as it seeks to support the left-wing Marxist regimes that will undermine peace and stability throughout the region."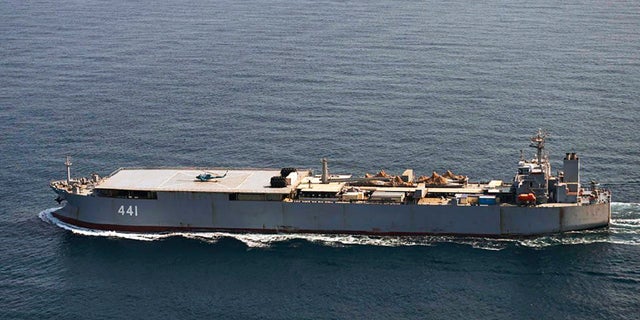 The Iranian navy vessel Makran and another ship are reportedly on their way to dock in Rio de Janeiro.
(Royal Danish Air Force / AP)
IRAN HOLDS TOP MILITARY DRILLS IN MAJOR OIL WATERWAY IN 'WAR BEFORE THE WAR'
Rep. Maria Elvira Salazar, R-Fla., told Fox News Digital, "Iran has been aggressively strengthening its ties to the Western Hemisphere through like-minded socialist regimes in Venezuela, Nicaragua and Cuba. They are also looking for opportunities elsewhere, and it's no coincidence that Iranian ships are docking in Brazil just a month after a socialist retook power in the country."
She added, "Instead of supporting the Iran-friendly socialist and left-wing regimes in Latin America, the Biden administration should be strengthening political forces committed to keeping our hemisphere free of antisemitic terror."
Iran's regime has been classified by successive administration's as the world's worst state-sponsor of international terrorism.
In early January, the commander of the Islamic Republic's navy, Rear Adm. Shahram Irani, told the Iranian regime-controlled Fars News, "We have been present in all the strategic straits of the world, and we have not been present in only two straits — in one of which we will be present this year, and we are planning to be present in the Panama Canal."
WHITE HOUSE ACCUSES IRAN OF GIFTING 'SEVERAL HUNDRED' DRONES TO RUSSIA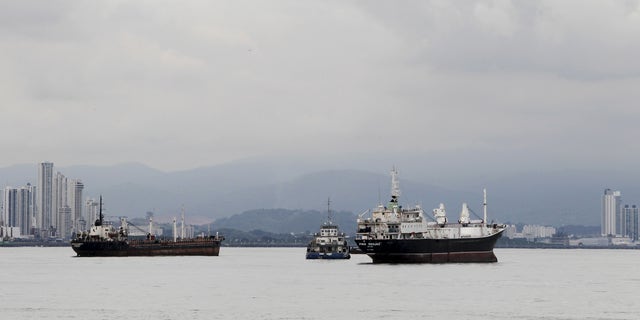 An Iranian navy official told regime media that Tehran plans on being "present" in the Panama Canal, above, this year. (Reuters / Carlos Jasso / File)
The clerical regime's military interference in the vital Panama Canal shipping transport passage could damage U.S. trade and rattle the global economic market. A staggering 16 percent of the world's shipping fleet is registered in Panama, according to deadweight tonnage.
The Tehran Times reported that Iranian Rear Adm. Hamzeh Ali Kaviani told the U.S.-sanctioned Iran news outlet Press TV that the flotilla of warships will dock in Rio de Janeiro in Brazil. Kaviani added that "Iran's military might is increasing day to day despite all the pressures against the Islamic Republic over the past 43 years."
The Iranian regime paper added that Kaviani said the navy's 86th flotilla includes the Dena and Makran and that Dena is a Mowj-class warship that has been part of Iran's navy since June 2021: "The military vessel is reportedly equipped with anti-ship cruise missiles, torpedoes and naval cannons," wrote the news outlet. "Makran is a forward base ship weighing 121,000 tons. The warship can carry five helicopters and is employed for providing logistical support for the combat warships."
BIDEN LACKS COHERENT STRATEGY ON IRAN THAT IS 'WEEKS' FROM BUILDING NUCLEAR BOMB, AIDS RUSSIA: EXPERT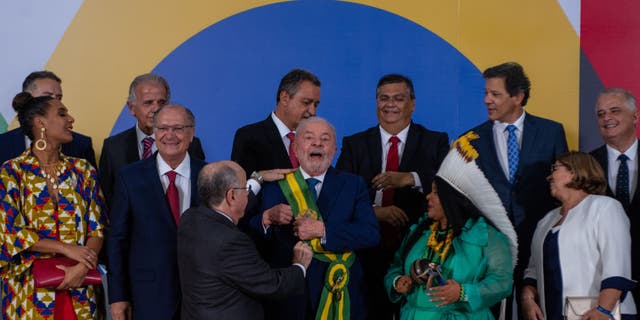 The new Brazilian president, Luiz Inacio Lula da Silva, met with an Iranian delegation led by the country's vice president during his inauguration ceremony last month. (Maira Erlich / Bloomberg via Getty Images / File)
The same Western security source told Fox News Digital that Iran doesn't have a growing military presence in Central America. However, the same source said noted concern about Iran's desire to project power into the Americas and that governments around the region need to be engaged regarding Iran's destabilizing international role.
Mojtaba Babaei, a spokesperson for the Iran mission at the United Nations, told Fox News Digital that the "Iranian navy presence in international waters is in accordance with international laws and to gain knowledge, experience and increase capabilities, not against any country."
The Consul General of Panama in New York told Fox News Digital that the Fox News query was sent to the Panamanian Ministry of Foreign Affairs for a response. The Consul General of Panama sent Fox News Digital a link to a statement from Panama Foreign Minister Janaina Tewaney.
"It is not true that we support terrorism," Tewaney said in response to former Florida Republican Gov. Jeb Bush's opinion article in the Washington Post in January.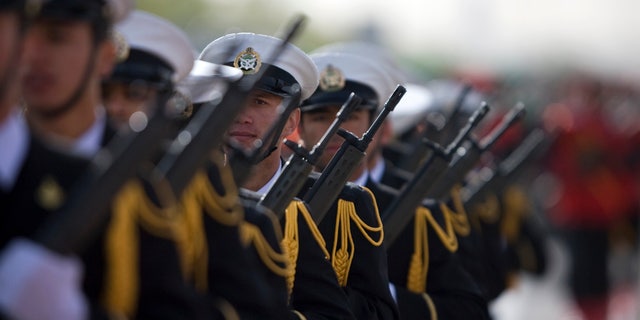 Members of the Iranian navy march during a parade. (Reuteres / Morteza Nikoubazl / File)
CLICK HERE TO GET THE FOX NEWS APP
Bush, who is an advisory board member of United Against Nuclear Iran, wrote that Panama "has been instrumental in the [Iranian] regime's continued survival" and that Panama is "strengthening Iran by helping it to circumvent sanctions." Bush also said Panama aids Iran's in oil smuggling.
Fox News Digital sent numerous press queries to the Brazilian government regarding Iran's plans to dock warships in their ports, but as of press time no response was given.
The new Brazilian president, Luiz Inacio Lula da Silva, met with an Iranian delegation led by the country's vice president during his inauguration ceremony last month.
Benjamin Weinthal reports on Israel, Iran, Syria, Turkey and Europe for Fox News Digital. Benjamin has contributed articles to The Wall Street Journal, The Jerusalem Post, Foreign Policy, Haaretz, Forbes and The New York Post. You can follow Benjamin on Twitter @BenWeinthal.