close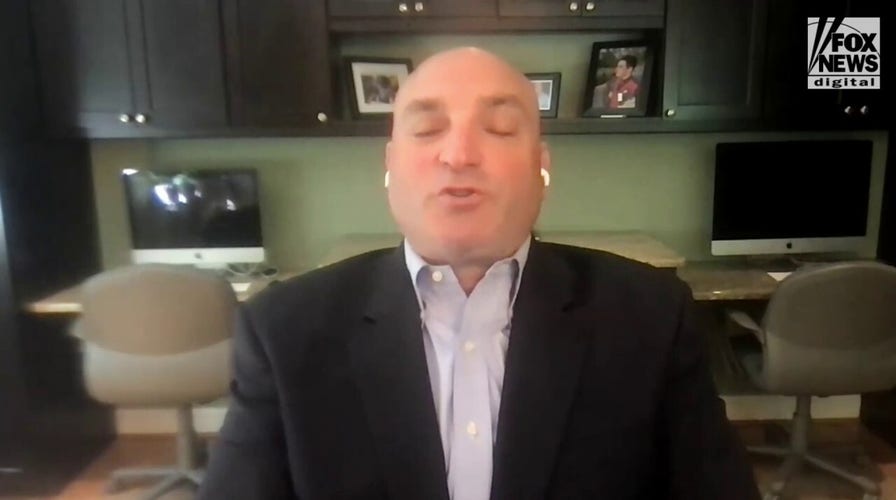 Video
"The Long War Journal" editor on successes and failures of the War on Terror
Bill Roggio, the Founding Editor of "The Long War Journal," talked to Fox News Digital about his time covering the War on Terror, including its successes and failures over two decades. 
More than two decades since the attack on Sept. 11, the U.S. has recorded a number of successes in the War on Terror, but it must learn from its mistakes as it continues working to keep the homeland safe, experts told Fox News Digital.
"In retrospect, it's hard to see success in the U.S. efforts given how we've essentially abandoned the fight and how jihadism has grown exponentially throughout the world," said Bill Roggio, senior fellow at the Foundation for Defense of Democracies and founding editor of "The Long War Journal."
The U.S. launched what it famously called "the War on Terror" after the simultaneous terrorist attacks against the World Trade Center and Pentagon on Sept. 11, 2001. A fourth plane, United Flight 93, crashed in Pennsylvania as passengers fought back and tried to regain control of the plane to prevent it from reaching Washington, D.C.
The War on Terror focused on central Asia with a 20-year mission in Afghanistan as well as missions against groups including al Qaeda and ISIS in Iraq, Somalia, Yemen, Libya and Syria.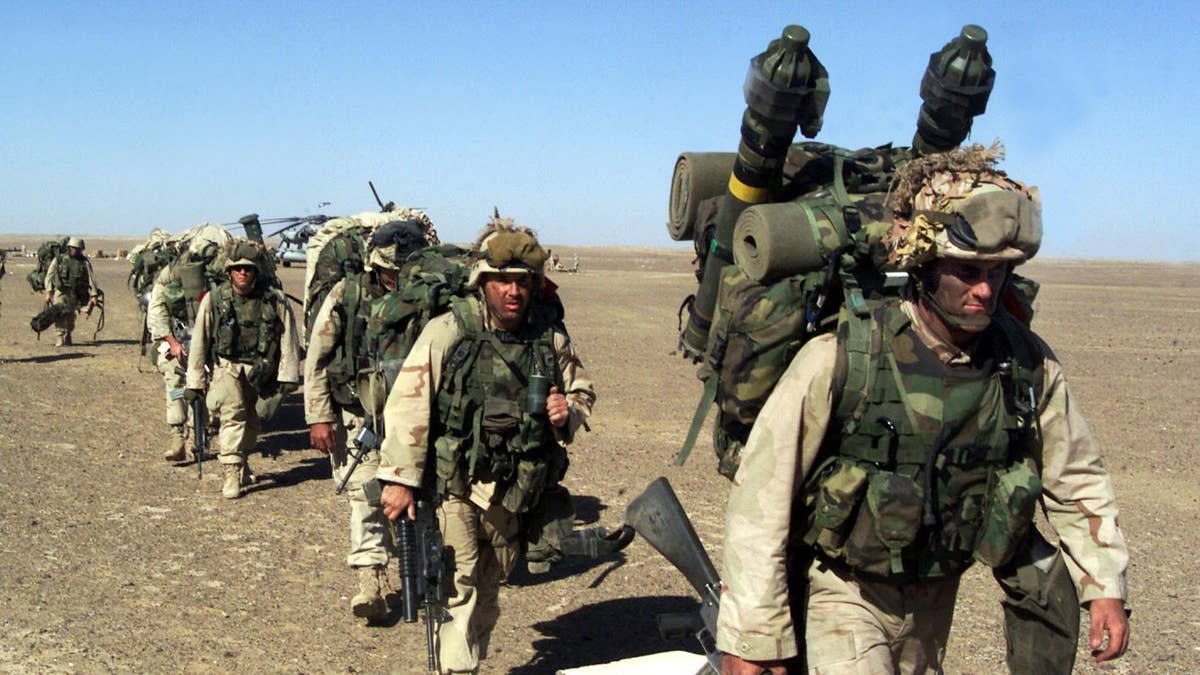 An infantryman with the 15th Marine Expeditionary Unit lugs shoulder-launched missiles while moving with his company to a security position after seizing a forward operating base on Nov. 25, 2001. (Joseph R. Chenelly / DOD / AFP via Getty Images)
AS 9/11 NEARS, EMBRACE GRIEF TO HONOR LOVED ONES, EXPERTS SUGGEST: 'GRIEF CONNECTS US WITH ALL OF HUMANITY'
Joel Rubin, the deputy assistant secretary of state for house affairs during the Obama administration and a civil servant in the Department of Energy and State Department during the Bush administration, touted the multinational coalition the U.S. built to pursue al Qaeda in Afghanistan and build partnerships with countries and governments in the Middle East.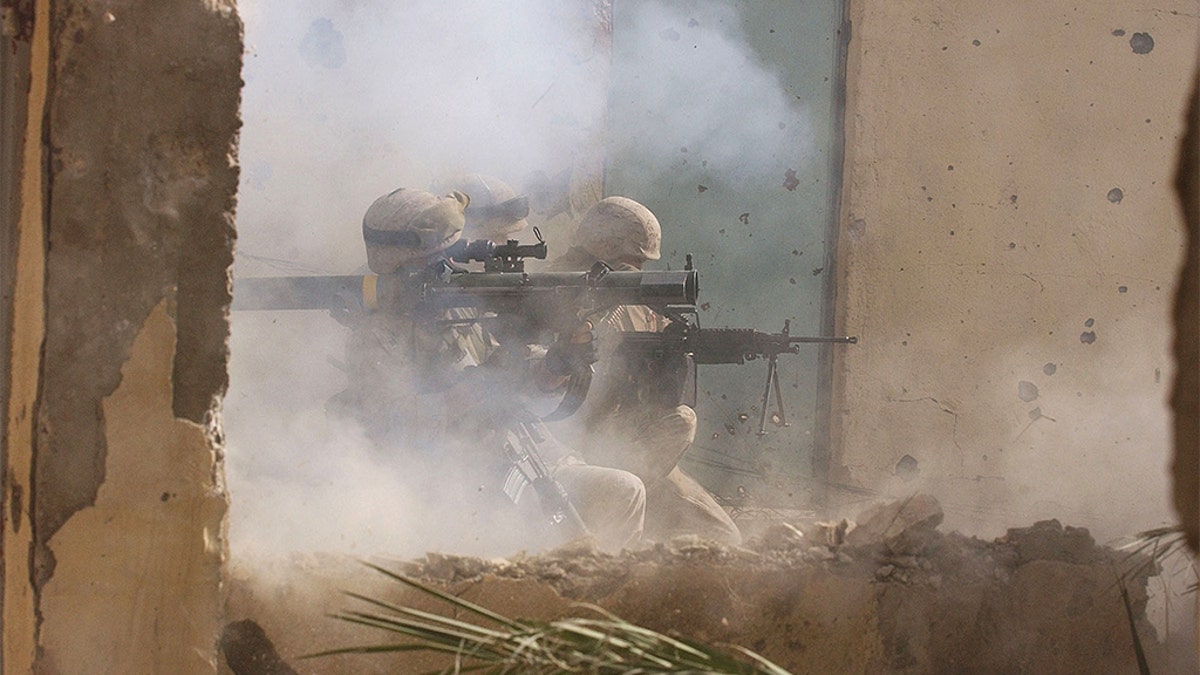 U.S. Marines of the Light Armored Reconnaissance company, 1st Battalion, 3rd Marine Division, fire a rocket to clear houses of insurgents, Nov. 23, 2004, in Fallujah, Iraq. (Scott Peterson / Getty Images)
"Remember, al Qaeda was conducting bombing attacks in India and Indonesia," he explained, "In Europe, they were everywhere. And it was not a foregone conclusion that they would be knocked out, so the War on Terror was an incredible initiative."
"Look, I think we've been incredible at winning the argument about how dangerous is organizations like al Qaeda or ISIS and how awful they are not just to us but to the people in their own countries," Rubin continued. "The Bush administration should get a lot of credit for that, as well as the Obama administration after it, because these organizations looked as if they were going to take over countries and have massive popular support."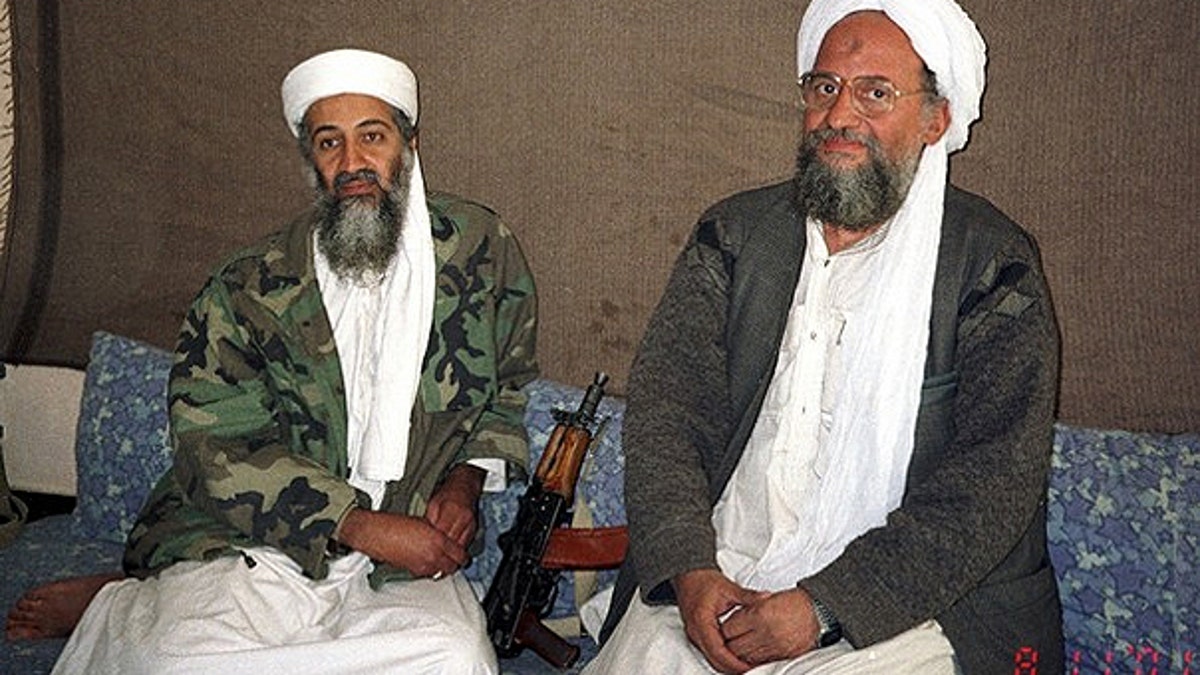 Usama bin Laden, left, Ayman al-Zawahri (Reuters / File)
The U.S. was able to prevent another major foreign terrorist attack on American soil and eliminated not only Usama bin Laden – the mastermind behind the Sept. 11 attacks – but also his successor, Ayman al-Zawahri and the "so-called" ISIS caliphate in 2019, according to James Anderson, acting under-secretary of defense for policy during the Trump administration.
PATHWAY TO 9/11: HOW BIN LADEN CAME TO MASTERMIND THE DEVASTATING TERROR ATTACKS
The U.S. would go on to declare victory over ISIS in 2019 after liberating the last ISIS stronghold and ending the caliphate in Syria, though, French Defense Minister Florence Parly warned at the time that ISIS was not defeated but merely "hiding."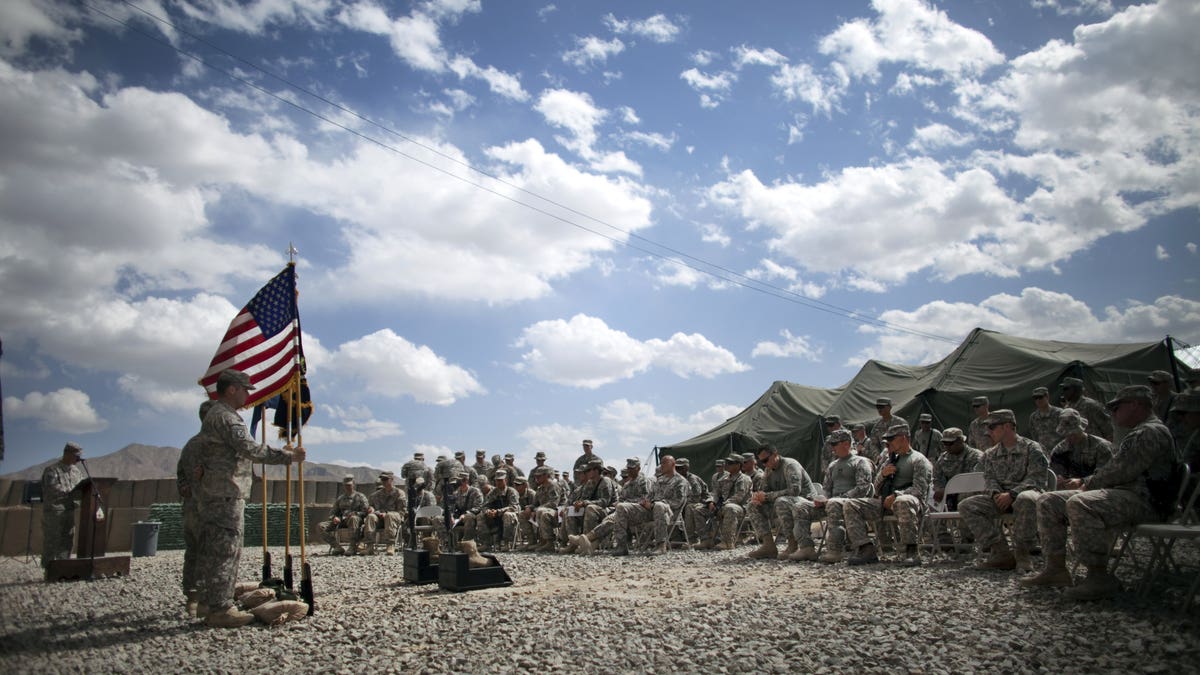 U.S. soldiers from the 3rd Brigade, 10th Mountain Division, attend a memorial service for Staff Sgt. Esau Delapena and Sgt. Carlie Lee at Combat Outpost Carwile, May 26, 2009, in Afghanistan. (Jonathan Saruk/Getty Images)
Roggio pointed to the improved coordination between intelligence and security organizations in the U.S. as a significant factor in America's continued safety as well as improved ability to target individual terrorists, though, he stressed this approach is "not a strategy for success."
For all those successes, the U.S. made several missteps, according to these experts, which resulted in a messy exit from Afghanistan in 2021 and even current concerns that the civil war in Syria could allow an opportunity for an ISIS resurgence.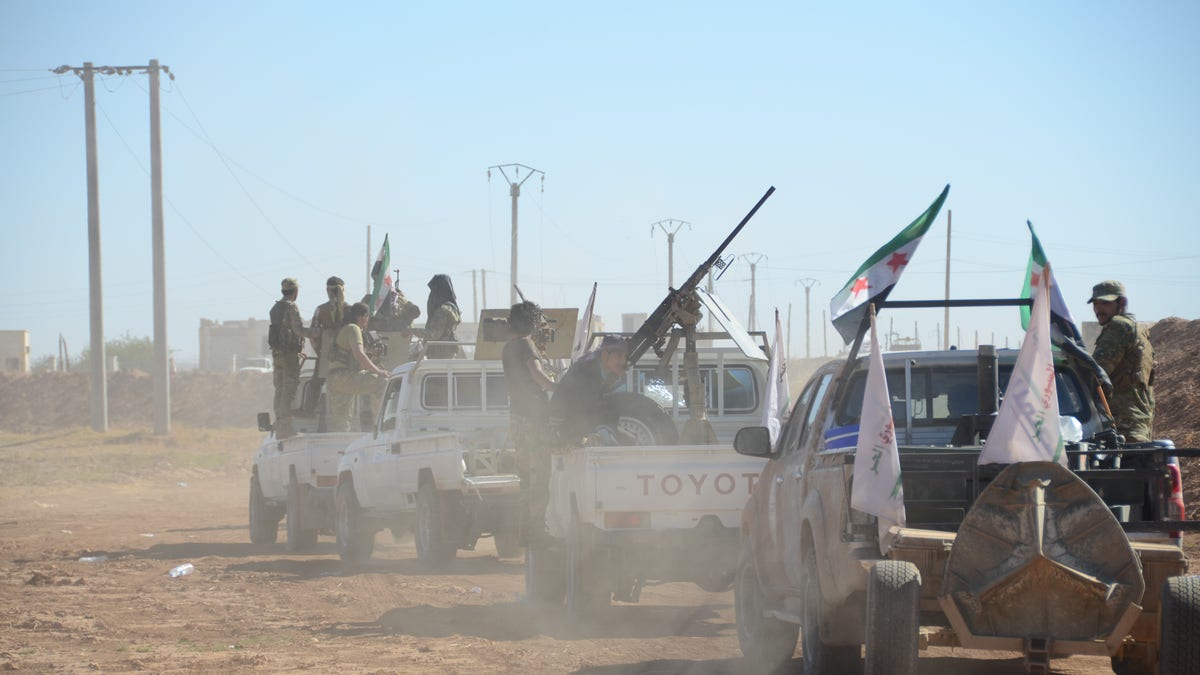 Free Syrian Army members are seen in Al-Rai, Syria, on Sept. 18, 2016. (Huseyin Nasir / Anadolu Agency / Getty Images)
Anderson accused then-President Obama of downplaying the threat of ISIS in its earlier days, including a comment in 2014 that ISIS was the "JV team" before the group went on to establish a significant presence across multiple countries in the Middle East. He also said that the focus and "resource-intensive nature" of the campaign "diverted attention away from the rise of China" until the Trump administration made Beijing "its No. 1 priority."
BIDEN TO OBSERVE UPCOMING 9/11 ANNIVERSARY IN ALASKA IN DEPARTURE FROM TRADITION
"The U.S. should have tried a smaller military footprint in Afghanistan, one robust enough to deny terrorists a sanctuary but free from the burdens of nation-building," he said, adding that "the merry-go-round of leadership assignments and unit deployments proved counterproductive, undermining efforts aimed at building continuity and much-needed expertise in Afghanistan."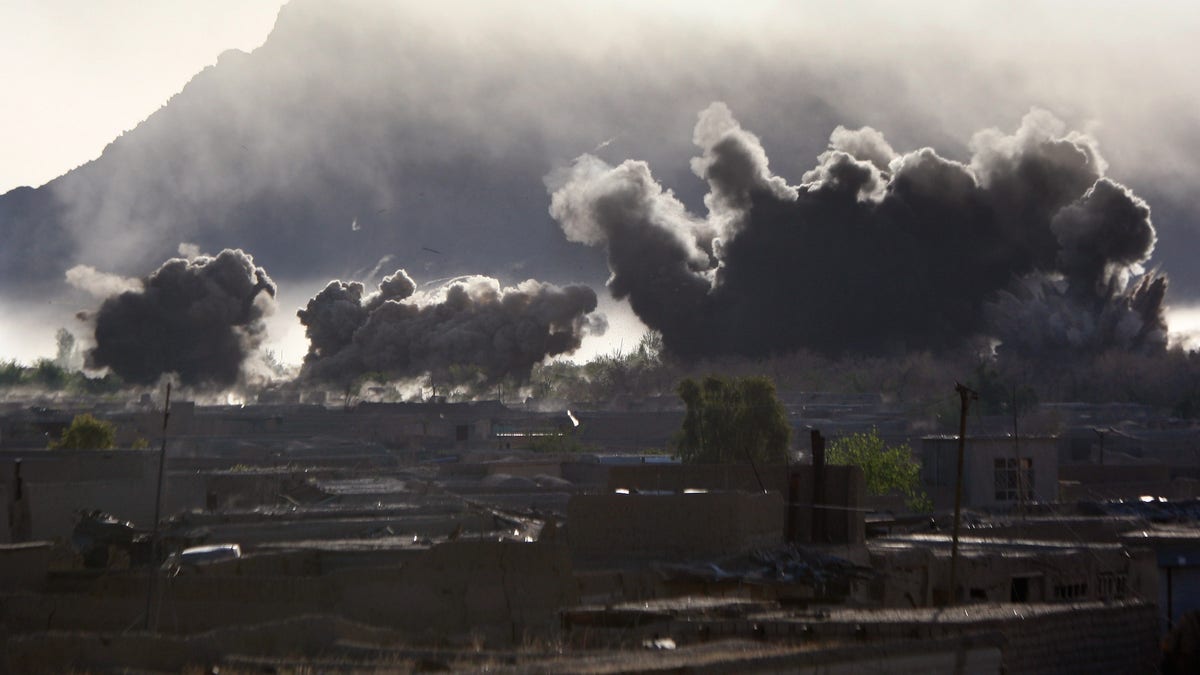 Bombs dropped by a U.S. Air Force B-1 land on Taliban positions on April 3, 2009, in Nowzad in Helmand province, Afghanistan. (John Moore/Getty Images)
Rubin highlighted the significant loss of life and destruction associated with the campaign, with military solutions "oftentimes" leaving "a much more devastating trail than people at the time were willing to admit."
"Drones could pinpoint and hit key leaders, but they also cause serious, significant damage and harm to civilians that would undermine the moral authority that we were trying to maintain," Rubin said, calling the "loss of the moral high ground and the loss of human life … significant."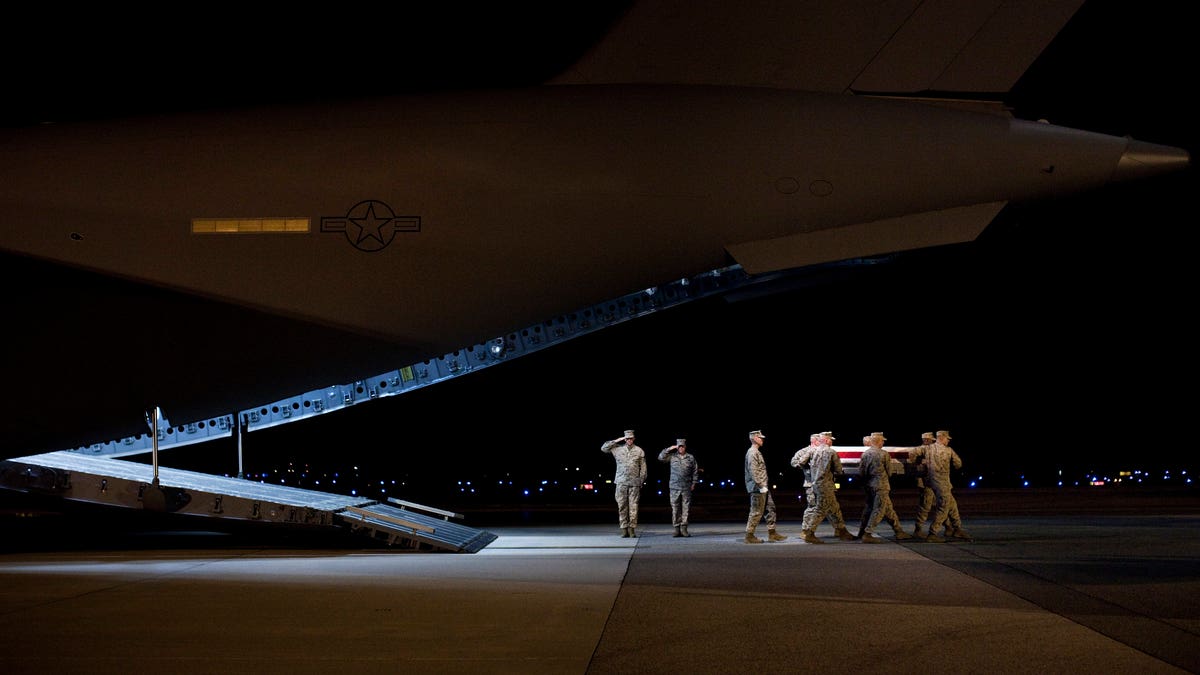 A U.S. Marines carry team moves a transfer case with the remains of a fellow Marine off a C-17 cargo plane during a dignified transfer at Dover Air Force Base, Oct. 18, 2010, in Delaware. (Brendan Smialowski / Getty Images)
Rubin also spoke at length about the way the Iraq invasion distracted the entire campaign, drawing focus and resources away from countries like Afghanistan that had a clear and direct goal in the anti-terrorism campaign, arguing that the American people were "manipulated" into supporting the invasion due to "legitimate panic" of another significant terrorist attack.
NEW YORK ANNOUNCES TWO 9/11 VICTIMS IDENTIFIED 22 YEARS AFTER ATTACK
"I think that abuse of those emotions was a grave betrayal of the popular sentiments to fight al Qaeda and the actual terrorist organizations that attacked us on 9/11," Rubin said.
Despite those torn feelings about the way the War on Terror played out, Roggio and Rubin both noted the significant impact the attack on Sept. 11 had on them personally: Roggio began "The Long War Journal," which evolved from his personal blog covering al Qaeda's activities and led to an invitation to embed with the U.S. Marines in 2005 during missions in Anbar Province on Iraq.
Roggio's brother-in-law worked at the World Trade Center and his sister worked nearby, but both were late to work that morning and he didn't hear from them for a long time throughout the day.
Rubin was giving a presentation for the Energy Department in a Sheraton hotel near the Pentagon on the morning of the attacks when he heard the plane crash and saw the aftermath of the attack on the military installation. He described the sheer panic and confusion that gripped D.C. and the impression it left on many who witnessed the attacks firsthand.
CLICK TO GET THE FOX NEWS APP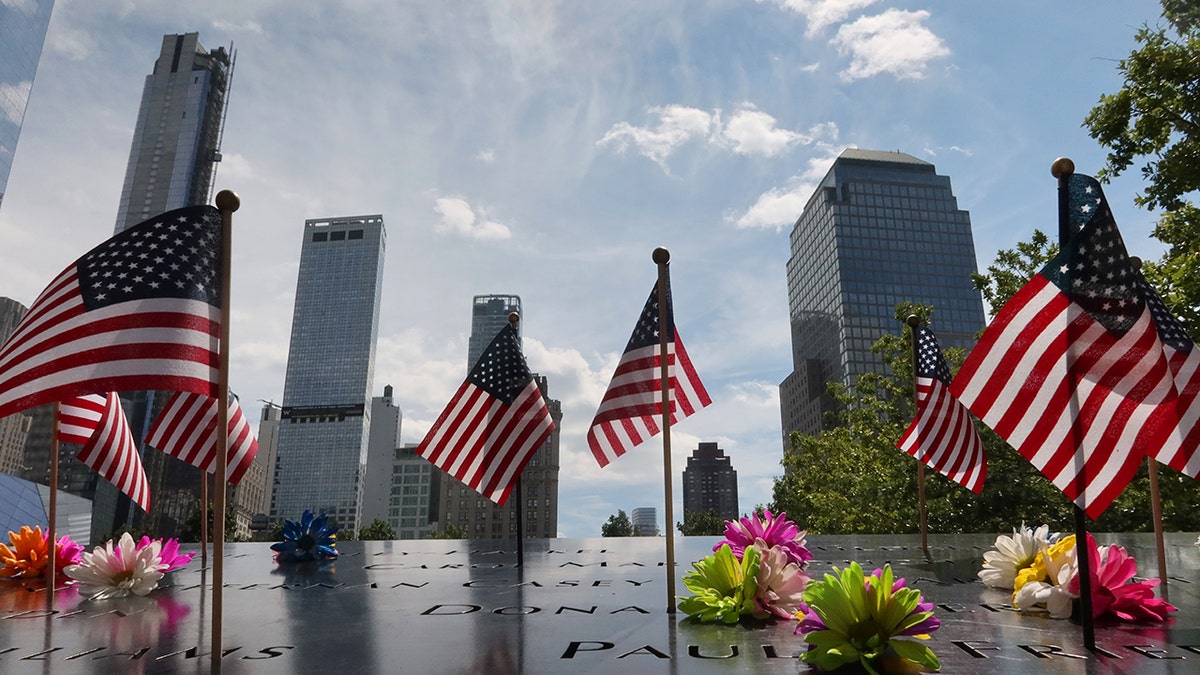 American flags at the 9/11 memorial.  (Gary Hershorn/Getty Images)
"For me, it was a very personal moment, serving in the U.S. government, serving in the Bush administration, and seeing terrorists who manipulated our goodness and used it to attack us and kill thousands of innocent people was just a stunner," Rubin said. He would then pursue a position in the State Department to have a direct hand in conducting the War on Terror.
"I think we have a sacred duty to always remember the people who were killed and hurt on that day here because it was real, and it was painful, and we should never forget what happened to them."
Peter Aitken is a Fox News Digital reporter with a focus on national and global news.