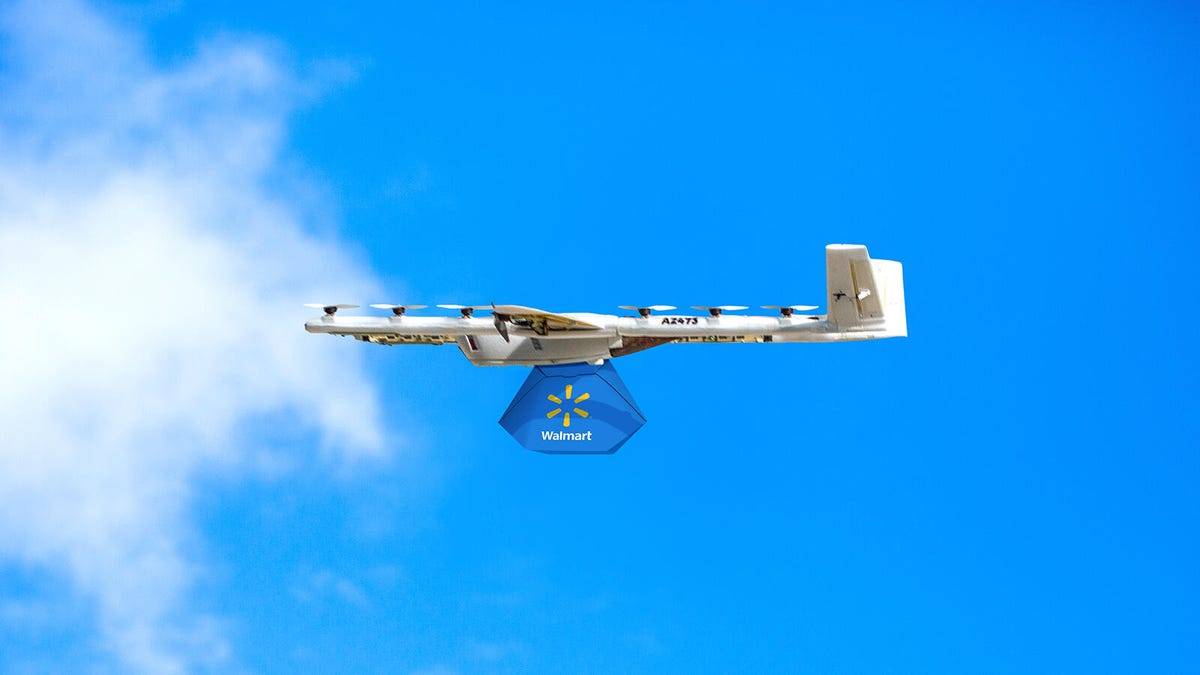 A delivery drone from Alphabet's Wing subsidiary carries a package from retail giant Walmart.
Wing
If you live in the right neighborhood of the Dallas-Fort Worth area in Texas, you'll be able to get products and food from Walmart delivered by drone to your house within a half hour later this year.
Wing, the drone delivery company from Google parent company Alphabet, will begin deliveries in coming weeks from a Walmart Supercenter Frisco, Texas, and from a second nearby store later this year, the companies said Thursday.
Drone delivery has plenty of challenges: engineering, regulations, noise, cost, safety and public acceptance. But drone delivery is spreading to millions of people around the world as startups and tech giants work out the kinks. That means instant gratification for some products and less of a need for you or delivery vans to be on the streets.
"Wing's drones can carry packages weighing just under three pounds, and we'll start with a wide range of products, including grocery items, household supplies and over-the-counter medicine," Walmart spokesperson Lindsey Coulter said. For now at least, there isn't any delivery fee.
Customers can order products through the Wing app for Android or iPhone; typing in the home address will show if delivery is possible. The operations will extend about six miles from the Walmart store.
Drone deliveries are real
Drones Are Already Delivering Pizza, If You Haven't Noticed
Take a Look at Wing's Auto-Loading Drone Delivery System
Zipline's New Drone Brings Aerial Delivery Closer for Millions More of Us
For now, drone delivery is limited to areas where tests are permitted, but in those areas, it's become a serious business. Companies like Wing and Zipline have made hundreds of thousands of deliveries. The Dallas-Fort Worth area is a hotbed for the technology, with several companies operating delivery services.
The company is evaluating multiple drone delivery options. In 2021, Walmart invested in DroneUp, a Wing rival. And it has a deal with Zipline too.
"We're interested in partnering with experts who can focus on speed and sustainability so we can focus on what we do best," Coulter said.
Other drone delivery companies include Amazon, Drone Express, Matternet and Mann.