Two well known Republicans are headlining a crowded primary field seeking to unseat Democratic Kentucky Gov. Andy Beshear this year in a race being eyed as a top target for the GOP to flip.
Kelly Craft, the former U.S. Ambassador to the United Nations under the latter years of the Trump administration, and current Kentucky Attorney General Daniel Cameron are the two most high-profile candidates in a race consisting of a dozen Republican hopefuls.
With Friday's filing deadline to run for governor now past, the race is expected to heat up in the coming weeks ahead of the May primaries and with a lot of attention from outside the state.
FORMER GOP GOVERNOR PUNKS REPORTERS, WALKS OUT OF STATE CAPITOL AFTER SPEECH TEASING RE-ELECTION RUN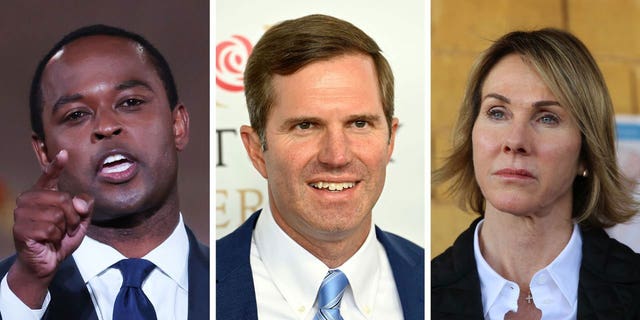 From left to right, Republican Kentucky Attorney General Daniel Cameron, Kentucky Democratic Gov. Andy Beshear, and Former U.N. Ambassador Kelly Craft.
(Getty Images)
Cameron, who was among the first candidates to toss his hat into the ring last May, quickly received the endorsement of former President Trump, and has campaigned on tackling the effects of the drug crisis on Kentucky, as well as vowed to uphold Kentucky's strict abortion law and defend the rights of the unborn.
Craft, who jumped into the race in September, has so far garnered support from a number of Kentucky state legislators, as well as Congressman James Comer, who represents the state's 1st Congressional District. She has been sharply critical of the Biden administration's handling of the drug crisis, for overseeing the massive rise in crime across the country, and has advocated defending Kentucky's coal industry as necessary for energy security.
Both candidates have criticized Beshear over his energy policies, his approach to handling the coronavirus pandemic, and his support for President Biden. Both have also sought to capitalize on the anti-Democratic sentiment historically facing the party holding power in Washington, D.C. in order to limit the current governor to a single term.
FORMER TRUMP AMBASSADOR KELLY CRAFT JOINS GOVERNOR RACE IN KENTUCKY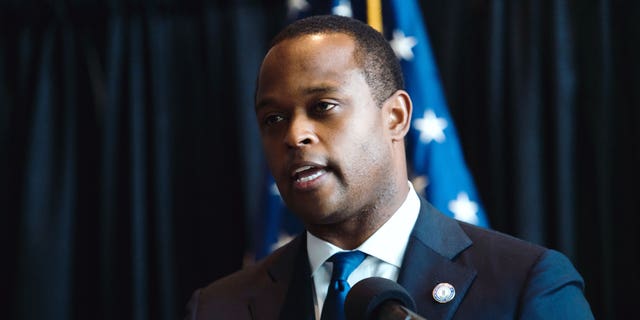 Kentucky Attorney General Daniel Cameron hopes to unseat Democratic Gov. Andy Besheaer 
(Jon Cherry/Getty Images)
Elected in 2019, Beshear narrowly defeated then-Republican Gov. Matt Bevin, becoming one of just three Democrats across the country to serve in the highest executive office of a deep red state. The others are Louisiana Gov. John Bell Edwards and Kansas Gov. Laura Kelly.
Despite being a Democrat in a red state, Beshear held a 59% approval rating in October, according to one Morning Consult poll, making him one of the most popular governors in the country.
Although he is being challenged by two other Democrats in his primary, Peppy Martin and Geoff Young, he is expected to sail into the general election with broad party support.
KENTUCKY GOV. ANDY BESHEAR CHOSEN TO CO-CHAIR APPALACHIAN REGIONAL COMMISSION
Craft and Cameron are joined in the Republican primary race by Kentucky State Auditor Mike Harmon and Kentucky Agriculture Commissioner Ryan Quarles, as well as National Guard soldier David Cooper, attorney Eric Deters, former local school board member Bob DeVore, Mayor of Somerset, Kentucky Alan Keck, activist Johnny Ray Rice, high school teacher Robbie Smith, Dennis Ray Ormerod, and Jacob Clark.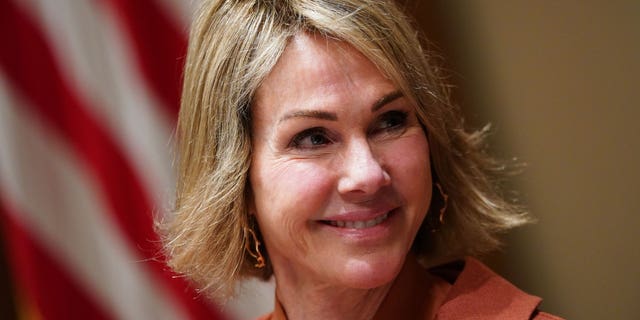 Former U.S. Representative to the U.N. Kelly Craft is running for Kentucky governor as a Republican. 
(MANDEL NGAN/AFP via Getty Images)
CLICK HERE TO GET THE FOX NEWS APP
Both the Democratic and Republican primaries will be held on Tuesday, May 16.