close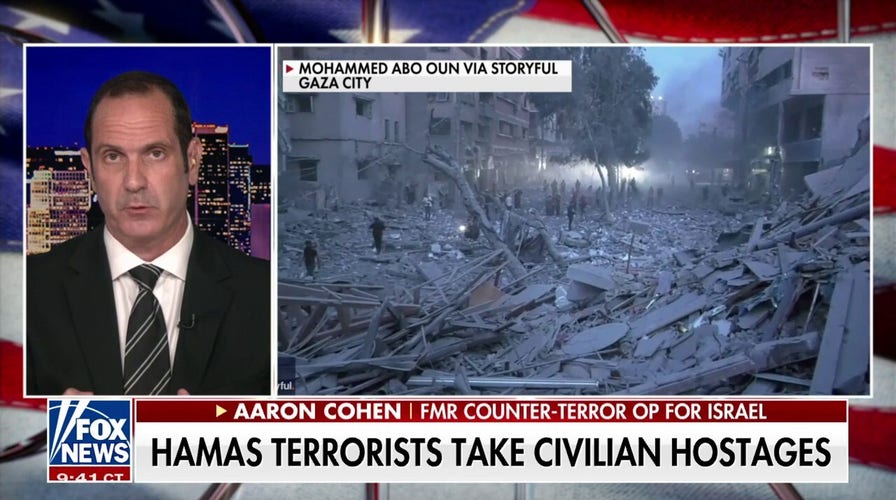 Video
Israel is 'on the clock' to retrieve hostages: Aaron Cohen
Former Israeli special operator Aaron Cohen joins 'One Nation with Brian Kilmeade' to discuss how Israel PM Benjamin Netanyahu could respond to the Hamas terrorist attacks.
JERUSALEM – As the bloody attack unfolded on Israeli soil on Saturday, jubilant Hamas terrorists uploaded to social media brutal video clips of their work: bodies of civilians lying dead in pools of blood at city bus stops, elderly people hauled away on motorbikes, and women and children hustled into jeeps and trucks as fighters battered and spat and screamed "God is great" at their bewildered captives.
The terrifying videos, which also included groups of young Israeli and foreign partygoers tied up and taken into Gaza, were eerily reminiscent of images shared by the extremist Islamist group ISIS, which tried to establish an Islamic caliphate in northern Syria and Iraq several years ago.
"The videos of Hamas kidnapping women, children and the elderly and desecrating dead bodies are in some ways shocking to see but then again, Hamas has engaged in 30 years of grotesque terrorism and is a vicious brutal terrorist organization," Seth Frantzman, a correspondent for The Jerusalem Post and an analyst on Middle East affairs, told Fox News Digital in an interview on Sunday.
Frantzman, author of "After ISIS: America, Iran and the Struggle for the Middle East," said the images from Hamas' attack "conjured up what ISIS did in Sinjar, Iraq, where they purposely targeted young women."
ISRAEL DECLARES WAR AFTER HAMAS SURPRISE ATTACK, LAUNCHES RETALIATORY AIRSTRIKES IN GAZA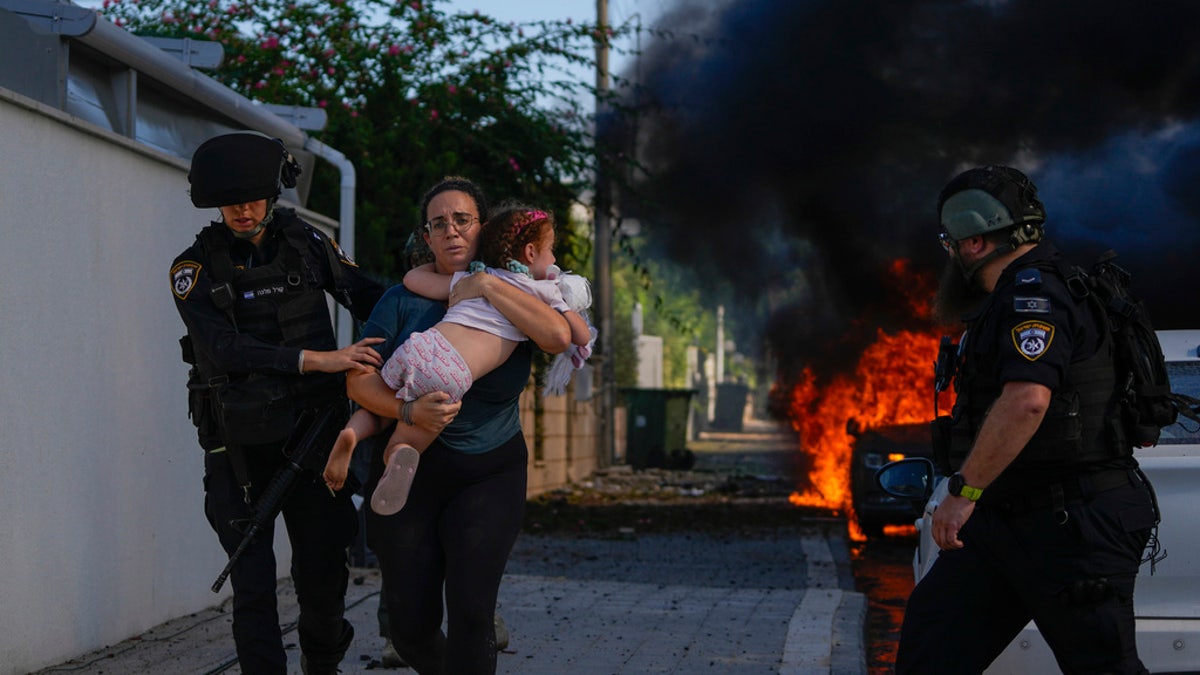 Police officers evacuate a woman and a child from a site hit by a rocket fired from the Gaza Strip, in Ashkelon, southern Israel, Saturday, Oct. 7, 2023. (AP Photo/Tsafrir Abayov)
"The videos showing men stripping women's bodies, spitting and stomping on them is the kind of thing that makes Hamas very clearly similar to ISIS and it is a new level of grotesque and horrid behavior that is a clear crime against humanity," he said.
On Sunday, Israel's first aid agency Magen David Adom and Israeli news agencies reported that as many as 600 hundred people – civilians and soldiers – had been killed in the multi-pronged attack, which saw hundreds of Hamas terrorists break through Israel's border defenses and enter into Israeli communities and towns. More than 4,000 rockets have been fired into Israeli territory from Gaza and thousands of Israeli civilians have been evacuated from the communities around the strip.
Hundreds of Israelis are still missing, with Israeli television channels sharing personal stories of their loved ones' fruitless search for them and their suspicions that they are now being held in Gaza.
"The behavior of Hamas in this attack has many parallels with what we saw from ISIS in Iraq and their attack on Sinjar, where they purposely targeted women and children for kidnapping and then for sexual assault and slavery," Frantzman noted.
HEZBOLLAH WATCHES ON AS GAZA WAR SPARKS FEAR OF ADDITIONAL FRONTS FOR ISRAEL TO DEFEND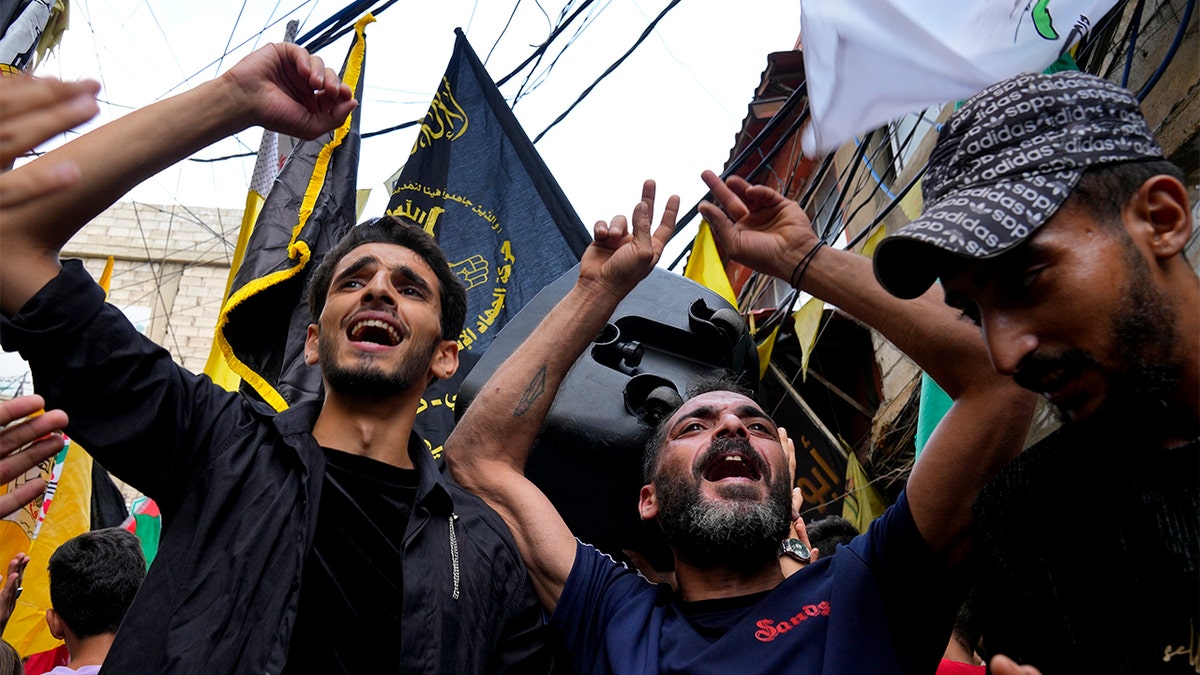 People celebrate on the street in Beirut, Lebanon, after Hamas carried out attacks on Israel, Saturday, Oct. 7, 2023. (AP Photo/Bilal Hussein, File)
He added that while this "raid directly borrows from what ISIS did in the past, it is also part of a broader extremism milieu in the region in which the idea is to conquer and massacre minorities or groups of different faith."
"It's clear that the unfolding attack on Israel on Oct. 7 was unprecedented on its level of mass killing but also the targeting of young women and children is a totally new approach for Hamas and indicates they might have graduated to ISIS-like behavior," he said.
"They are no different, Hamas and ISIS, they are exactly the same, with the same ideology," said Amir Avivi, CEO of the Israel Defense and Security Forum (IDSF). "The only difference between ISIS and Hamas is that while ISIS is global, Hamas is local. They are the same people."
SCOTT SAYS US MUST STAND 'SHOULDER-TO-SHOULDER' WITH ISRAEL AFTER HAMAS TERROR ATTACK: 'NEVER BACK DOWN'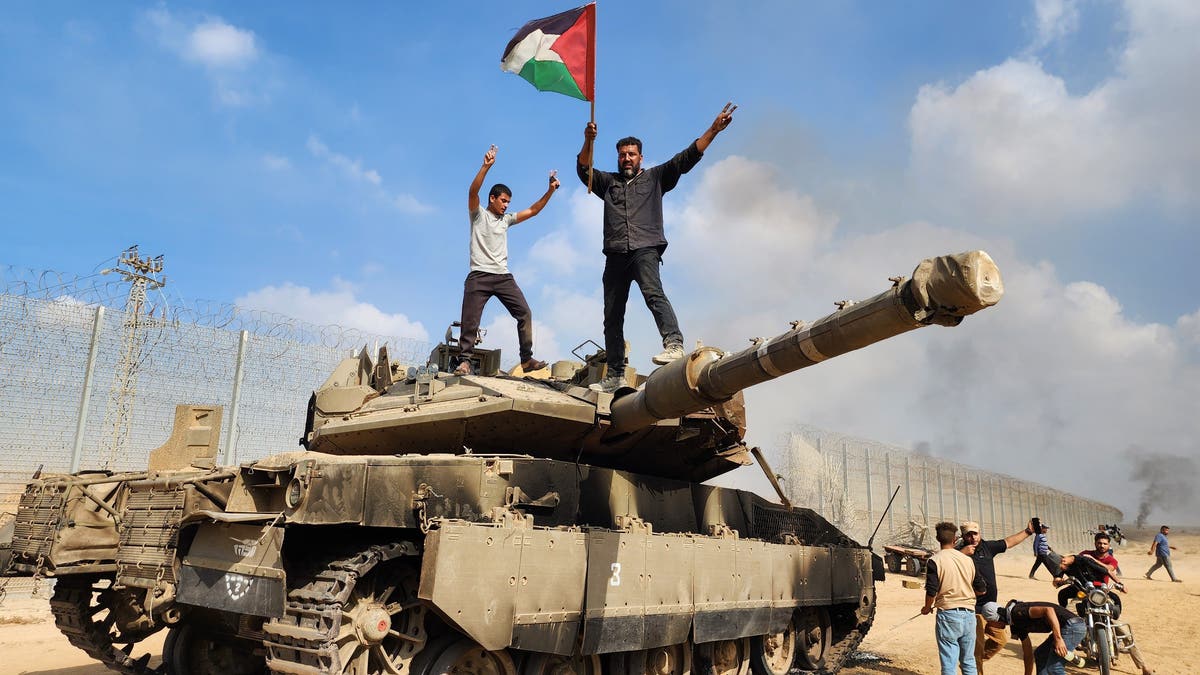 Hamas fighters hold a Palestinian flag atop a destroyed Israeli tank in Gaza City, Gaza, on Oct. 7, 2023. (Hani Alshaer/Anadolu Agency via Getty Images)
Lisa Daftari, editor-in-chief of The Foreign Desk, told Fox News Digital that she was not surprised to see Hamas take on the "'modern' technology style of terror group ISIS in taking gruesome videos with high shock value and spreading them throughout social media for additional attention and hype."
"ISIS was unique in this sense when they were posting videos of their beheadings and attacks in Iraq and Syria in 2014, but since, we have seen terror groups adopt ISIS's style in using technology for marketing and recruitment as well as promoting lone-wolf style attacks with any type of household object, including kitchen knives, meat cleavers and automobiles for car rammings," she said.
"This latest attack isn't just Hamas," Daftari continued. "It was a highly sophisticated plot engineered by Iran's regime using multiple proxies to carry out a multi-pronged attack by land, air and sea. They're using various tactics and weaponry to shock, terrorize and murder Israelis for the highest death toll. We are seeing rapes, abductions, parading bodies of dead civilians and soldiers in the streets of Gaza."
"While the approach is new in that it is much more sophisticated and coordinated than terror attacks against Israel in previous years, it is meant to do exactly what they have proclaimed: to wipe Israel off the map," she said.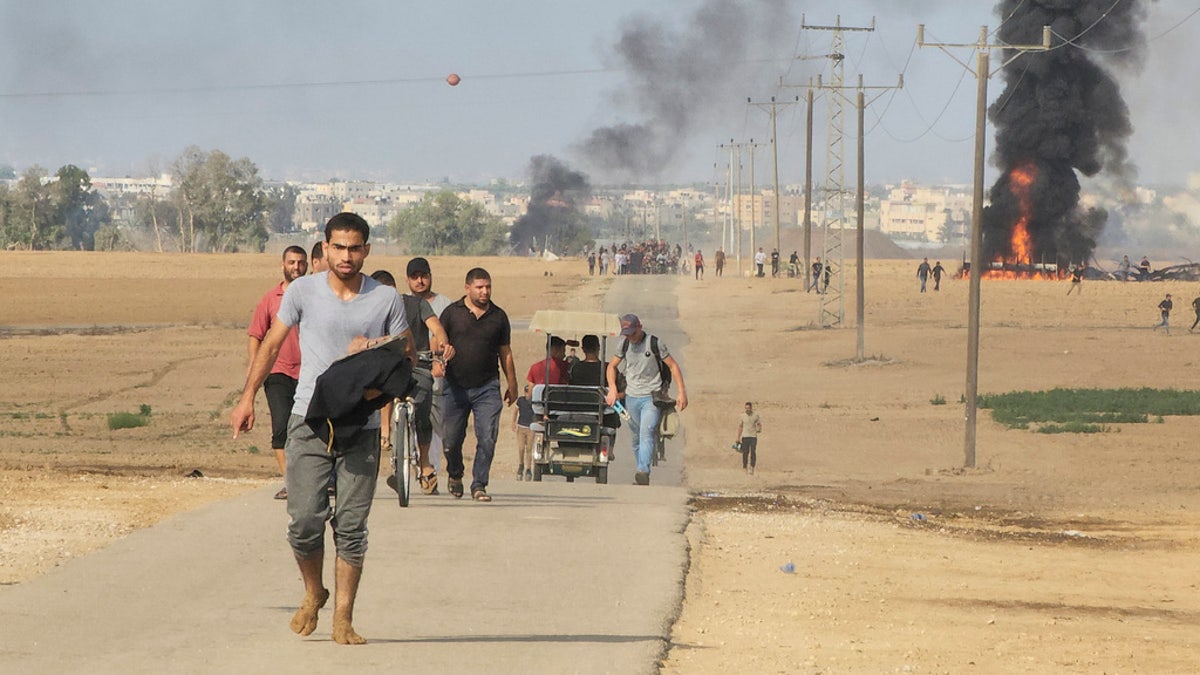 Palestinians walk away from the kibbutz of Kfar Azza, Israel, near the fence with Gaza on Saturday, Oct. 7, 2023. (AP Photo/Hassan Eslaiah)
Frantzman concurred, adding that Hamas' actions during the attack are "part of a longer pattern of behavior in the region among extremist groups that sexualize women from minority groups, whether Jews, Christians or other groups."
CLICK HERE TO GET THE FOX NEWS APP
"It is not only the Muslim Brotherhood but also part of this wider right-wing extremist religious theocratic cult that has a chauvinist anti-women ideology," he said, adding, "This trend has exploded in our faces in terms of this attack yesterday."
Ruth Marks Eglash is a veteran journalist based in Jerusalem, Israel. She reports and covers the Middle East and Europe. Originally from the U.K, she has also freelanced for numerous news outlets. Ruth can be followed on Twitter @reglash