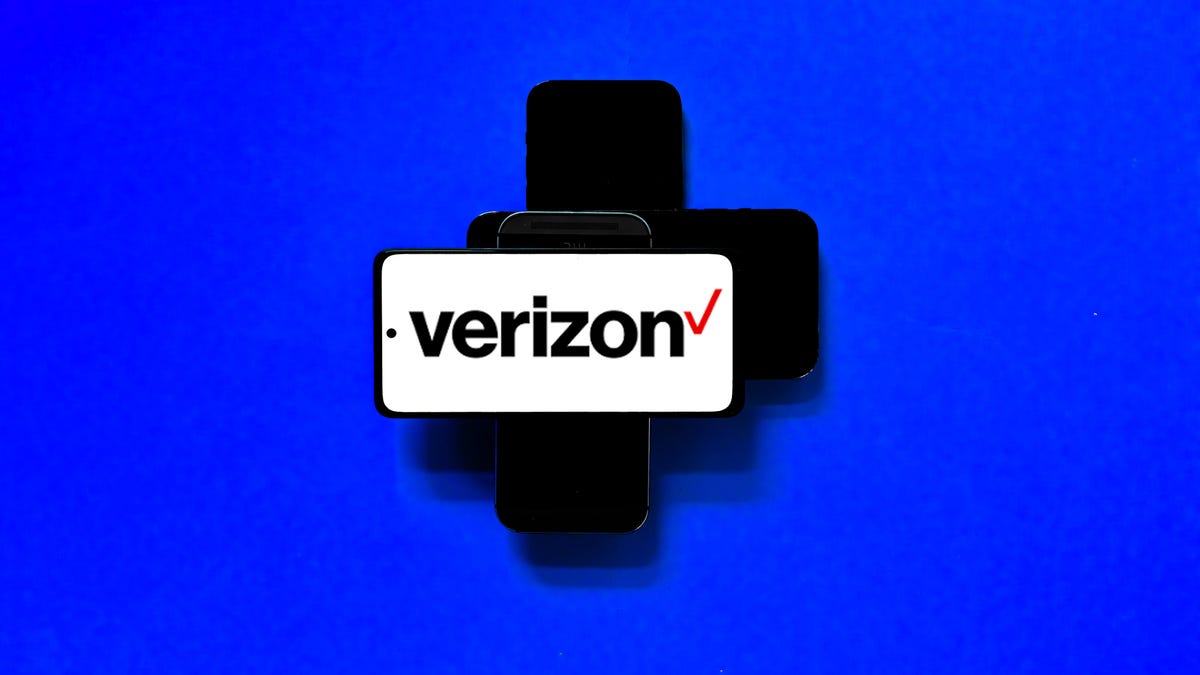 James Martin/CNET
Verizon's 5G network is getting a notable speed boost. On Monday, the wireless carrier announced that it has gained access to C-band spectrum it purchased back in 2021 four months ahead of schedule.
The valuable airwaves, which were previously expected to be fully available to the carrier at the end of the year after becoming partially available in 2022, will allow Verizon to greatly improve the speeds it offers to devices connected to its midband 5G network. When deployed, and connected to a compatible phone or device that's subscribed to a proper plan, the carrier says its network will be able to deliver download speeds above 2 gigabits per second.
Verizon said this speed is based on areas where it has 161 megahertz of spectrum bandwidth available, which is the amount of bandwidth it is aiming to have available on average nationwide. In some areas where the carrier can take advantage of 200MHz of bandwidth, which is largely in mostly rural areas, those speeds could be even higher. Likewise, speeds could potentially be a little lower in areas where Verizon has less than 161MHz available, though it expects to have a "minimum 140MHz of total spectrum in the contiguous United States."
A compatible wireless plan is still required to be able to use the C-band network, which Verizon calls "5G Ultra Wideband." These generally are the carrier's pricier wireless plans, such as its new Unlimited Plus offering, or older plans such as its Do More, Play More, Get More, Above or Beyond unlimited options.
As for devices, a software update is needed to be able to access the improved, faster connection. Verizon says that updates are in the works for existing products to be able to tap into the network upgrade, but it did not provide a list of which products will receive the update or when.
Devices as far back as Apple's iPhone 12 and Samsung Galaxy S21 have supported the carrier's C-band network, with Verizon including support for the spectrum in nearly all of the major devices it has sold over the past year. A carrier spokesperson confirmed to CNET that some phones have already received the update and can tap into the faster speeds, though a full list of updatable devices is still not known.
In its press release announcing the news the carrier says that once a device gets the software update "customers will start to see the effects of this dramatic increase in bandwidth in the immediate next few days and weeks."
The carrier has made its C-band network available to 222 million people nationwide and has stated a goal of covering 250 million people with the network in 2024. Midband spectrum like C-band has long been viewed as a key piece of the wireless airwaves, thanks to its ability to cover large areas while also being able to offer faster speeds than 4G LTE and what is known as low-band 5G (what Verizon calls "5G Nationwide").
Read more: Understanding 5G's Many Names and Types
Beyond just boosting the speeds for current and future devices that connect to its network, Verizon says that with the added spectrum it will be able to offer 5G home and business internet in 47 new markets, as well as cover more homes in areas where its 5G home broadband product is already available. Like with its list of compatible devices, the carrier did not detail which markets would be added or when.
Previously used by satellite companies, Verizon spent nearly $53 billion on C-band spectrum in 2021 as part of a Federal Communications Commission auction that totaled a record $81 billion in bids. Last year it announced that it had reached deals with satellite companies that were using the spectrum to expedite the timeline for when it could receive some of the spectrum.
Rival networks AT&T and T-Mobile had similarly acquired some C-band spectrum as part of that 2021 auction, and AT&T has already deployed some of its C-band for its midband 5G network. It is unclear, however, if either carrier has similarly been able to gain access to the rest of their respective spectrum ahead of schedule or if they will still need to wait until later this year to be able to bulk up their 5G networks.
As part of the auction rules, the incumbent C-band holders need to finish clearing out of the spectrum by Dec. 5, 2023.
CNET has reached out to both AT&T and T-Mobile for comment and will update if they respond.