close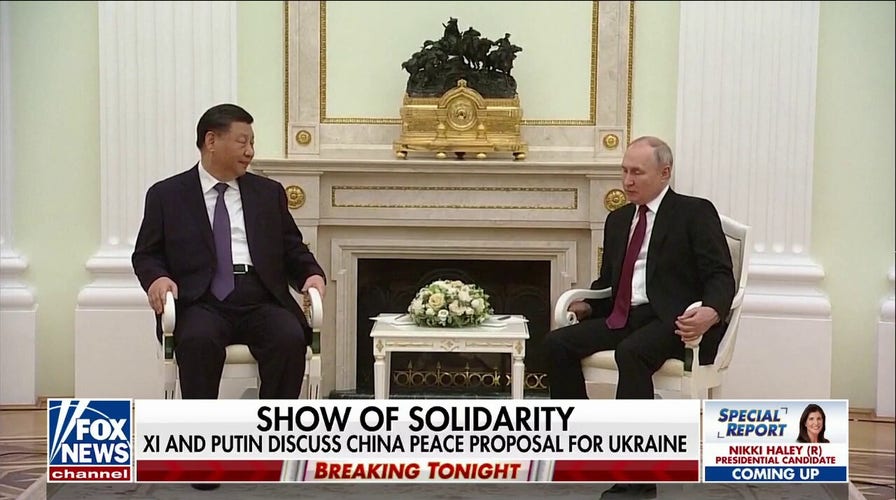 Video
Putin says Russia respects China's plan to end the war
Fox News senior correspondent Mike Tobin has the latest on the meeting between President Xi and President Putin on 'Special Report.'
Uyghur activists on Monday again called on the International Criminal Court (ICC) to investigate genocide in China against the ethnic minority group and have demanded that Chinese President Xi Jinping be arrested for his alleged crimes.
The call came just days after the ICC on Friday issued an arrest warrant for Russian President Vladimir Putin for his role in the illegal deportation of Ukrainian children and forced relocation to Russia.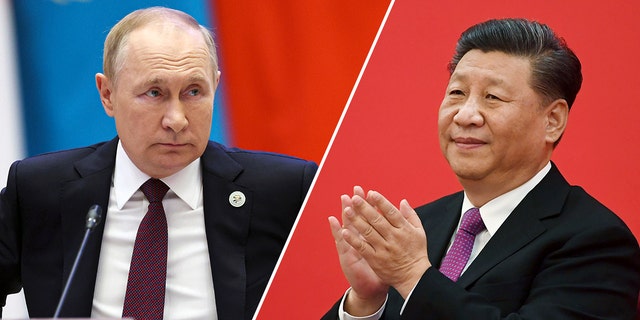 China's President Xi Jinping claps as he listens to Russian President Vladimir Putin via a video link in Beijing on Dec. 2, 2019. (Sergei Bobylev, Sputnik, Kremlin Pool Photo via AP/Noel Celis/Pool Photo via AP)
PRESIDENT XI TELLS RUSSIA'S PUTIN THAT CHINA INTENDS TO PLAY 'CONSTRUCTIVE ROLE' IN UKRAINE PEACE NEGOTIATIONS
Activists from the East Turkistan government in exile, which is a parliamentary-based exiled government located in Washington, D.C., along with the East Turkistan National Movement, have called on the ICC to hold Xi to the same account as Putin.
The international court has repeatedly rejected fillings that called on it to investigate reports of forced relocations within the Xinjiang province, arbitrary arrests, detentions in concentration camps, medical experimentation and various human rights abuses, including genocide, against the Uyghur ethnic minority group.
The court has claimed that it does not have jurisdiction in China to investigate the alleged crimes as Beijing is not a signatory of the Rome Statute, which established the court in 1998.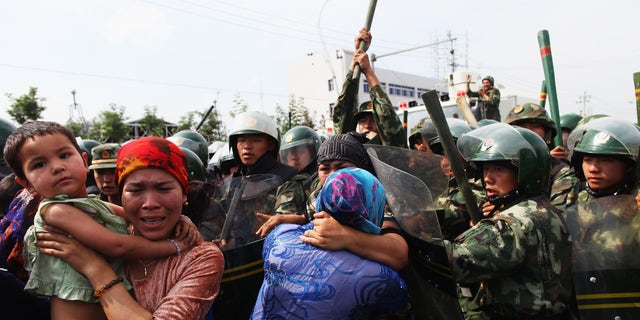 Chinese policemen push Uyghur women who are protesting the detention of their relatives on July 7, 2009, in Urumqi, the capital of Xinjiang province, China.
PUTIN AND XI FINISH FIRST ROUND OF TALKS IN MOSCOW AS BLINKEN HITS CHINA'S PROPOSED PEACE PLAN FOR UKRAINE
However, previous fillings have rejected these claims and pointed to ICC investigations against abuses committed against Rohingya minorities in Myanmar – which does not recognize ICC authority – who field to Bangladesh, which is an ICC signatory.
Parallels have been drawn to Uyghur populations that have fled to ICC-friendly nations like Tajikistan, which borders the Xinjiang province, though Tajikistan has been accused of deporting Uyghurs back to China.
Neither Ukraine nor Russia are state parties of the Rome Statute, but according to a spokesman for the ICC the court was able to go after Russian human rights abuses because Ukraine accepted its jurisdiction to investigate such crimes.
"As a court the ICC has jurisdiction over certain categories of crimes if they are committed on the territories or by citizens of a State that is party to the ICC Rome Statute or has accepted the ICC jurisdiction (like Ukraine which have declared accepting the ICC jurisdiction), which is not the case for China, or upon a referral by the United Nations Security Council," Fadi El Abdallah, a court spokesperson, told Fox News Digital.
He added that "the ICC has no jurisdiction over the alleged crimes" China has been accused of.
Genocide, if proven, is also deemed illegal under international law as defined by the U.N. charter.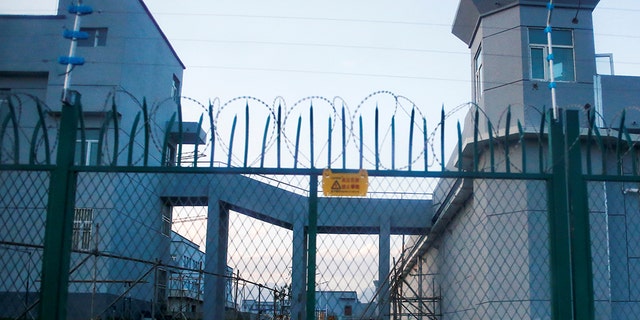 A perimeter fence is constructed around what is officially known as a vocational education center in Dabancheng in Xinjiang province, China Sept. 4, 2018. (Reuters/Thomas Peter)
CLICK HERE TO GET THE FOX NEWS APP
"We call on the International Criminal Court to act and hold Chinese leader Xi Jinping accountable for the ongoing genocide and crimes against humanity against Uyghurs and other Turkic peoples," Prime Minister Salih Hudayar of the East Turkistan government in exile said in a statement.
"The International Criminal Court must uphold justice and fulfill its commitment to 'Never Again' by investigating the ongoing genocide and arresting Xi Jinping for his direct role in this Holocaust-like genocide in the 21st century," he added.
Caitlin McFall is a Reporter at Fox News Digital covering Politics, U.S. and World news.