close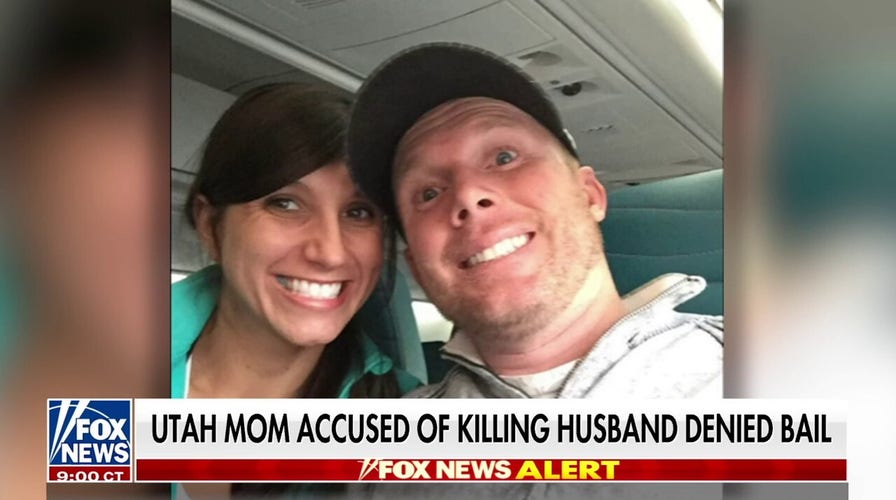 Video
Utah mom accused of fatally poisoning husband denied bail
Jeff Paul reports on Utah mom accused of lacing her husband's drink with fentanyl.
Utah prosecutors have decided not to seek the death penalty for Kouri Richins, a mom of three who authored a children's book about grief after allegedly poisoning her husband to death in March 2022.
Prosecutors filed a notice of intent not to seek the death penalty after "careful consideration" with the victim's father and two sisters, according to court documents.
"We are focusing on proving Kouri's innocence at trial and have no comment on the state's procedural filing," the suspect's attorney, Skye Lazaro, told Fox News Digital in a statement.
Kouri Richins, 33, allegedly killed her husband, 39-year-old Eric Richins, with a fentanyl-laced cocktail the evening of March 3, 2022, at their home in Kamas, just outside of Park City, while their three young sons were sleeping.
UTAH MOM KOURI RICHINS GOOGLED 'LUXURY PRISONS FOR THE RICH' AFTER ALLEGEDLY KILLING HUSBAND: DOCS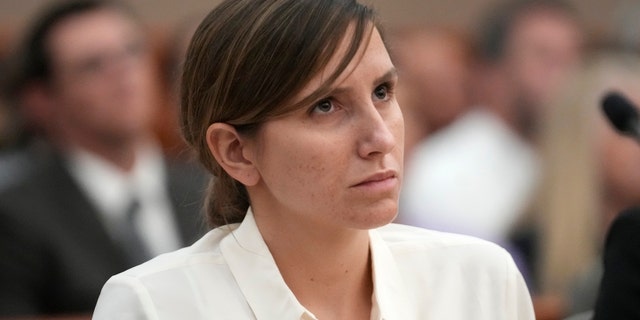 Kouri Richins during a bail hearing June 12, 2023, in Park City, Utah.  (AP Photo/Rick Bowmer, Pool)
Prosecutors allege Eric's murder was motivated by money.
UTAH CHILDREN'S BOOK AUTHOR ACCUSED OF MURDERING HUSBAND TOOK OUT $2M IN LIFE INSURANCE PRIOR TO HIS DEATH
Kouri apparently purchased four different life insurance policies on Eric's life totaling more than $1.9 million between 2015 and 2017. On Jan. 1, 2022, months before his murder, Kouri "surreptitiously and without authorization changed the beneficiary for Eric's $2 million life insurance policy to herself," a court document states.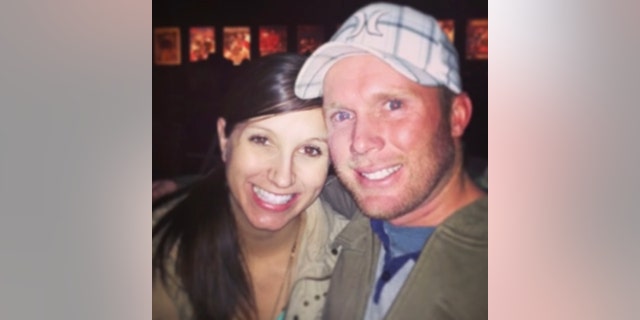 An obituary for Eric Richins describes him as an "avid outdoorsman and dedicated hunter." (Facebook/ Kouri Richins)
Prior to his death, Eric removed Kouri from his will and made his sister the beneficiary instead, according to investigators.
UTAH AUTHOR ACCUSED OF MURDERING HUSBAND ALLEGEDLY CAUGHT TRYING TO STEAL HIS LIFE INSURANCE BENEFITS
Eric's family told authorities he had been in fear for his life after Kouri allegedly tried to poison him once several years ago in Greece and again on Valentine's Day 2022, when he says she tried to poison his sandwich.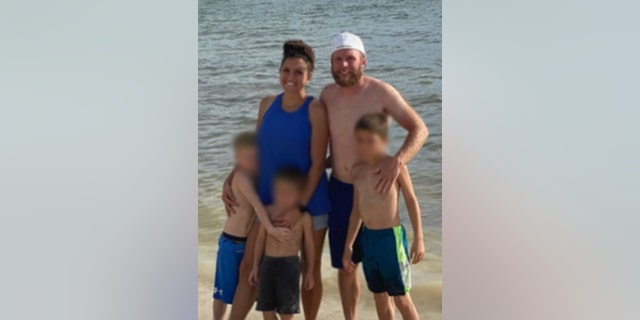 Eric Richins had five times the lethal dosage of fentanyl, an opioid that is about 50 to 100 times more potent than morphine, in his blood. (Facebook/ Kouri RIchins)
The couple was apparently having financial disagreements due to Kouri's wish to purchase a $2 million mansion under construction in Wasatch County. She wanted to flip the mansion and sell it for a profit, a warrant states.
UTAH CHILDREN'S BOOK AUTHOR HAD 'PERFECT' MARRAIGE WITH HUSBAND BEFORE ALLEGED MURDER: FRIEND
Eric apparently thought the home was too expensive, his family told investigators.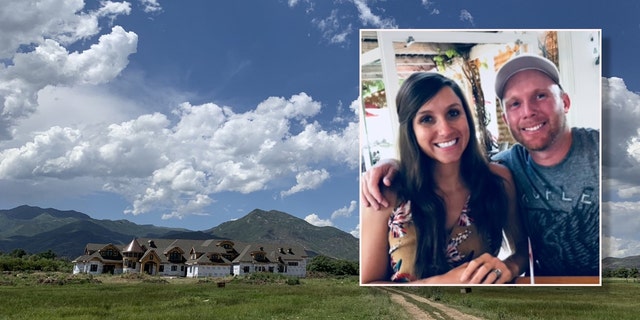 Utah children's book author Kouri Richins had a contentious relationship with her husband wrought with financial disagreements before she allegedly killed him with fentanyl. (TownLift/Will Scadden I Facebook)
A day after finding Eric dead in their bed, Kouri allegedly closed a deal on the Wasatch County mansion "alone."
UTAH CHILDREN'S BOOK AUTHOR, HUSBAND SPARRED OVER 'CURSED' MANSION BEFORE HIS ALLEGED MURDER
Kouri told investigators the morning of March 4, 2022, she did not know what happened to her husband after calling police to report his death, calling the incident "insane," according to a transcript from police-worn body camera footage taken at the scene of Eric's alleged murder.
Kouri Richins, a Utah mom of three, is accused of killing her husband of nine years, Eric Richins, with fentanyl last year. (AP Photo/Rick Bowmer I Family handout)
Court documents also alleged Kouri searched the following phrases beginning in April 2022: "luxury prisons for the rich in america," "how long does life insrance companies takento.pay;" "can you delete everythjng on an old icloud account," "can deleted text messages be retrieved," "what information can be cbtained from a cellphone," "how to turn find my iphone off," "can cops force you to do a lie detector test," "when does FBI get involved in a case," "what is considered a lethal.dose of fentanyl," and "what are you allowed inside utah jails."
Lazaro alleges Summit County officials did not read Kouri her Miranda rights while they questioned her after Eric's death and apparently ignored communication from her counsel.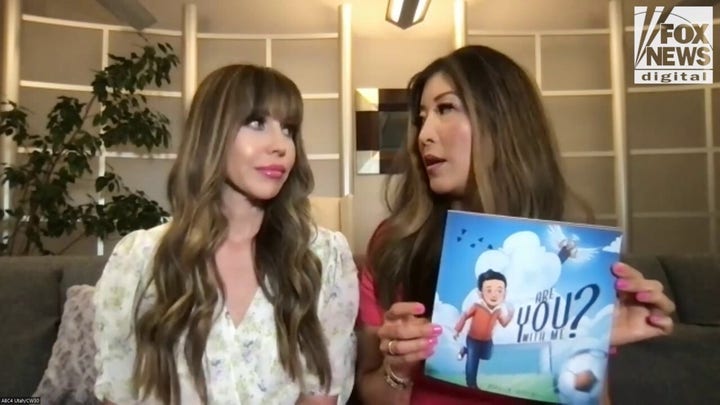 Video
Lazaro is arguing that, as a result of alleged malpractice, investigators should "refrain from using the passcode to access Ms. Richins' cell phone," a court filing states.
UTAH MAN ALLEGEDLY POISONED BY AUTHOR WIFE BELIEVED SHE WAS HAVING AFFAIR: FAMILY SPOX
Additionally, Kouri's defense team is taking issue with testimony from a witness identified as C.L. in court documents, who is currently in prison. C.L. told investigators that she sold fentanyl to Kouri prior to Eric's poisoning death, but Lazaro alleges that C.L. only identified the fentanyl after investigators pushed her to do so after questioning her for over an hour.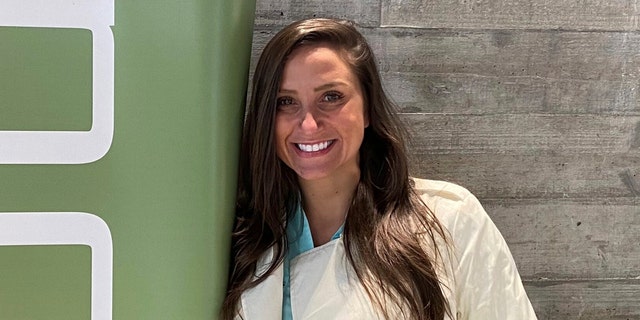 This photo provided by KPCW.org shows Kouri Richins at the KPCW studio in Park City, Utah, April 12, 2023.  (KPCW.org via AP)
CLICK TO GET THE FOX NEWS APP
After Eric's death, Kouri wrote a children's book about death, "Are You With Me?"
A description for the book, which was listed on Amazon for $14.99, describes "Are You With Me?" as "a must-read for any child who has experienced the pain of loss, and for parents who want to provide their children with the emotional support they need to heal and grow."
Audrey Conklin is a digital reporter for Fox News Digital and FOX Business. Email tips to [email protected] or on Twitter at @audpants.