close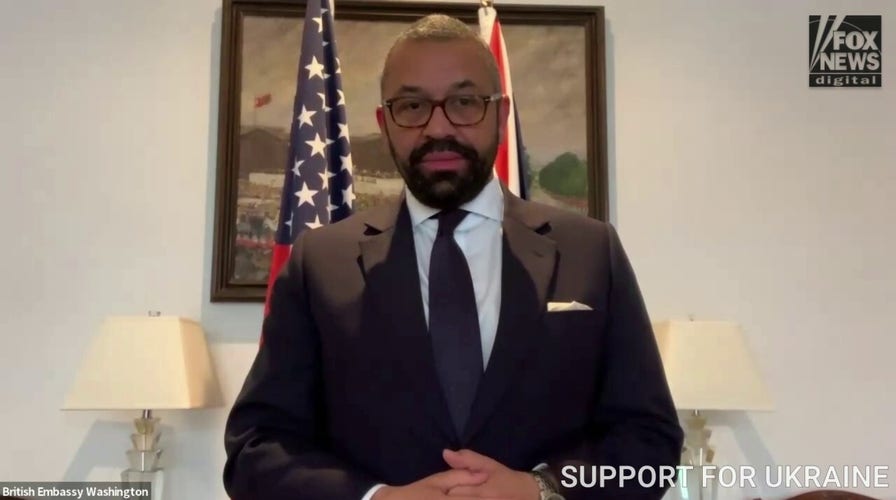 Video
EXCLUSIVE: British Foreign Minister James Cleverly on Ukraine, Iran, and other world issues
British Foreign Minister James Cleverly spoke with Fox News Digital on a range of international topics, including the need to remain committed to Ukraine's defense and urging sense on nuclear posturing from Russia.
EXCLUSIVE: British Foreign Minister James Cleverly, in an interview with Fox News Digital, underscored the need for the U.K. and U.S. to remain united on key issues, including the potential nuclear threats of Russia and Iran.
"Preventing Iran from developing a nuclear weapon remains an absolute priority in U.K. foreign policy," Cleverly said. "We've worked very, very closely with the members of the Quad, France, Germany, the United States … in imposing sanctions, and obviously we know very closely what we're doing in conjunction with the International Atomic Energy Agency to prevent Iran acquiring a nuclear weapon."
Cleverly stressed that it "will always be a U.K. foreign policy priority" to prevent Iran from acquiring a nuclear weapon." He also criticized Russia, insisting that "nobody is threatening nuclear weapons use against Russia" and that "the rhetoric is only coming from Vladimir Putin himself."
Cleverly visited Washington, D.C., last week to reaffirm the U.K.'s commitment to Ukraine's defense and spoke with Secretary of State Antony Blinken to ensure cooperation between the two long-time allies. He said after the meeting, the U.S.-U.K. partnership "continues to make life better for our people and the world."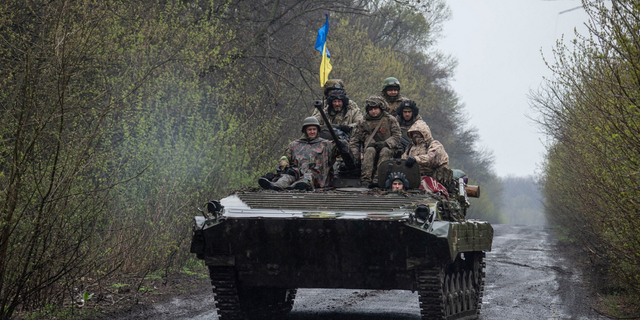 Ukrainian servicemen ride atop an armored fighting vehicle Tuesday as Russia's attack on Ukraine continues at an unknown location in Eastern Ukraine. (Press service of the Ukrainian Ground Forces/Handout via REUTERS)
SIX RUSSIAN AIRCRAFT INTERCEPTED NEAR ALASKA AIRSPACE DURING US MILITARY TRAINING EXERCISES: NORAD
He reiterated the point in an interview with Fox News Digital, labeling the dynamic an "excellent working relationship" that relies on how the two allies work through their disagreements.
"What we have seen both through our departure in the European Union, the resolution of the Windsor framework, is that the United States has been honest with us about our concerns," Cleverly said. "In return, we've always been honest with the United States about our concerns. We listen to each other. We address these concerns where we are able to."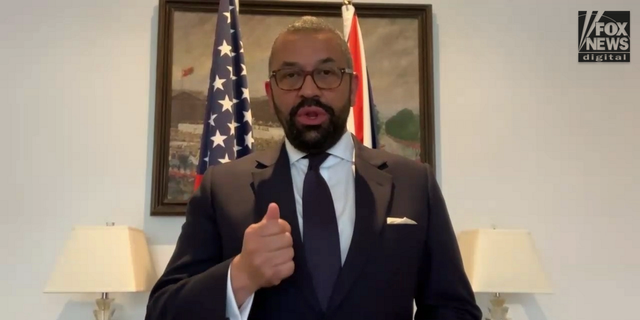 British Foreign Minister James Cleverly spoke with Fox News Digital in an inclusive interview. (Fox News Digital)
Cleverly did not dwell on those differences, instead highlighting the various times that the U.S. and U.K. have pursued common interests and goals, including the response to Iraq, the recent evacuation efforts from Sudan and mutual support of Ukraine's self-defense.
The U.K. was able to evacuate more than 2,000 people, including U.S. citizens, from Port Sudan as violence continues to ravage the region. Blinken said that over 1,300 Americans were evacuated from Sudan.
RUSSIA, CHINA COZY UP AS MILITARY POWERS THREATEN 'THE EXISTING ORDER,' OFFICIAL WARNS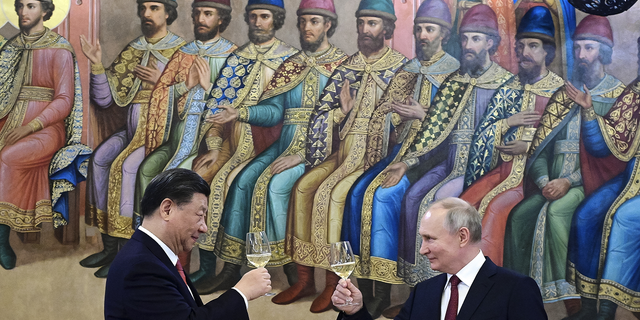 Russian President Vladimir Putin, right, and Chinese President Xi Jinping toast during their dinner at The Palace of the Facets in Moscow March 21. (Pavel Byrkin/Sputnik/Kremlin Pool Photo/AP)
Russian President Vladimir Putin's nuclear rhetoric and posturing, which has repeatedly put countries on edge throughout the Ukraine conflict, has remained a top concern for the U.K., and Cleverly urged Putin to act with more responsibility.
"As a P5 member of the U.N. Security Council, Russia has an enhanced responsibility to act in a reasonable manner: That's what it signed up to," Cleverly argued.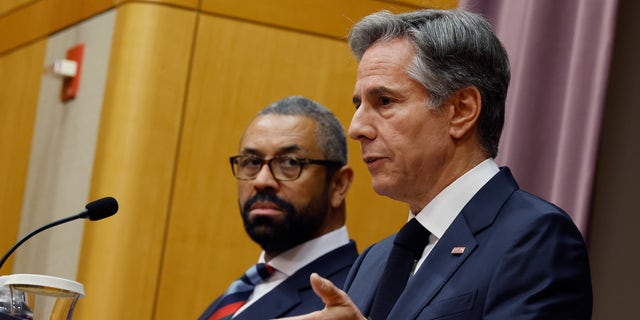 United Kingdom Foreign Secretary James Cleverly, left, and Secretary of State Antony Blinken hold a joint news conference at the Harry S. Truman Building on May 9, 2023 in Washington, D.C. (Chip Somodevilla/Getty Images)
"Now, we always expect that as he finds himself under more pressure in this conflict, he will start using a rhetoric of escalating rhetoric, so this is not a particular surprise," he continued, adding that the international community has "made it absolutely clear" that not just the use but even merely talking about or threatening to use nuclear weapons is "completely unacceptable."
China remains a particular concern as an increasingly close ally of Russia, with tensions rising after the European Union revealed it might follow the U.S. and impose sanctions against Chinese companies accused of selling weapons to the Russian military.
UKRAINE'S ZELENSKYY PAYS VISIT TO POPE FRANCIS, ITALIAN OFFICIALS IN ROME BEFORE GERMANY TRIP
Foreign Minister Qin Gang said China would "take the necessary response to firmly protect the legitimate interests of Chinese companies" following the news, but Cleverly downplayed any further tensions that might arise by claiming he had "assurances" from the Chinese that they do not intend to supply Russia.
"We have received assurances from them that they do not intend to do so. We intend to hold them to those assurances," Cleverly said. "Russia is the clear aggressor in this instance, and arming the aggressor to perpetrate such a brutal invasion would be completely unacceptable, and whatever country has done it has really gone beyond the pale."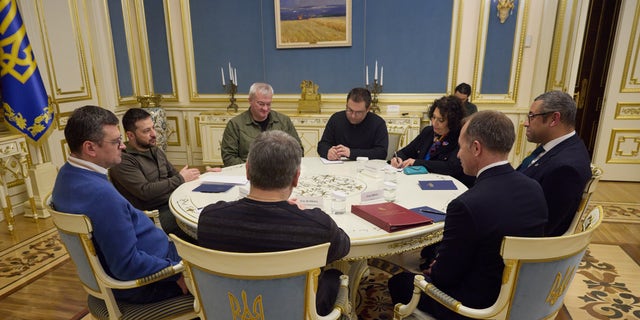 Ukrainian President Volodymyr Zelenskyy meets British Secretary of State for Foreign Commonwealth and Development Affairs James Cleverly in Kyiv, Ukraine on Nov. 24, 2022. (Ukrainian Presidency / Handout/Anadolu Agency via Getty Images)
While the U.K. has maintained hard stances against China and Russia, it has had one clear point of divergence with the U.S. The U.K. has not yet declared Iran's Islamic Revolutionary Guard Corps (IRGC) as a terrorist group, despite continued sanctions against the group and the U.S. placing the IRGC on the State Department's list of Foreign Terrorist Organizations in 2019.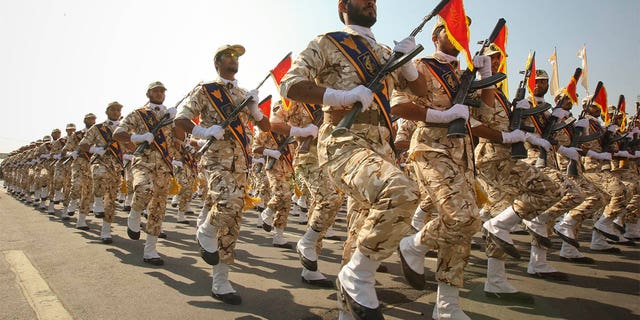 Members of the Iranian revolutionary guard march during a parade to commemorate the anniversary of the Iran-Iraq war. (Reuters)
Cleverly noted that only the U.S. government has declared the IRGC a terrorist group, and that the U.K. continues to assess and determine "the most effective way of curtailing the IRGC and indeed the Iranian government's malign activities."
CLICK HERE TO GET THE FOX NEWS APP
"We, of course, keep these decisions under constant review, but the decisions that we make within the U.K. will always be based on our, you know, the primary commitment, which is to keep British nationals safe, to keep people in the region safe."
Peter Aitken is a Fox News Digital reporter with a focus on national and global news.