The Pentagon announced Thursday that it is sending an additional $2.5 billion in military aid to Ukraine, including 90 Stryker combat vehicles for the first time and another 59 Bradley fighting vehicles.
The latest package will also replenish the U.S.-supplied High Mobility Artillery Rocket Systems (HIMARS), the National Advanced Surface-to-Air Missile Systems, and Avenger air defense systems, which the Pentagon says will "counter a range of short and medium range threats and bolster Ukraine's layered air defense."
Missing from the latest package are M1 Abrams tanks, which Kyiv has been asking for in recent months.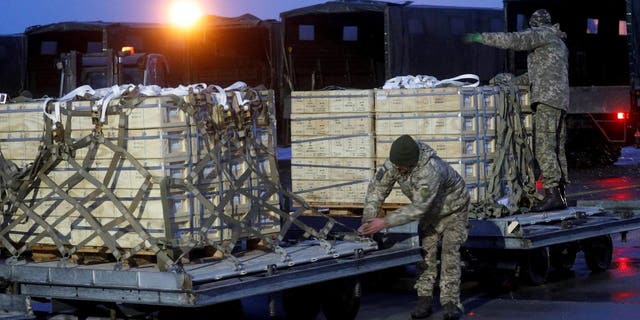 FILE PHOTO: Ukrainian service members unload a shipment of military aid, delivered as part of the United States' security assistance to Ukraine, at the Boryspil International Airport outside Kyiv, Ukraine.
(Reuters/Valentyn Ogirenko)
Ukrainian President Volodymyr Zelenskyy appeared frustrated over a "lack of specific weaponry" at the World Economic Forum's annual meeting in Switzerland on Wednesday.
"There are times where we shouldn't hesitate or we shouldn't compare when someone says, 'I will give tanks if someone else will also share his tanks,'" Zelenskyy said through a translator.
PUTIN CLAIMS 'ASSURED' VICTORY IN UKRAINE WILL END CONFLICT AS WAR NEARS 1-YEAR MARK
U.K. Prime Minister Rishi Sunak said last week that the British will send Challenger 2 tanks to Ukraine, upping the pressure on the U.S. to send Abrams tanks and Germany to send Leopard 2 tanks.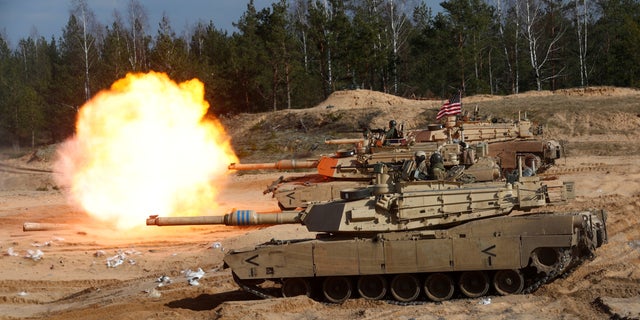 FILE PHOTO: U.S. Army M1A1 Abrams tank fires during NATO enhanced Forward Presence battle group military exercise Crystal Arrow 2021 in Adazi, Latvia March 26, 2021.
(Reuters/Ints Kalnins/File Photo)
The U.S. is sending 90 Stryker combat vehicles to Ukraine. 
(Michael Ciaglo/Getty Images)
Sen. Tom Cotton, R-Ark., and other lawmakers across the political spectrum have voiced support for sending U.S. tanks to Ukraine.
"Now, it is the case that Germany's tanks are a little bit better suited for Ukraine's army and their supply and logistics systems," Cotton told Dana Perino on "America's Newsroom" on Thursday.
"But I'm confident, given the weapons systems we've already provided to Ukraine, that we could also support U.S. Abrams-made tanks going into Ukraine as well."
US TRANSFERS MILITARY WEAPONS STOCKPILE FROM ISRAEL TO UKRAINE
The latest package of aid to Ukraine comes the day before Defense Secretary Lloyd Austin is set to meet in Germany with defense ministers from allied nations.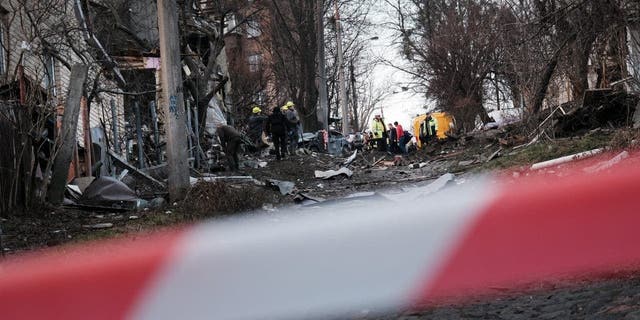 Emergency workers gather at the scene of a blast on New Year's Eve, December 31, 2022 in Kyiv, Ukraine. 
(Spencer Platt/Getty Images)
CLICK HERE TO GET THE FOX NEWS APP
The U.S. has sent more than $26.7 billion in military aid to Ukraine since Russia invaded in February 2022.
Thursday's package also includes 350 Humvees, 53 mine-resistant ambush-protected vehicles, three million rounds of small arms ammunition, and 2,000 anti-armor rockets.
The Associated Press contributed to this report.