close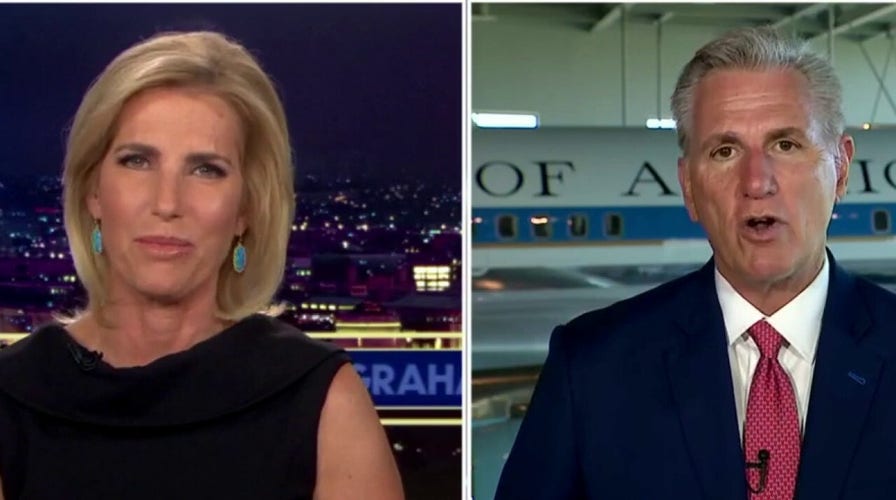 Video
Kevin McCarthy: China cant bully us about who we can talk to
House Speaker Kevin McCarthy sounds off on The Ingraham Angle after meeting with the Taiwanese president.
The 38th annual joint U.S.-Philippines military exercises will be the largest ever, nearly doubling the amount of personnel that participated in last year's event.
Roughly 12,000 U.S. troops, 5,400 Philippine personnel and over 100 Australian military members are set to participate in the annual Balikatan Exercise between the countries, far surpassing the 9,000 that participated in the event last year, according to reporting from the Navy Times Wednesday.
The 17-day exercise, which is set to kick off on April 11, comes amid rising tensions with China in Asia, most recently after an announced deal struck between the Philippines and U.S. that gives the U.S. military access to four additional military installations in the country, a few of which will face the South China Sea.
CHINA VOWS 'STRONG' MEASURES AFTER MCCARTHY MEETS TAIWAN'S TSAI ING WEN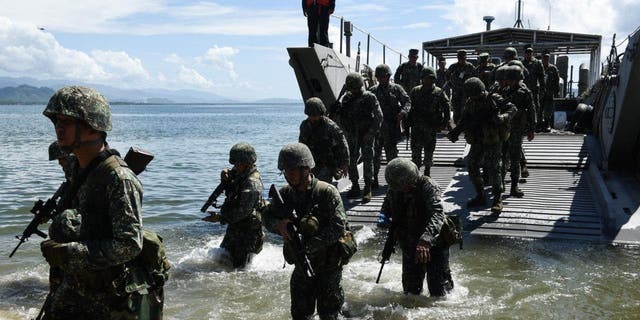 Philippine marines disembark from an amphibious landing craft in Casiguran Province, Philippines. Philippines and U.S. troops held the annual "Balikatan" (shoulder-to-shoulder) joint military exercises in 2017. (Photo by Dondi Tawatao/Getty Images)
"It's a big deal," Defense Secretary Lloyd Austin said of the event, which was announced last month. "This is part of our effort to modernize our alliance, and these efforts are especially important as the People's Republic of China continues to advance its illegitimate claims in the West Philippine Sea."
Two of the new sites to host U.S. military personnel, a Philippine navy base in Santa Ana and an international airport in Lal-lo, have particularly irked China as a result of their proximity to China and Taiwan.
It is still unclear if any of the four new bases will be used during this month's military exercise.
The announced plans also come after China vowed "strong and resolute measures" in response to a meeting between House Speaker Kevin McCarthy and Taiwanese President Tsai Ing-wen in California.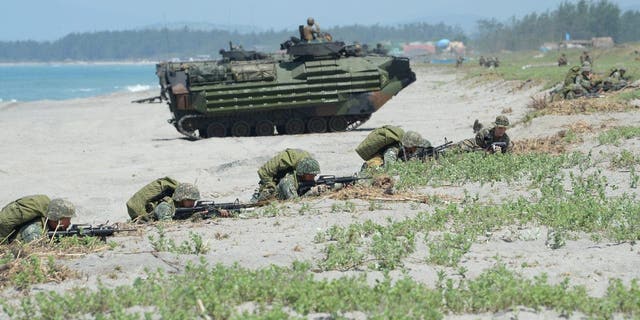 Philippine marines take position next to U.S. Marines amphibious assault vehicles during an amphibious landing exercise at the beach of the Philippine navy training center facing the south China sea in San Antonio town, Zambales Province. (TED ALJIBE/AFP via Getty Images)
TOP GOP CONGRESSMAN ISSUES STARK WARNING OVER US 'VULNERABILITY' TO CHINA AFTER MEETING WITH TAIWAN PRESIDENT
"We will take resolute measures to punish the 'Taiwan independence' separatist forces and their actions, and resolutely safeguard our country's sovereignty and territorial integrity," China's Taiwan Affairs Office said in a statement Thursday morning.
McCarthy and a group of bipartisan lawmakers met with Tsai Wednesday, with McCarthy vowing "unwavering" support for Taiwan.
"America's support for the people of Taiwan will remain resolute, unwavering and bipartisan," McCarthy said at a news conference following the meeting.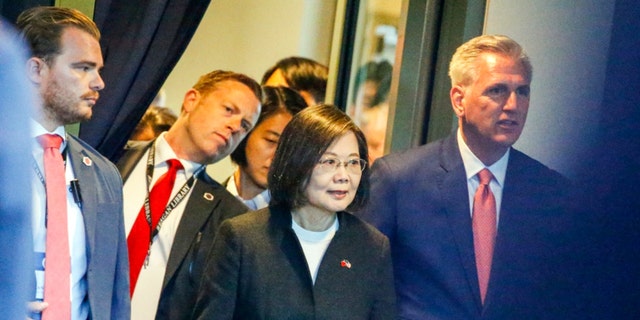 House Speaker Kevin McCarthy, R-Calif., right, and Taiwan President Tsai Ing-wen, second from right, arrive at a Bipartisan Leadership Meeting at the Ronald Reagan Presidential Library in Simi Valley, California. ((AP Photo/Ringo H.W. Chiu))
CLICK HERE TO GET THE FOX NEWS APP
Tsai added that the U.S. "unwavering support reassures the people of Taiwan that we are not isolated: while arguing the island's relationship with the United States was critical to defend democracy.
"We once again find ourselves in a world where democracy is under threat and the urgency of keeping the beacon of freedom shining cannot be understated," Tsai said.
Michael Lee is a writer at Fox News. Follow him on Twitter @UAMichaelLee