close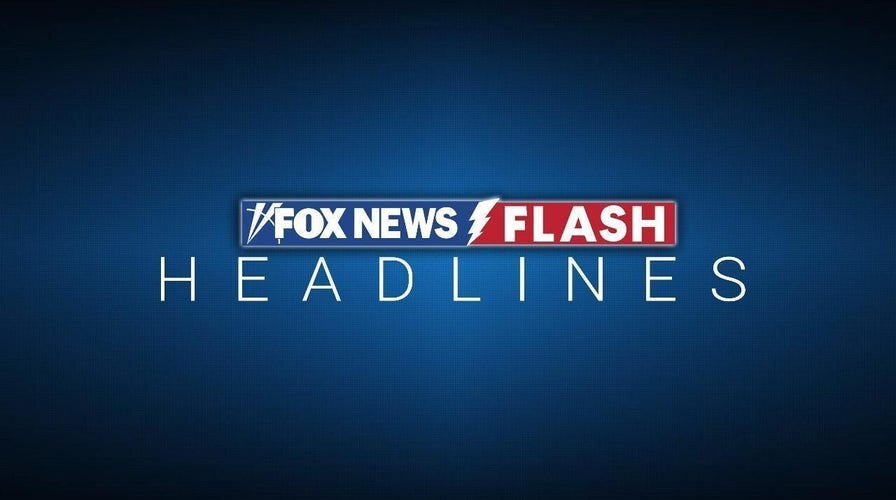 Video
Fox News Flash top headlines for February 2
Fox News Flash top headlines are here. Check out what's clicking on Foxnews.com.
The U.S. military halted a smuggling vessel in the Gulf of Oman this week, uncovering $33 million worth of methamphetamine and hashish.
The U.S. Coast Guard Cutter USCGC Emlen Tunnell halted the supposed fishing vessel in international waters near the coast of Bahrain. U.S. forces boarded the ship and seized 4,000 kilograms of hashish and 512 kilograms of methamphetamine.
The Emlen Tunnell operates as part of the Combined Maritime Forces (CMF) that patrol the Gulf, which includes vessels from the U.K. Royal Navy and other allies.
"This is just the beginning of our work in delivering maritime security operations in the region to stop illicit activities and drug smuggling," said UK Royal Navy Capt. James Byron, who commands the Emlen Tunnell's CMF group. "This comes as a result of a valued partnership between CTF 150 and all partner nations in Combined Maritime Forces."
FRENCH SPECIAL FORCES SEIZE THOUSANDS OF IRANIAN RIFLES, MISSILES ON SMUGGLING SHIP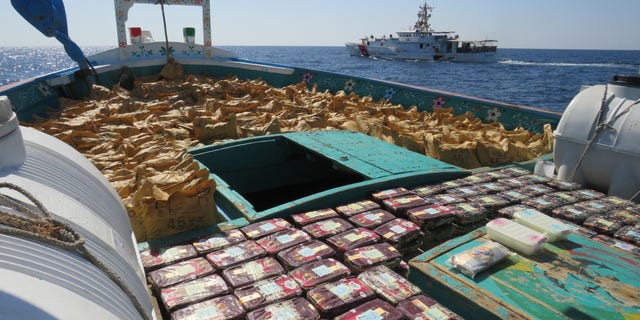 A U.S. Coast Guard vessel seized $33 million worth of illegal drugs after halting a smuggling vessel in the Gulf of Oman.
(US Central Command)
U.S. forces have also seized thousands of rifles and other military equipment from Iranian smuggling vessels bound for Yemen.
The U.S. Navy halted one such vessel on Jan. 6, finding 2,116 assault rifles. The Yemeni-crewed ship was the third fishing vessel to be found smuggling lethal aid from Iran to Houthi rebels in Yemen since November. U.S. forces also seized more than 50 tons of ammunition and fuses and propellants for rockets on Dec. 1.
POMPEO SAYS BIDEN'S IRAN TALKS 'SQUANDERED' MIDDLE EAST STABILITY: 'PUTTING US ALL AT RISK'
The USS The Sullivans, USS Hurricane and USCG John Scheuerman also intercepted more than 70 tons of chemicals used to make rocket propellant and explosives on Nov. 8.
Most recently, French special forces confiscated over 3,000 assault rifles, 500,000 rounds of ammunition and 20 anti-tank guided missiles from another Iranian smuggling vessel on Monday. The French worked in coordination with U.S. forces to bring in the haul.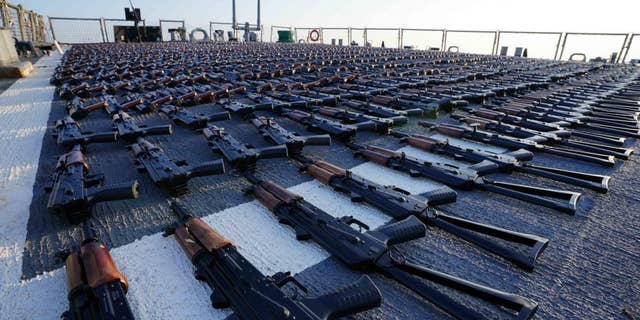 The U.S. Navy confiscated 2,116 assault rifles being smuggled out of Iran to Yemen.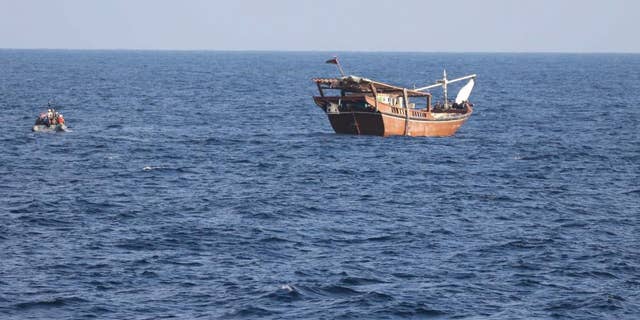 An Iranian smuggling vessel halted by U.S. Navy forces.
"This shipment is part of a continued pattern of destabilizing activity from Iran," Vice Adm. Brad Cooper, commander of U.S. Naval Forces Central Command, U.S. 5th Fleet and Combined Maritime Forces, said earlier in January. "These threats have our attention. We remain vigilant in detecting any maritime activity that impedes freedom of navigation or compromises regional security."
CLICK HERE TO GET THE FOX NEWS APP
The U.S. Navy has a long history of interactions with Iranian vessels in the area as well. Three Islamic Revolutionary Guard Corps Navy vessels (IRGCN) confronted a U.S. convoy in the Strait of Hormuz in June 2022, with one of the vessels closing within 50 yards of the USS Sirocco.
Anders Hagstrom is a reporter with Fox News Digital covering national politics and major breaking news events. Send tips to [email protected], or on Twitter: @Hagstrom_Anders.