close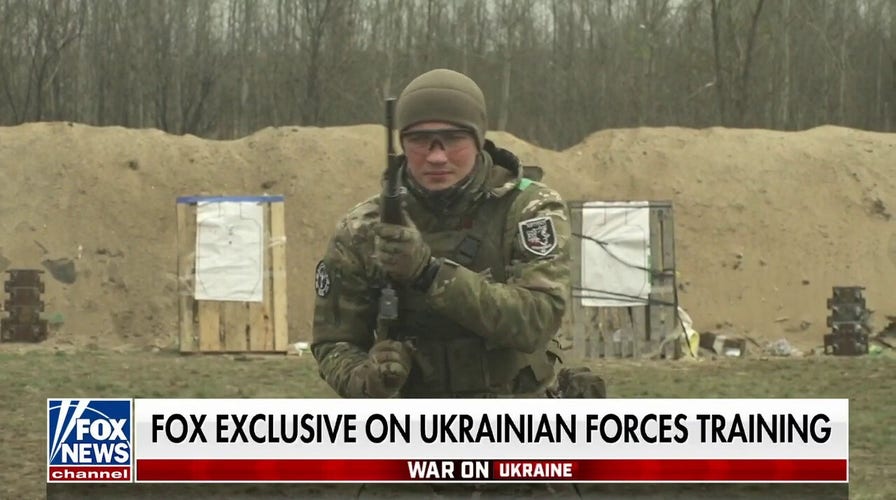 Video
Fox gets exclusive look into Ukrainian forces training
Fox News' Alex Hogan reports exclusively on Ukraine's military training as it prepares for a looming counteroffensive. 
Secretary of Defense Lloyd Austin on Friday said the U.S. would be expediting the deployment of U.S. M1 Abrams tanks for May delivery in Germany as it looks to ready Ukrainian troops for training on the advanced equipment.
Speaking from Ramstein Air Base in Germany following the 11th meeting of the Ukraine Defense Contact Group, Austin said the decision was made in order to "supply Ukraine with more armored capability in the coming months."
"The M1's that the Ukrainians will use for training [will] arrive here in Germany in the next few weeks," he added. "All of this is huge progress."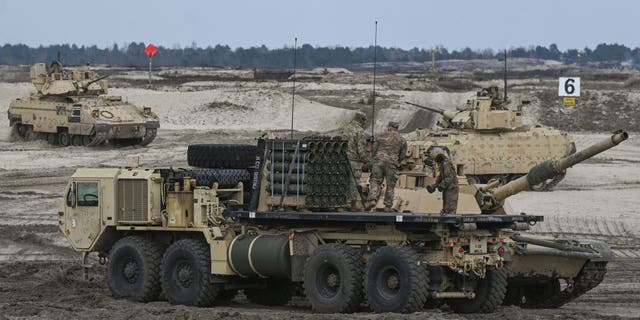 U.S. soldiers from 2nd Battalion, 70th Armor Regiment, 1st Infantry Division train with M1A2 Abrams tanks and Bradley Fighting Vehicles in Nowa Deba, Poland, on April 12, 2023. (Artur Widak/NurPhoto via Getty Images)
WASHINGTON LOOKS TO TEMPER CONCERNS AMONG ALLIES FOLLOWING INTELLIGENCE LEAK
On Friday, Fox News exclusively joined the military training of Ukraine's special forces and territorial defense members — who will deploy back to the frontlines in the coming days — at an undisclosed location where troops were being trained on weapons testing and assault operations.
"We know what to expect and we are training every day for it," one Ukrainian soldier told Fox News.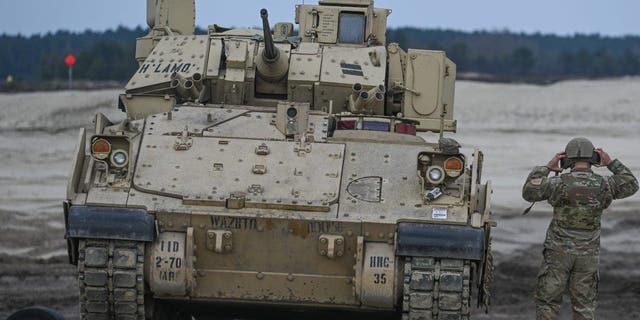 U.S. and Polish soldiers team up at Nowa Deba, Poland, to bolster NATO's eastern flank, backed by Poland's acquisition of 250 M1A2 Abrams tanks from the U.S. Army, on April 12, 2023. (Artur Widak/NurPhoto via Getty Images)
RUSSIAN MERCENARIES SYMPATHETIC TO PUTIN TARGET UK WITH CYBER THREATS OVER WAR IN UKRAINE: REPORT
The U.S.-supplied Abrams tanks expected for a May arrival will be used to train Ukrainian soldiers in a 10-week course, although the 31 tanks slotted for training will not be sent to Ukraine for its war effort under the package pledged by Washington earlier this year.
The U.S. is working to refurbish another 31 Abrams tanks for frontline deployment to Ukraine later this year.
Reports in March suggested Abrams tanks would not make it to Ukraine until the fall, and it remains unclear if Washington is looking to supply Kyiv with this advanced armored capability on a quicker timeline.
In addition, Germany and Poland have signed a joint memorandum on a repair system for Leopard 2 tanks damaged during the war in Ukraine.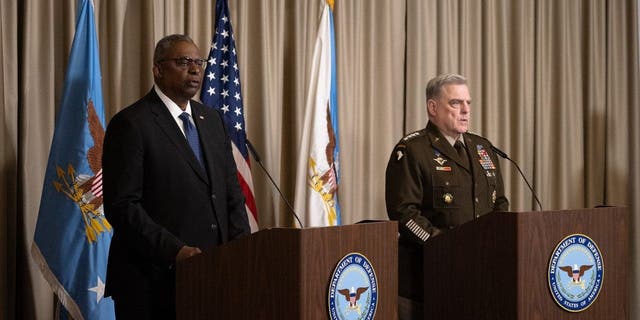 Secretary of Defense Lloyd Austin, left, and Mark A. Milley, U.S. General and Chairman of the Joint Chiefs of Staff of the United States Armed Forces, speak to journalists during the closing statement of the U.S.-led Ukraine Contact Group meeting at Ramstein Air Base in Germany on Friday. (Sebastian Christoph Gollnow/picture alliance via Getty Images)
CLICK HERE TO GET THE FOX NEWS APP
The repairs, expected to cost up to $220 million a year, will be financed equally by the two NATO nations with a hub near the Ukrainian border in Poland.
Germany's defense minister Boris Pistorius said he expects work on the repair hub to begin around the end of May.
The Associated Press contributed to this report.
Caitlin McFall is a Reporter at Fox News Digital covering Politics, U.S. and World news.