close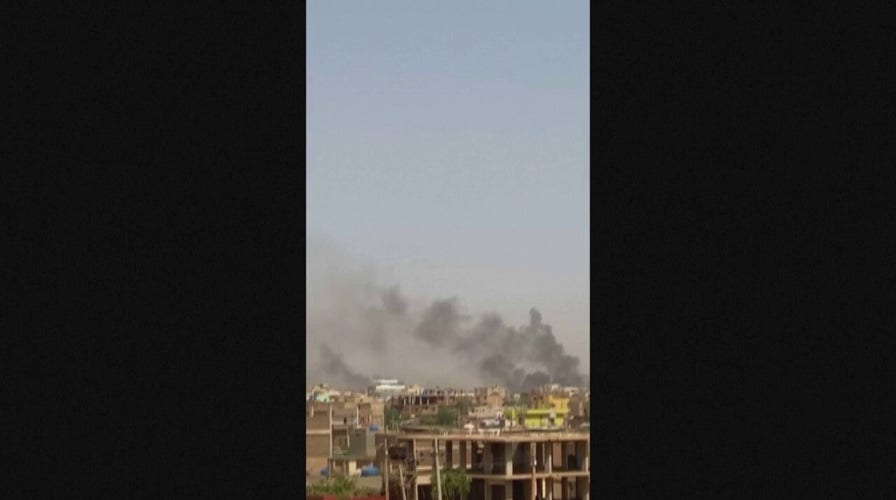 Video
Smoke rises in Khartoum, Sudan as paramilitary group battles army
Smoke rose in Khartoum, Sudan, Saturday as a paramilitary group said it had seized the presidential palace. (Reuters)
U.S. officials and travelers inside the African nation of Sudan are being encouraged to shelter in place as gunfire and explosions rocked the capital of Khartoum.
The paramilitary Rapid Support Forces (RSF) are clashing with Sudan's army, and the RSF claimed Saturday it had seized the presidential palace and taken control of the city's airport.
"Due to reports of heavy gunfire in several locations in Khartoum, Embassy staff have been ordered to shelter in place," the U.S. Embassy in Sudan wrote in a warning. "American citizens are encouraged to shelter in place."
SUDAN'S MILITARY WARNS OF POTENTIAL CLASHES WITH POWERFUL PARAMILITARY FORCES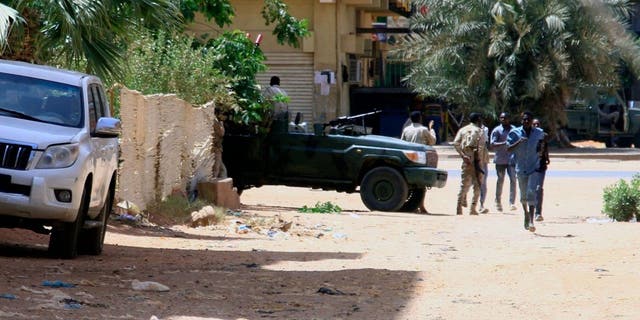 People walk past a military vehicle in Khartoum on April 15, 2023, amid reported clashes in the city. (AFP via Getty Images)
The violent confrontation of the national army and RSF groups has escalated threats of a civil war for control of Sudan.
The latest tensions between the army and paramilitary group stem from a disagreement over how the RSF should be integrated into the military — a key condition of an unsigned transition deal for Sudan. The army-RSF rivalry, however, dates back to the rule of autocratic President Omar al-Bashir, who was ousted in 2019.
Under al-Bashir, the paramilitary force, led by powerful Gen. Mohammed Hamdan Dagalo, grew out of former militias known as the Janjaweed that executed a brutal crackdown in Sudan's Darfur region during the decades of conflict there.
REFORMIST SUDANESE GENERAL SAYS MILITARY LEADERS REFUSE TO STEP DOWN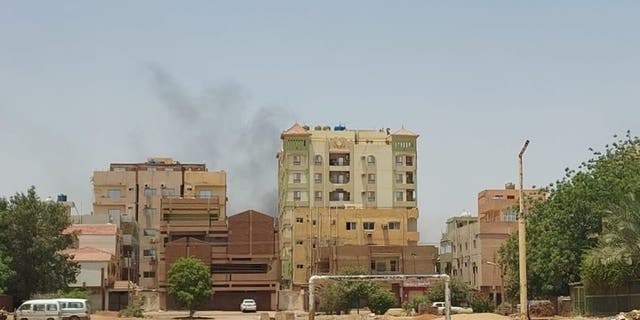 Smoke rises after clashes erupted in the Sudanese capital on April 15, 2023 between the Sudanese Armed Forces and the paramilitary Rapid Support Forces (RSF).  (Mahmoud Hjaj/Anadolu Agency via Getty Images)
Although both the army and the RSF together carried out a coup in October 2021 that upended Sudan's transition to democracy, friction between them became increasingly visible in recent months, with conflicting public statements, heavy military presence in Khartoum and parallel foreign trips by military and RSF leaders.
RSF leaders claimed Saturday to have taken control of both the airport and the presidential palace.
"I just arrived late last night in Khartoum and woke up to the deeply disturbing sounds of gunfire and fighting. I am currently sheltering in place with the Embassy team, as Sudanese throughout Khartoum and elsewhere are doing," said U.S. Ambassador to Sudan John Godfrey.
CLICK HERE TO GET THE FOX NEWS APP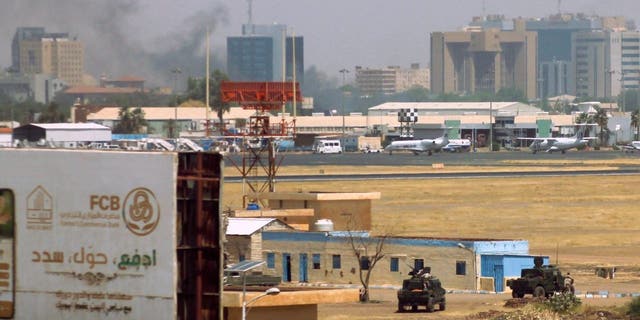 Military vehicles can be seen as smoke bellows above buildings in the vicinity of the Khartoum airport on April 15, 2023, amid clashes in the city. (AFP via Getty Images)
He continued, "Escalation of tensions within the military component to direct fighting is extremely dangerous. I urgently call on senior military leaders to stop the fighting."
The 2021 coup removed a Western-backed, power-sharing administration and dashed Sudanese aspirations for democratic rule after three decades of autocracy and repression under al-Bashir.
A months-long popular uprising forced the military's overthrow of al-Bashir in April 2019. Since then, the former president, who is wanted by the International Criminal Court on charges of war crimes and genocide in the Darfur conflict, has been imprisoned in Khartoum.
The Associated Press contributed to this report.
Timothy Nerozzi is a writer for Fox News Digital. You can follow him on Twitter @timothynerozzi and can email him at [email protected]