close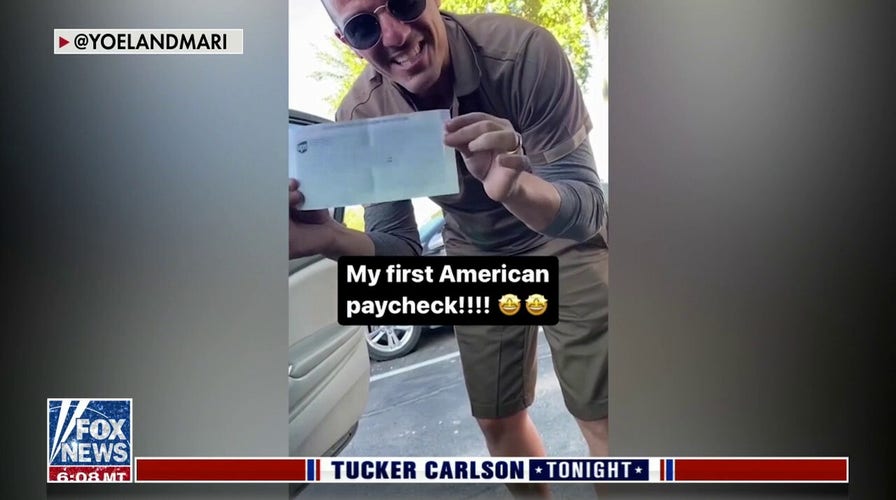 Video
Cuban immigrant UPS driver celebrates first American paycheck
UPS driver and Cuban immigrant Yoel and his wife Marissa Diaz join 'Tucker Carlson Tonight' to discuss Yoel receiving his first American paycheck and their American Dream journey.
The U.S. and Cuba opened discussions over law enforcement concerns, with some members of Congress critical of continued talks with a nation that still poses a problem for American security.
"The State Department needs to be clear and transparent with the American people as to the meeting held in Cuba, and any promises made by the Biden administration to the regime," Rep. Maria Elvira Salazar, R-Fla., told Fox News Digital. "The United States should not be negotiating with countries in the 'state sponsor of terrorism' lists."
"I surely hope the administration is not moving toward removing Cuba from this list, for they will meet continued opposition from my office and the FORCE Act I recently reintroduced in Congress," Salazar added.
The U.S. and Cuba held talks on Jan. 18 and 19 in Havana as part of "bilateral interest on law enforcement matters." The talks, which the State Department stressed occur "semi-annually," covered concerns over human trafficking, narcotics and the U.S. ability to "combat criminal actors."
FLORIDA SHERIFF FIRES BACK AT KARINE JEAN-PIERRE ACCUSING DESANTIS OF 'POLITICAL STUNTS' ON MIGRANT CRISIS
"The purpose of the Dialogue is to improve law enforcement coordination, which enhances U.S. national security and allows us to better protect U.S. citizens," the State Department told Fox News Digital. "It also provides a forum to raise difficult matters and convey our concerns directly to the Cuban government."
The State Department told Fox News Digital that the dialogue is "not a new initiative and it does not represent new diplomatic activity between the U.S. and Cuba."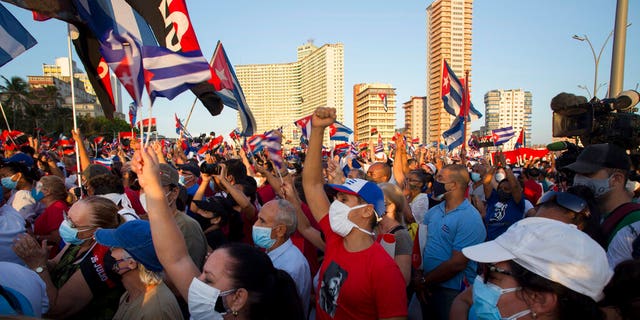 Thousands of people show support for the Cuban revolution six days after the uprising of anti-government protesters across the island, in Havana, Cuba, on July 17, 2021.
(AP Photo/Ismael Francisco)
Despite noting that the talks occur semi-annually, the State Department also acknowledged that these were the first to focus on law enforcement between the two countries since 2018, which capped off a series of four talks that started in 2015.
Sens. Marco Rubio and Rick Scott, R-Fla., issued a statement ahead of the dialogue that urged the Biden administration to push for certain conditions from Cuba as part of any cooperation.
FORMER HIGH-RANKING US OFFICIAL WHO SPIED FOR CUBA RELEASED AFTER 20 YEARS
The senators asked that the administration urge Cuba to hold free and fair elections, release all prisoners detained for "political crimes," extradite American citizens who fled to Cuba to escape U.S. punishment and cease "the weaponization of mass migration toward our shores," among other items.
"Past experiences have shown that dialogues with authoritarian regimes, especially ones that do not respect the rule of law, detrimentally affect the Cuban people's well-being and desire to live freely," the senators wrote. "Only a policy toward Cuba that will enforce democracy and the rule of law will serve as the best foreign policy tool for our national security."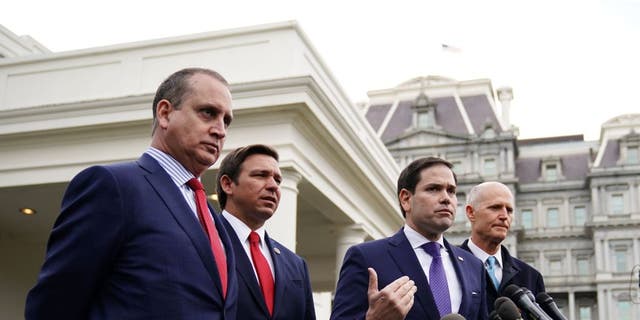 Sens. Marco Rubio and Rick Scott, along with Rep. Mario Diaz-Balart and Florida Gov. Ron DeSantis, speak to reporters after a meeting with President Donald Trump at the White House on Jan. 22, 2019.
(Mandel Ngan/AFP via Getty Images)
"It also recognizes the importance of advancing human rights protections as core to our nation's values."
Following the conclusion of the talks, Rubio and Rep. Mario Diaz-Balart, R-Fla., issued a statement that criticized the Biden administration of "doing everything… to reverse common-sense Trump-era policies."
US REOPENS VISA, CONSULAR SERVICES AT CUBAN EMBASSY FOR FIRST TIME SINCE 'HAVANA SYNDROME' INCIDENTS
Rubio and Diaz-Balart said the administration believes that engagement with dictators and the opening of markets "will lead to universal liberty and prosperity," but that "history says otherwise."
"If we put appeasement into practice with Cuba, we will lose the leverage we need to prevent greater oppression," they wrote.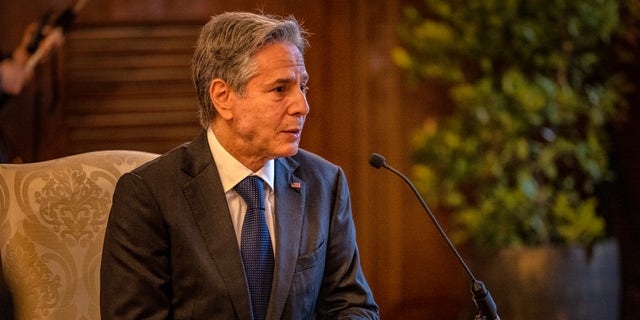 Secretary of State Antony Blinken ahead of a visit to China in November 2022.
(Ezra Acayan/Getty Images)
"President Biden must not lift sanctions on Cuba's dictatorship or remove it from the state sponsors of terror list," they added. "There are real ways the U.S. can help the Cuban people… the path of 'engagement,' on the other hand, will help neither the Cuban people nor America."
CLICK HERE TO GET THE FOX NEWS APP
Cuba currently harbors over 70 fugitives from American justice, including terrorists, according to a previous statement from Rubio in August 2022 when he, along with Sen. Bob Menendez, D-N.J., introduced the Trooper Werner Foerster and Frank Connor Justice Act, which required the immediate extradition or return of all such fugitives.
In that statement, they argued that by failing to cooperate with the extradition, Cuba "has robbed these victims and their families of justice."
Peter Aitken is a Fox News Digital reporter with a focus on national and global news.