close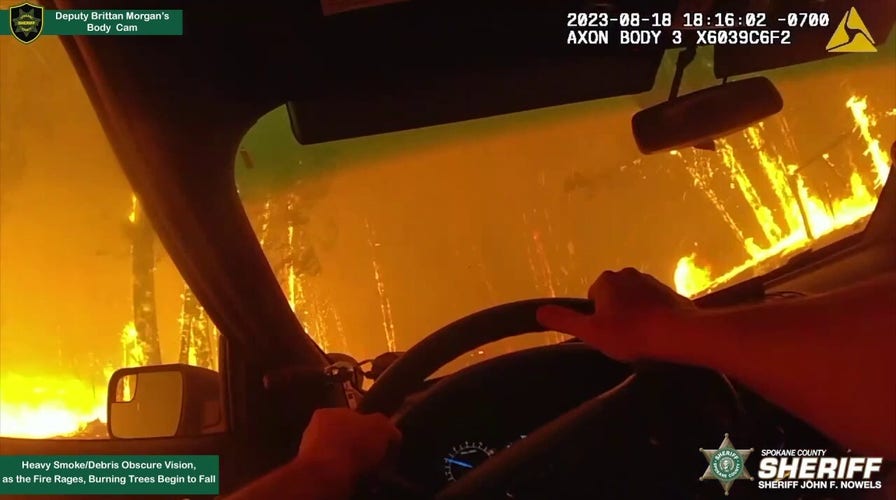 Video
Video shows inferno surrounding Washington deputy assisting fire evacuations
Video is from the body camera of Dep. Brittan Morgan, who responded to the Oregon Fire in North Spokane County just after it began on Aug. 18, 2023, at approximately 4 p.m.
Newly-released body camera footage shows a Washington deputy driving through an inferno before warning others not to go the direction he had just come from.
"Unless you wanna die!" Spokane County Sheriff's Office Deputy Brittan Morgan can be heard shouting at a motorist in the video shared by the department on social media. The sheriff's office Facebook page described the ordeal as "Driving Through Hell on Earth."
Morgan's bodycam was rolling while he was contacting citizens, advising them to evacuate immediately due to the Oregon Road Fire that started around 4 p.m. Aug. 18, and later turned deadly.
The shared video was edited for time and language, but shows how heavy smoke and debris obscured Morgan's vision, and burning trees began to fall as the fire raged.
VIDEO SHOWS KANSAS DEPUTY HUG DISTRESSED MOTORIST DURING TRAFFIC STOP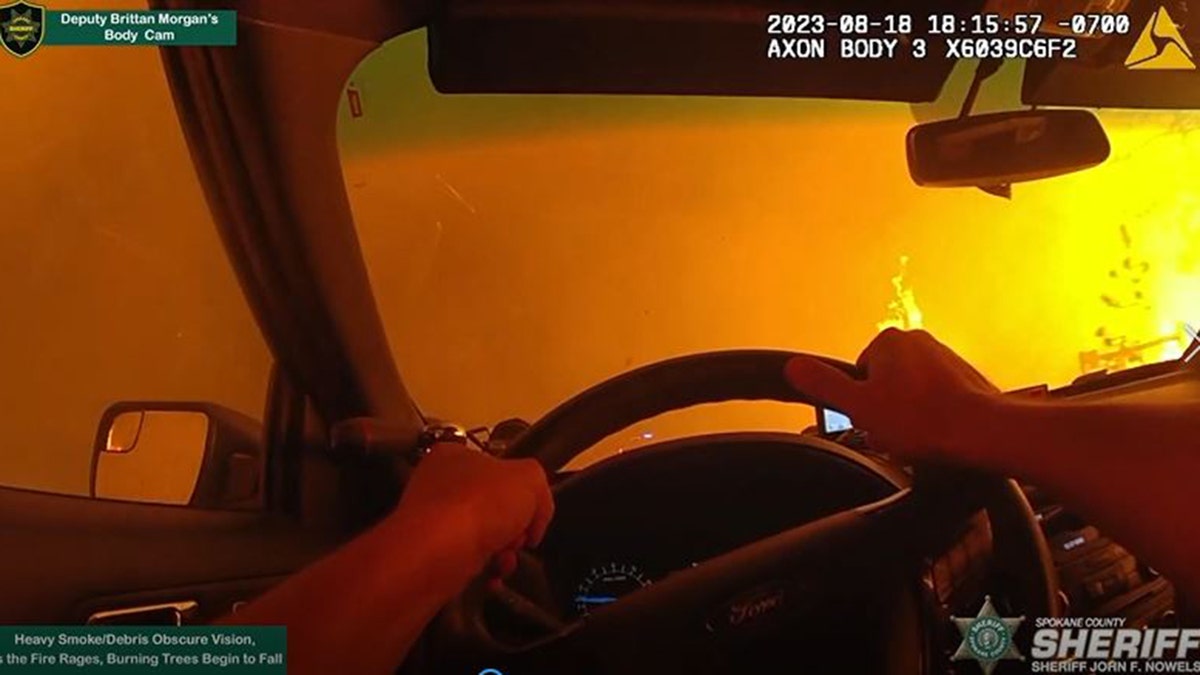 A deputy's bodycam captures frightening moments while saving lives during the initial hours of Oregon Road Fire evacuations. (Spokane County Sheriff's Office / BODY CAMS+ /TMX)
"I don't wanna f—ing die in this!" Morgan is heard saying in the video.
"Deputy Morgan did not realize his camera was still on as he talked himself through this extremely terrifying moment. Clearly, he is not sure how it would end, but his determination to escape the flames is evident.," SCSO wrote on Facebook.
Once in a safe location, a person Morgan contacted but initially refused to leave emerged from the fire-ravaged area. The deputy expressed how thankful he was that the person was alive.
COP'S STEAMY SQUAD CAR SESSION WITH WOMAN IN SKIMPY OUTFIT CAUGHT ON VIDEO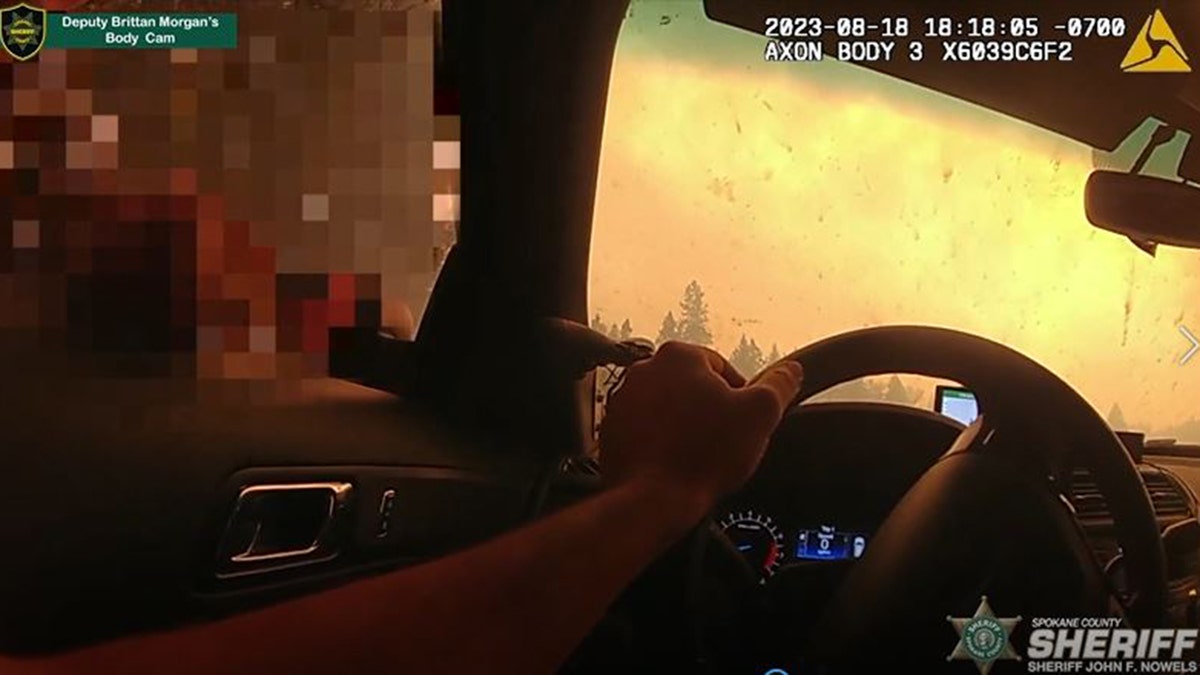 Deputy Brittan Morgan warned a citizen not to go into the flames. (Spokane County Sheriff's Office / BODY CAMS+ /TMX)
As Morgan pointed the person toward safety, he was approached by another distraught person who wanted to go into the burning inferno to retrieve his semi, which he relied on for his livelihood. Morgan calmly explained that everything in that direction was on fire, and that he did not want him to die.
As they spoke, a lady pulled up, frantically saying her dad was at a house and could not get out, pointing back into the fire's path. Morgan radioed the location to other first responders working in another part of the evacuation zone. The person mentioned was later deemed safe.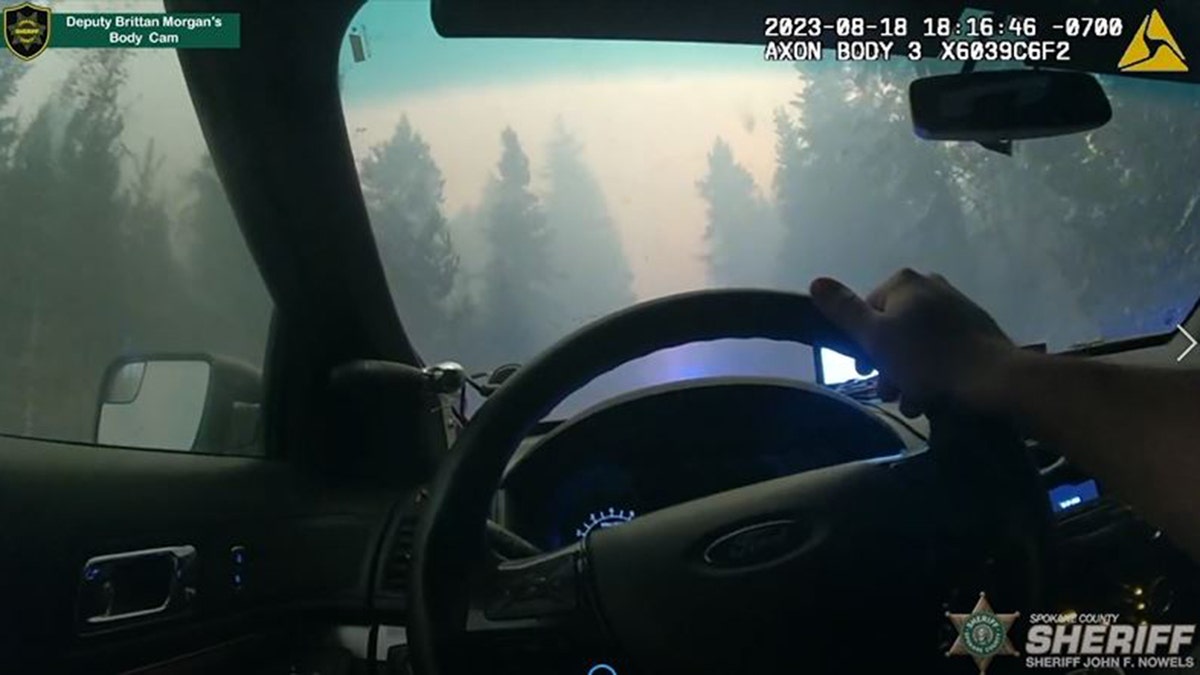 The Oregon Road Fire near Elk, Washington, claimed the life of one person. (Spokane County Sheriff's Office / BODY CAMS+ /TMX)
CLICK HERE TO GET THE FOX NEWS APP
The Oregon Road Fire claimed one life, burned an estimated 10,817 acres and destroyed an estimated 120-plus homes. Fire officials have told local news outlets that the fire near Elk, Washington, was human-caused.