The United Nations is taking aim at President Biden's new border security announcements, accusing the administration of undermining human rights with its efforts to limit the ability of illegal immigrants to claim asylum in the United States.
"The right to seek asylum is a human right, no matter a person's origin, immigration status, nor how they arrived at an international border," UN High Commissioner for Human Rights Volker Turk said in a statement.
Turk was reacting to announcements by the administration last week of measures designed to stem the overwhelming migrant crisis at the southern border which has seen hundreds of thousands of migrants hitting the border each month.
President Biden announced an expansion of a humanitarian parole program for Venezuelans to include Haitians, Nicaraguans and Cubans. The program will allow 30,000 of those nationalities to enter the U.S. each month if they have not crossed illegally and if they have a sponsor in the country already.
MEXICAN PRESIDENT THANKS BIDEN FOR NOT BUILDING ANY MORE BORDER WALL, PUSHES FOR AMNESTY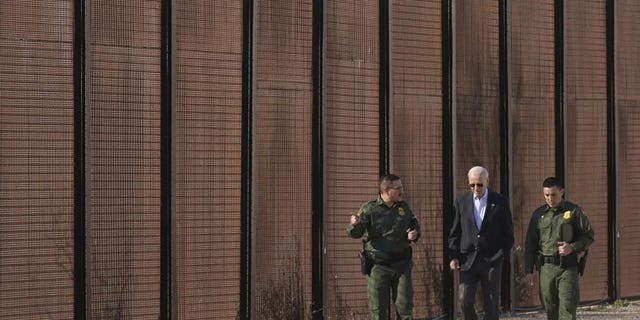 President Joe Biden walks with U.S. Border Patrol agents along a stretch of the U.S.-Mexico border in El Paso Texas, Sunday, Jan. 8, 2023. 
(AP Photo/Andrew Harnik)
However, that expansion comes hand-in-hand with an expansion of Title 42 expulsions to include 30,000 illegal immigrants each month of those nationalities. Mexico had previously not been receiving Haitians, Cubans and Nicaraguans under the Trump-era public health order. Additionally, the administration announced an increased use of an alternative removal authority — expedited removal — to remove those who do not claim asylum and who cannot be expelled under Title 42.
Separately, the Department of Homeland Security announced a rule that would make illegal immigrants ineligible for asylum if they "circumvent available, established pathways to lawful migration" and do not claim asylum in a country through which they traveled to get to the U.S.
BIDEN ANNOUNCES BORDER VISIT, NEW MEASURES AS PRESSURE GROWS OVER OVERWHELMING MIGRANT SURGE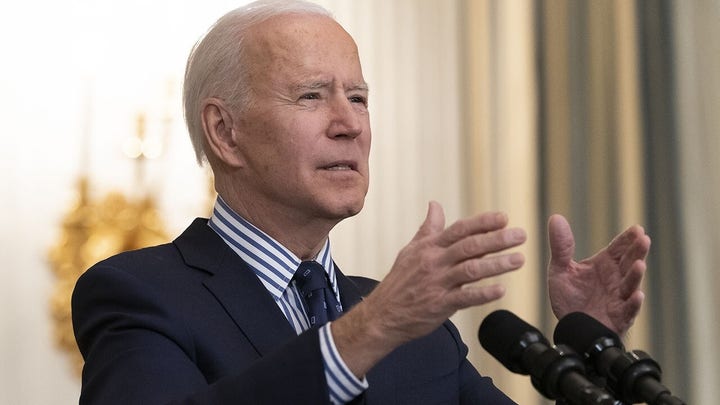 Video
"We anticipate this action is going to substantially reduce the number of people attempting to cross our southwest border without going through a legal process," Biden said.
While immigration rights groups and Democrats welcomed the expansion fo the humanitarian parole program, the expansion of Title 42 — which the Biden administration has sought to end – the limit on asylum sparked their ire.
DEMOCRATS, IMMIGRANT ADVOCATES RAISE FLAGS OVER BIDEN BORDER PLAN
In his statement, Turk said that the measures "appear to be at variance with the prohibition of collective expulsion and the principle of non-refoulement."
"While I welcome measures to create and expand safe and regular pathways, such initiatives should not come at the expense of fundamental human rights, including the right to seek asylum and the right to an individual assessment of protection needs," he said. "Limited access to humanitarian parole for some cannot be a replacement for upholding the rights of all to seek protection of their human rights."
Homeland Security Secretary Alejandro Mayorkas anticipated criticism of the tougher asylum measures last week, fending off accusations that it was similar to the Trump-era transit ban that immigration activists had similarly opposed.
CLICK HERE TO GET THE FOX NEWS APP
Mayorkas noted that asylum seekers could claim asylum at ports of entry and with the help of a new CBP One app, and argued the limits were different from the prior administration due to the availability of legal pathways. He also noted that the rule would include humanitarian exceptions.
"If they do not use that application, then they will need to have applied for humanitarian relief in one of the countries through which they have traveled," he said. "And if they were denied, then — then they are not subject to — not a ban, but a rebuttable presumption of ineligibility. And there's a marked difference between the two," he said on Sunday.