close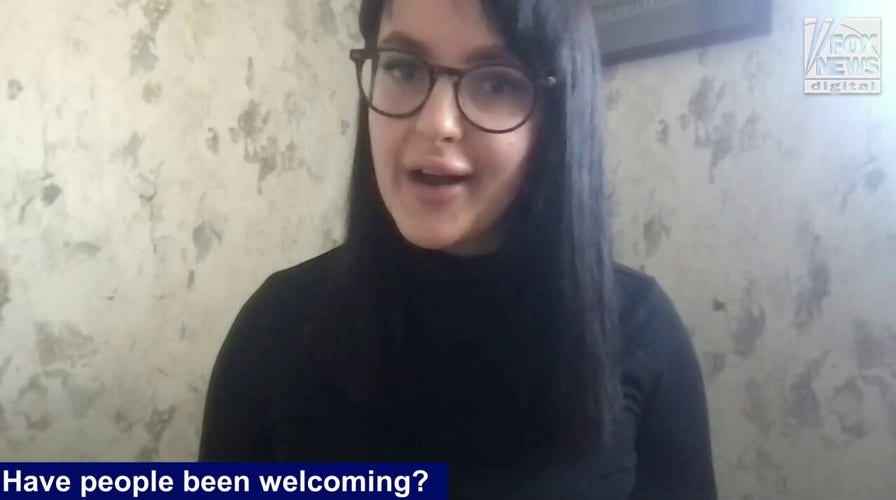 Video
Ukrainians speak out one year after Russia's invasion
Ukrainian refugees and civilians talk with Fox News Digital about how their lives have been in the year following Russia's invasion of Ukraine. 
In the immediate aftermath of the Russian invasion of Ukraine, Fox News Digital spoke to a dozen Ukrainian refugees. On the anniversary of the invasion, Fox News Digital reached out to them once again. Of the original twelve, four have died in the war and two were unreachable.
On February 24, 2022, Russian forces invaded Ukraine with Russian President Vladimir Putin's stated goal of "denazifying" the country. In the year since the brutal invasion, nearly six million Ukrainians have fled the country and an additional six million have been displaced within the country. Estimates put the Ukrainian military death toll at roughly 120,000 and the Russian death toll at about 200,000.
"The 24th of February started with a phone call from my boyfriend at 5 am with the words 'It started'," Diana Shalashna told Fox News Digital. "I was staying near Kyiv with my grandma at that time. I remember thinking that everything will finish after a couple of days, that it can't be serious. The sounds of explosions weren't so unknown to me after what happened in 2014, but I was still terrified."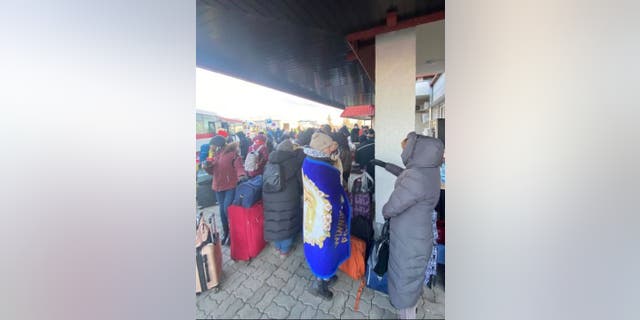 Ukrainians trying to stay warm while waiting to cross the Polish border on foot. (Yulia Sosnina)
"When I moved to Rome, I feel like I have been taken care of with the basic needs: I have a place to live in and food to eat," Shalashna told Fox News Digital. "I am thankful for the Italian government for these programs that were created to help Ukrainians in the country."
While fleeing the countries provided unique difficulties, millions of Ukrainians in the southeast were caught up in the invasion and could not get out.
FOX NEWS POLL: HALF SAY US SHOULD SUPPORT UKRAINE AS LONG AS IT TAKES
"It was just horrible as nobody did not experience such dramatic attacks and horrible crimes," Serhii Prokopenko told Fox News Digital. "I remember cars with people died because of artillery, I remember lack of food and people suffering in need, I remember kids crying in basement of maternity hospital and people died in mass graves all around the Kharkvi oblast."
"Three month I was living in basement of the building in the city center in Kharkiv. Most difficult was when my hands could not warm up," Prokopenko continued. "So we decided to move to the city living out of basement despite risk. After that I spend days warming on the summer sunlight just to balance my feelings."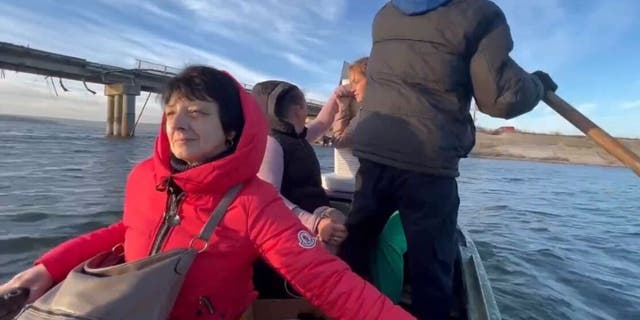 Ukrainian civilians being ferried across a river while escaping Kharkiv. (Serhii Prokopenko)
Despite these difficulties, Ukrainians have been making the best of it both home and abroad.
"The British have been friendly and welcoming. My host family are wonderful people," Yulia Sosnina told Fox News Digital. "I had a friend in Britain who knew a family volunteering to host Ukrainians and we are so grateful. The biggest difficulty has been helping my mom, who is retired and does not speak English, but we are living together with my cat."

next
Image 1 of 3

Russian forces occupy Berdiansk as Ukrainian protestors shout "go away." (Sophia Podkolzina )


prev

next
Image 2 of 3

Ukranian civilians in new Kyiv housing after escaping the Russian capture of Berdiansk (Sophia Podkolzina )


prev
Image 3 of 3

Ukrainians civilian and pet cat hiding out in a train car underground during Russia's assault on Kharkiv (Yulia Sosnina)
"I donate to the Army, I donate for refugees," Sophia Podkolzina told Fox News Digital. "My father is in the army, he's 59, and he should be retired but I'm not sure that he will do it because he's pretty convinced to fight till the end."
Despite a year of intense fighting, the Ukrainians have remained adamant that they should not go to the negotiating table.
"If we negotiate now they are going to come again and again," Mila Sirych told Fox News Digital. "If you are going to surround part of our territory, we will show Russians that you cannot invade our country like they did Georgia and will keep striving towards being a united and peaceful Ukraine again."
RUSSIAN PILOT KILLED ON EVE OF UKRAINE INVASION ANNIVERSARY AFTER SUPPOSED 'MALFUNCTION' STRIKES JET
"You have to think about it when it comes to realpolitik," Roman Gromov told Fox News Digital. "It's not like giving away an acre of land with no one there it is like giving away your living room and all the extended family that happened to be there when it happened."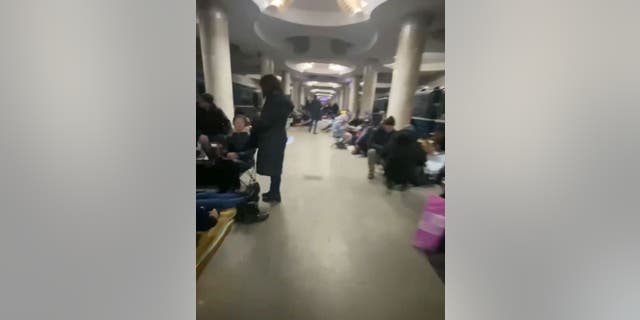 Ukrainians civilians huddled underground during Russia's assault on Kharkiv. (Yulia Sosnina)
"If Vladimir Putin has any success in this war," Sophia continued. "It will be a clear signal to other authoritarian regimes like China, Syria, North Korea, that the western world has become weak."
CLICK HERE TO GET THE FOX NEWS APP
In March 2022 Fox News Digital spoke with Vladyslav Azarov, who was trapped in Zaporizhzhya. His family later told us he was killed during the fighting.
One of his last text messages to Fox was, "Do not forget us. Do not forget the people of Ukraine."