close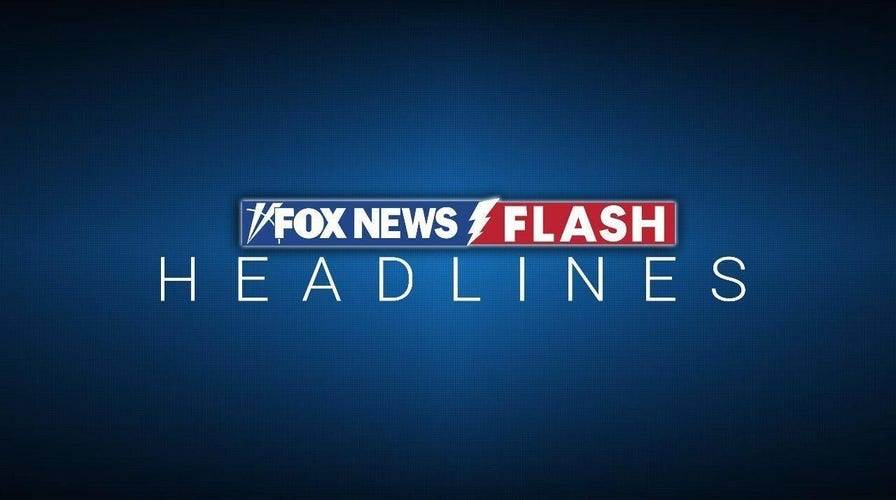 Video
Fox News Flash top headlines for April 5
Fox News Flash top headlines are here. Check out what's clicking on Foxnews.com.
Ukrainian President Volodymyr Zelenskyy and his wife were welcomed with military honors, tributes and praise in Poland on Wednesday at the start of a state visit meant as a gesture of thanks by Kyiv to its neighbor for its crucial support in Ukraine's defense against Russia's invasion.
The visit is a rare foray for Zelenskyy out of Ukraine since Russia invaded in February 2022. While it follows visits to the United States, Britain, France and Belgium, it stands out from the others because it was announced in advance without the secrecy of past trips.
It is also unusual that the president is joined by the first lady, Olena Zelenska, making it the first visit of its kind since the war began, according to Marcin Przydacz, the head of Polish President Andrzej Duda's foreign policy office.
Duda awarded Zelenskyy Poland's oldest and highest civilian distinction, The Order of the White Eagle, saying it is given to outstanding people in Poland and in Poland's international relations.
POMPEO MEETS ZELENSKYY IN KYIV VISIT, TELLS FOX NEWS ARMING UKRAINE IS 'LEAST COSTLY WAY TO MOVE FORWARD'
"We have no doubt that your attitude, together with the bravery of the nation, has saved Ukraine," he told Zelenskyy.
At a welcome ceremony in the courtyard of the royal palace, while Duda and the two countries' first ladies were dressed in formal attire, Zelensky wore his signature dark sweatshirt and khaki trousers as a show of support for Ukraine's fight.
While Zelenskyy's trips last February to London, Paris and Brussels were part of his push for warplanes and for Ukraine's European Union and NATO membership, and his visit to Washington last December was to shore up U.S. political support, the journey to Warsaw was intended primarily to thank a country that has been an international cheerleader for Ukraine.
Poland, lying on NATO's eastern flank, feels especially threatened by Russia and has been one of the leading advocates for providing military aid.
The visit also shone a light on Poland's rising international role in a new security order emerging after Russia's invasion.
Poland, a member of NATO and the European Union, is modernizing its military with orders of tanks and other equipment from U.S. and South Korean producers, while the United States has also beefed up its military presence in Poland.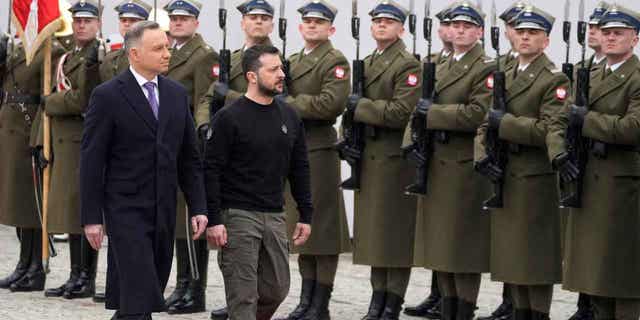 Ukrainian President Volodymyr Zelenskyy is welcomed by Poland's President Andrzej Duda, left, as they meet in Warsaw, Poland, on April 5, 2023. (AP Photo/Czarek Sokolowski)
Warsaw has been a key ally for Ukraine since Russia's full-scale invasion last year, also becoming a hub for humanitarian aid and weapons to transit into Ukraine.
PUTIN NAMES US A 'MAJOR RISK' TO RUSSIAN SECURITY IN LATEST FOREIGN POLICY DOCTRINE
Poland is also keen not to miss out on future contracts for the postwar rebuilding of Ukraine, which the World Bank has estimated could cost $411 billion.
Zelenskyy has traveled through Poland on his other foreign trips, but until now had not made Poland his sole destination.
Zelenskyy was also to meet with Prime Minister Mateusz Morawiecki, attend an economic forum focused on the reconstruction of Ukraine and meet some of the Ukrainians who have found refuge in Poland. Poland has been a key destination for Ukrainian refugees, particularly those who want to remain close because they plan to return or want to be able to visit loved ones.
More than 1.5 million Ukrainians have registered with the Polish government since the war began, joining large numbers of Ukrainians who had already arrived in recent years for work. The exact number of Ukrainians present in the country at any given moment is impossible to measure, especially with many going back and forth.
But Zelenskyy's visit also comes at a delicate time, with Polish farmers growing increasingly angry because Ukrainian grain that has entered Poland has created a glut, causing prices to fall.
The grain is only meant to be stored and transit through Poland to reach international markets in North Africa and the Middle East. But farmers in Poland say the grain is instead staying in Poland, taking up space in silos and entering local markets, causing local prices to fall. Romanian and Bulgarian farmers say they are facing the same problem.
Przydacz acknowledged in comments to reporters that the issue has caused tensions and said that would be a topic of the talks on Wednesday.
CLICK HERE TO GET THE FOX NEWS APP
The anger of the farmers is emerging as a headache for Morawiecki's government ahead of general elections in the fall, particularly since his conservative ruling party, Law and Justice, gets much of its support in rural areas.
An hour before Duda was to welcome Zelenskyy, Poland's agriculture minister, Henryk Kowalczyk, who has been the focus of the farmers' anger, resigned from his post.
In Ukraine, the military authorities said Wednesday that Russian forces over the previous 24 hours had launched 47 airstrikes, three missile strikes and 42 attacks from multiple rocket launchers.
At least four civilians were killed and 16 others wounded in that period, the Ukrainian president's office reported.