close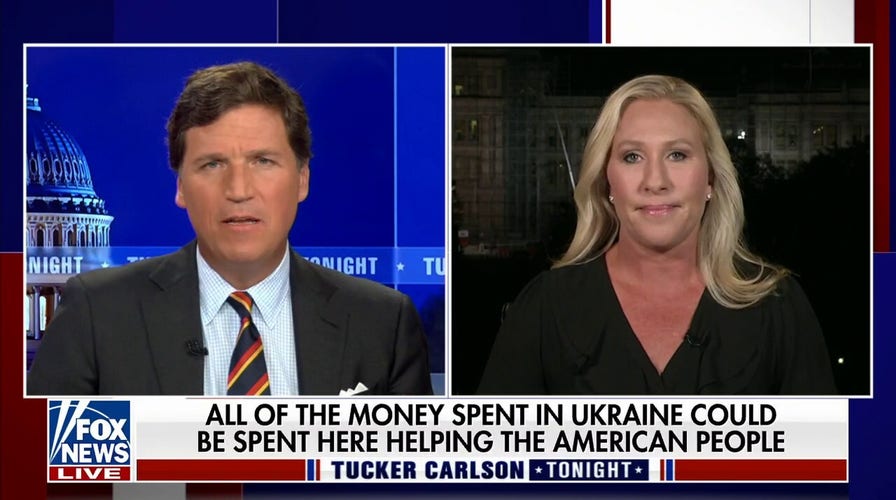 Video
Marjorie Taylor Greene to introduce bill to force Congress to provide Ukraine aid audit
Rep. Marjorie Taylor Greene, R-Ga., says warmongers and Biden admin leaders are going lead U.S. into WWIII on 'Tucker Carlson Tonight.'
A defiant Ukrainian President Volodymyr Zelenskyy vowed "we will defeat everyone" in video remarks released Friday on the one-year anniversary of Russia's invasion of Ukraine.
In the video, titled, "The Year of Invincibility," Zelenskyy sat at a desk and spoke directly to the camera, just as he had done so one year ago in a short address announcing that Russian military forces had launched a full-scale war against Ukraine.
"A year ago, on this day, from this very place, at about seven in the morning, I addressed you with a short statement. It lasted only 67 seconds," the wartime leader began in a 15-minute address.
"It contained the two most important things, then and now. That Russia started a full-scale war against us. And that we are strong. We are ready for anything. We will defeat everyone. Because we are Ukraine!" he said.
PENTAGON SENDING UKRAINE THESE WEAPONS IN $2B PACKAGE ON WAR'S 1-YEAR MARK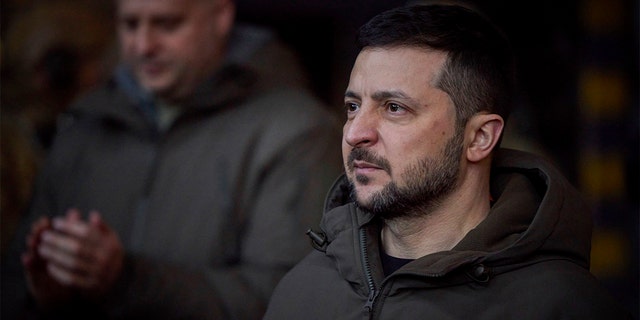 Ukrainian President Volodymyr Zelenskyy, looks on as he meets soldiers at the site of the heaviest battles with the Russian invaders in Bakhmut, Ukraine, Tuesday, Dec. 20, 2022.  (Ukrainian Presidential Press Office via AP)
The somber video comes as Ukrainians and the world reflect on the suffering and death brought by Russia's invasion. Tens of thousands are estimated to have died on the Ukrainian side, both civilian and military, and between 40,000 to 60,000 Russian soldiers have been killed, according to a Ukrainian analysis that was supported by the U.K. government.
Zelenskyy honored the men and women who "did not raise the white flag, and began to defend the blue and yellow." Though Russian President Vladimir Putin and many foreign observers expected Russian forces to overwhelm Kyiv within days, Zelenskyy praised the Ukrainian armed forces for defying expectations and furiously defending their homeland for a whole year.
"The world saw what Ukraine is capable of," Zelenskyy said.
"It did not fall in three days. It stopped the second army of the world."
RUSSIA UKRAINE WAR PHOTO GALLERY: ONE YEAR SINCE THE INVASION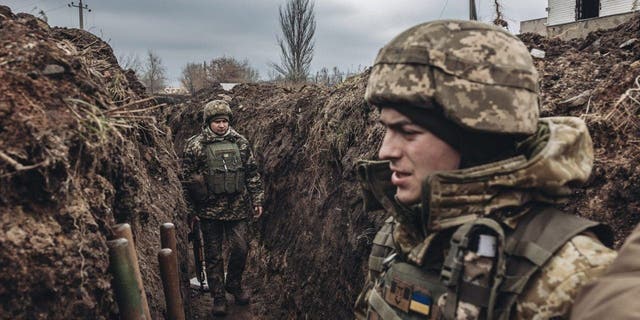 Ukrainian soldiers are seen in a trench on New Year's Eve in Bakhmut, Ukraine on Dec. 31, 2022.  (Diego Herrera Carcedo/Anadolu Agency via Getty Images)
He thanked medics who "rescue wounded soldiers on the frontline, perform surgeries under fire, deliver babies in bomb shelters, and stay on duty for days and weeks," as well as civilian first responders "who pull people out of the rubble and fire 24 hours a day, seven days a week."
The Ukrainian president also thanked foreign allies in the "anti-Putin coalition" and said he would deliver a separate address "shortly" on the international effort supporting Ukraine's defense against Russia.
The White House on Friday announced a new $2 billion security package for Ukraine including artillery ammunition and new Unmanned Aerial Systems and Counter-Unmanned Aerial Systems equipment to strengthen the country's air defenses. The United States and its G7 partners are also set to roll out new economic sanctions against Russia and President Biden announced he will restrict certain exports to Russia and raise tariffs on imported Russian products.
RUSSIA'S WAR IN UKRAINE HITS ONE-YEAR MARK AS PUTIN DIGS IN, ZELENSKYY PUSHES VICTORY. WHAT'S NEXT?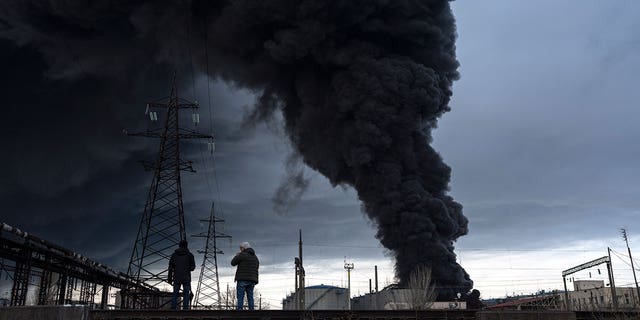 People watch as smoke rises in the air after shelling in Odessa, Ukraine, Sunday, April 3, 2022. (AP Photo/Petros Giannakouris)
Zelenskyy offered his condolences for those who have lost friends and loved ones during the conflict.
"We will never rest until the Russian murderers face deserved punishment," he said. "The punishment of the International Tribunal. The judgment of God. Of our warriors. Or all of them together."
CLICK HERE TO GET THE FOX NEWS APP
Concluding, he promised to bring an end to the war in 2023 and rescue all Ukrainian citizens who are in occupied territory or have been relocated to Russia against their will.
Ukraine "has not forgotten about you, has not given up on you. One way or another, we will liberate all our lands," he said.
Chris Pandolfo is a writer for Fox News Digital. Send tips to c[email protected] and follow him on Twitter @ChrisCPandolfo.