close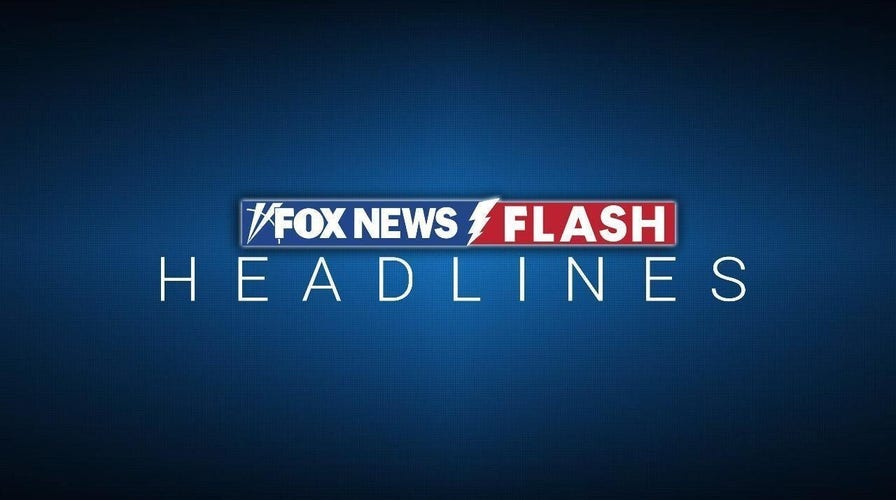 Video
Fox News Flash top headlines for May 3
Fox News Flash top headlines are here. Check out what's clicking on Foxnews.com.
Ukraine has received large amounts of weapons and ammunition from its Western allies. The country is preparing for a counteroffensive where analysts believe they will target Russia's supply lines.
Ukraine's President Volodymyr Zelenskyy traveled to Helsinki, Finland, for talks with the country's prime minister in an effort to secure firepower in the war against Russia.
Both Ukraine and Russia have reportedly experienced ammunition shortages as long-range shellings and missile strikes have taken a toll on the country's munitions.
Ukrainian President Volodymyr Zelenskyy traveled to Helsinki for talks with the prime ministers of four Nordic countries Wednesday as part of his effort to secure greater firepower for his country's armed forces as they figure out how to dislodge Russian troops from occupied areas of Ukraine.
The Nordic countries — Finland, Sweden, Norway and Denmark — have been among Kyiv's strongest backers since Russia's full-scale invasion of Ukraine in February 2022. Before the meeting with Zelenskyy in Finland's capital, Nordic officials appeared ready to provide more aid as the war stretches into its 15th month.
"There is still an urgent need for military support to ensure that the Ukrainians stand as strong as possible in the fight against Russia," Danish Prime Minister Frederiksen said in a statement.
Norwegian Prime Minister Jonas Gahr Støre, another of the summit attendees, said: "Here in the north, we have a more unpredictable and aggressive Russian neighbor, and it is important that we discuss together how to face this new situation."
The talks came a day after U.S. officials said Washington plans to send Ukraine about $300 million in additional military aid, including an enormous number of artillery rounds, howitzers, air-to-ground rockets and ammunition.
The weapons will all be pulled from Pentagon stocks, so they can go quickly to the front lines, according to the officials who spoke on condition of anonymity because the aid has not yet been formally announced.
Elsewhere, Russia used Iranian-made drones during its third attack on Ukraine's capital city in six days.
Explosions were heard in Kyiv and elsewhere during the night as Ukrainian air defenses shot down 21 of the Russian drones, Ukraine's Air Force Command said. No damage or casualties were reported
Meanwhile, a massive blaze broke out at an Russian oil depot, local officials said Wednesday.
The depot erupted in flames in Russia's southern Krasnodar region, located east of the Russian-held Crimean Peninsula, according to Krasnodar Gov. Veniamin Kondratyev.
He didn't say what caused the fire, which was described as extremely difficult to put out. But some Russian media outlets said it was likely caused by a Ukrainian drone attack overnight. There was no official comment on that possibility.
Local residents heard an explosion shortly before the fire erupted, Russian news site Baza said.
PRESIDENT ZELENSKYY CALLS FOR SPECIFIC WEAPONRY FROM US, NATO ALLIES
Military analysts think Ukraine is targeting supply lines in the Russian rear while gearing up for a possible counteroffensive amid improving weather conditions and as it receives large amounts of weapons and ammunition from its Western allies.
Explosions also derailed a Russian freight train and hit a Russian airfield in recent days. Last weekend, a massive fire erupted at an oil depot in Crimea after it was hit by two of Ukraine's drones, a Russia-appointed official said.
In anticipation of a Ukrainian counteroffensive, Russian forces are focused on destroying logistical routes and centers of Ukraine's armed forces with long-range strikes, Kyiv military officials say.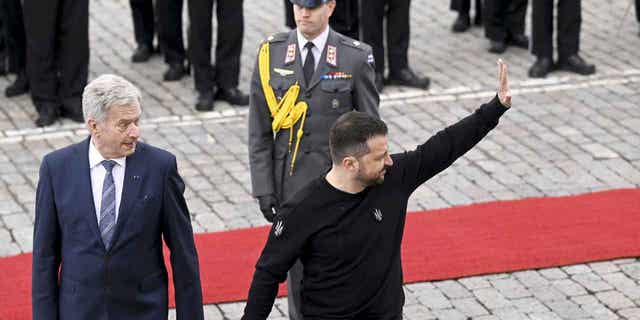 Ukrainian President Volodymyr Zelenskyy, right, waves as he is welcomed by Finnish President Sauli Niinisto, left, in Helsinki, Finland, on May 3, 2023. Zelenskyy is pushing Ukraine's Western allies to provide Kyiv with more military support. (Vesa Moilanen/Lehtikuva via AP)
At the same time, Russia plans to continue talks with the United Nations and other parties to an wartime agreement on facilitating Black Sea agricltural shipments, Kremlin press secretary Dmitry Peskov said ahead of talks on Friday.
UKRAINE SHOWDOWN: VOLODYMYR ZELENSKYY CHALLENGES VLADIMIR PUTIN
Earlier Wednesday, Russian Foreign Ministry spokeswoman Maria Zakharova confirmed that a new round of consultations between Russia and the U.N. on access of Russian agricultural products and fertilizers to the world market would be held in Moscow.
Signed last July and renewed twice, most recently in March, the deal unblocked Ukrainian grain shipments that were held up in the country's blockaded ports last year. The deal will expire on May 18 unless Russia agrees to its renewal.
In the latest Ukrainian civilian casualties, three people died and five were wounded when a supermarket in the southern Ukrainian city of Kherson came under fire on Wednesday.
According to Ukraine's Ministry of Internal Affairs, the attack on the "only operating hypermarket in Kherson" happened at around 11 a.m. local time.
A round-the-clock curfew is to be introduced in Kherson from 8 p.m. on Friday through 6 a.m. on Monday, Kherson Gov. Oleksandr Prokudin announced.
"During these 58 hours, it is forbidden to move around or stay on the streets of the city. Also, the city will be closed for entry and exit," Prokudin said.
CLICK HERE TO GET THE FOX NEWS APP
The measure is necessary, he said in a video on social media, "so that law enforcement officers can do their job and not put you in danger," but did not provide further details.
Both Russia and Ukraine reportedly have experienced ammunition shortages after a winter of long-range shelling and missile strikes as the conflict became bogged down in a war of attrition.
Ukraine's government has been pressing its allies to give it more as officials consider when and how they might start trying to drive Russian forces out of the Ukrainian territory they have occupied.