close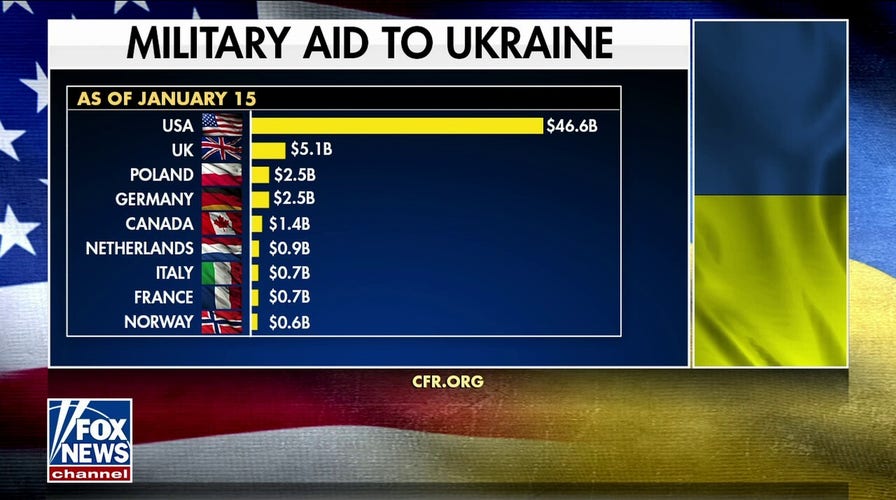 Video
DOD officials remain confident U.S. weapons sent to Ukraine are not being diverted
Under Secretary of Defense for Policy Colin Kahl tells House Armed Services Committee there is, "no evidence that the Ukrainians are diverting it to the black market…"
NATO Secretary-General Jens Stoltenberg on Wednesday said the hard-fought city of Bakhmut in Ukraine's Donetsk region may fall to Russian troops "in the coming days."
His comments followed claims by Russia's mercenary Wagner Group which said it had taken the eastern part of the city after months of a brutal ground and air offensive.
Fox News Digital could not verify the group's claims and Stoltenberg did not confirm whether any part of the city has yet fallen to Moscow.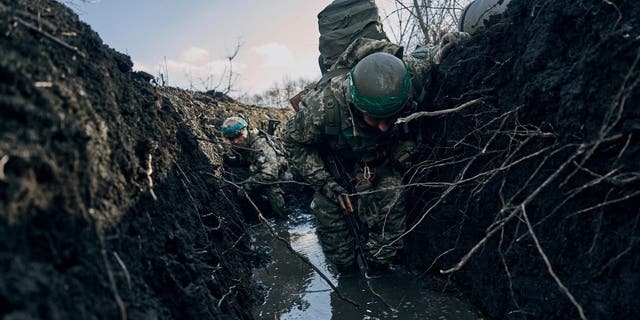 Ukrainian soldiers take cover in a trench during Russian shelling on the front line close to Bakhmut, Donetsk region, Ukraine, Sunday, March 5, 2023. (AP Photo/Libkos, File)
FALL OF UKRAINIAN CITY OF BAKHMUT WOULD NOT MEAN A STRATEGIC WIN FOR RUSSIA: PENTAGON
"Russia's war of aggression grinds on against Ukraine," he told reporters ahead of an EU meeting with defense ministers. "We have seen fierce fighting in and around Bakhmut, and what we see is that Russia is storming in more troops, more forces and what Russia lacks in quality, they try to make up in quantity."
U.S. Secretary of Defense Lloyd Austin echoed sentiments long expressed by Western defense officials earlier this week when he said Russia stands to gain little strategically by taking the devastated city of Bakhmut, noting that the fight has become largely symbolic.
Despite the heavy losses Russia has suffered, Moscow has continued to funnel in ill-equipped and ill-trained troops to bombard Ukrainian defenses and attempt to choke the city.
WARNING GRAPHIC IMAGE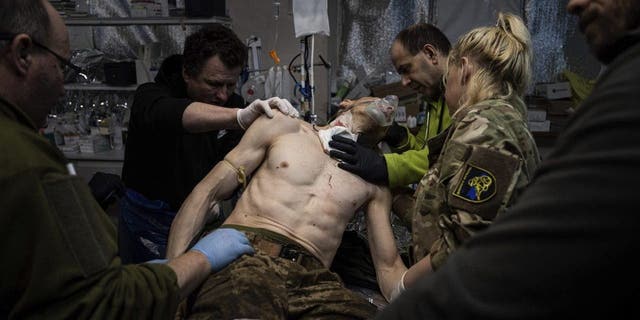 Ukrainian military medics treat their wounded comrade at a field hospital near Bakhmut, Ukraine, Feb. 26, 2023. (AP Photo/Evgeniy Maloletka, File)
US EVALUATING 2 UKRAINIAN PILOTS FOR ATTACK AIRCRAFT AFTER UKRAINE PLEAS FOR F-16S: REPORT
Stoltenberg reiterated Austin's comments but warned it signifies the continued threat Russia poses.
"This does not necessarily reflect any turning point of the war," he said before adding, "it just highlights that we should not underestimate Russia."
The NATO chief said it is vital to step up the production and supply of arms to not only Ukraine, but to shore up the alliance's defenses.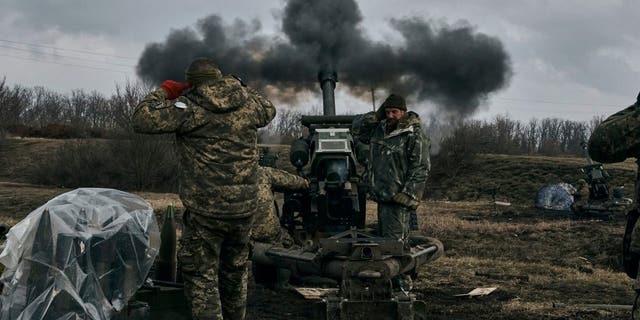 Ukrainian soldiers fire a self-propelled howitzer toward Russian positions near Bakhmut, the site of the heaviest battles in Ukraine's Donetsk region, Tuesday, March 7, 2023.  (AP Photo/Libkos)
"This was clear all the last fall," he said in reference to Ukraine's success in retaking the Kharkiv region in September before then ousting Russia forces from the city of Kherson in November.
Major advances in the war from either side have largely stalled in the months since, though officials are gearing up for another round of intense warfare on multiple fronts as the spring months loom.
"There is an enormous demand out there. The current rate of consumption compared to the current rate of production of ammunition is not sustainable," Stoltenberg told reporters. "We need to ramp up production."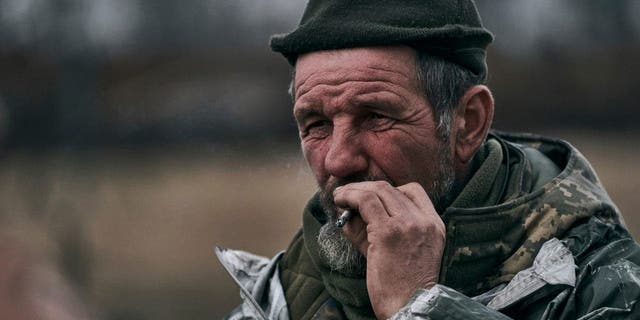 A Ukrainian soldier smokes at the front line near Bakhmut, Ukraine, Tuesday, March 7, 2023. (AP Photo/Libkos)
CLICK HERE TO GET THE FOX NEWS APP
Several NATO nations have increased their arms supplies to Ukraine and pledged to allot more defensive funding to the alliance, but Stoltenberg said more is needed to successfully fight against foreign aggression.
"We have seen important steps already being taken, but we need to do more. Our support to Ukraine has mainly come from depleting NATO stocks," he explained. "In the long run, that is not sustainable."
Caitlin McFall is a Reporter at Fox News Digital covering Politics, U.S. and World news.