close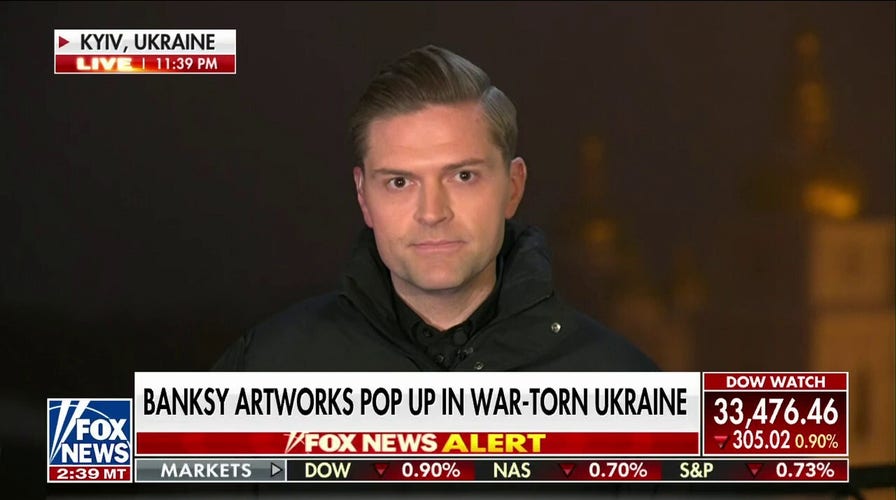 Video
Banksy street art gives Ukrainians a 'glimmer of hope': Jeff Paul
Fox News correspondent Jeff Paul reports, Banksy, a street artist has been creating 'priceless' works of art in Ukraine giving a special meaning to Ukrainians amid war with Russia on 'Your World with Neil Cavuto.'
A man suspected to have led an operation to steal a Banksy mural in a city outside of Kyiv now faces up to 12 years in prison if found guilty, Ukrainian officials say.
In a statement, Ukraine's interior ministry said the individual has been handed a "suspicion notice" after the artwork showing a woman in a gas mask holding a fire extinguisher was stripped from the wall of a building in Hostomel on Dec. 2, according to Reuters.
"The criminals tried to transport this graffiti with the help of wooden boards and polyethylene," the statement reportedly read.
"Thanks to the concern of citizens, the police and other security forces managed to arrest the criminals," it added.
BANKSY UNVEILS NEW MURAL IN UKRAINE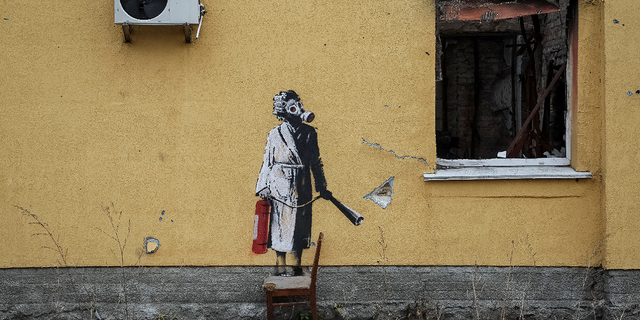 The Banksy mural in Hostomel, Ukraine, as seen on Nov. 12, 2022.
(Reuters/Gleb Garanich)
The artwork is estimated to have been valued at more than $243,000, Reuters reports.
RUSSIA ADMITS HEAVY CASUALTIES IN UKRAINIAN STRIKE ON OCCUPIED DONETSK REGION; 63 RUSSIAN SOLDIERS KILLED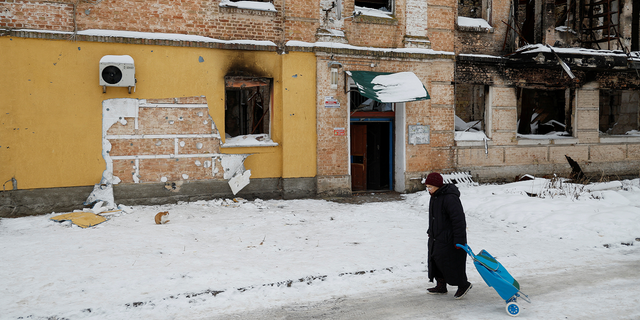 The mural on Dec. 3, 2022, following its removal.
(Reuters/Valentyn Ogirenko)
Images captured by the news agency showed the exterior of a building – where the artwork used to be – peeled away.
CLICK HERE TO GET THE FOX NEWS APP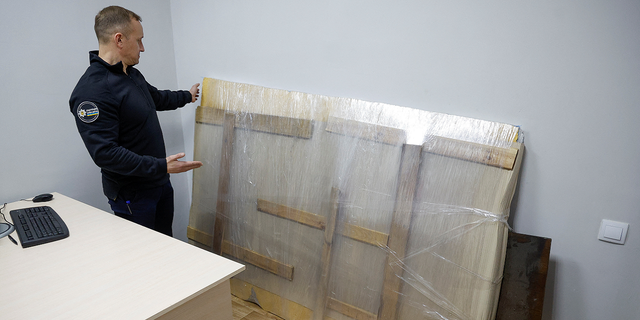 Andrii Nebytov, chief of the Kyiv regional National Police, stands next to the work of street artist Banksy, which a group of people tried to steal from a wall of a residential building in the town of Hostomel, heavily damaged during the Russian invasion, at a police office in the town of Boiarka, Ukraine, on Dec. 3, 2022.
(Reuters/Valentyn Ogirenko)
Andrii Nebytov, chief of the Kyiv regional National Police, later was photographed standing next to the artwork after it was recovered.
Banksy so far has confirmed to have painted six murals in Ukraine following the Russian invasion that began last year, according to Reuters.
Greg Norman is a reporter at Fox News Digital.