close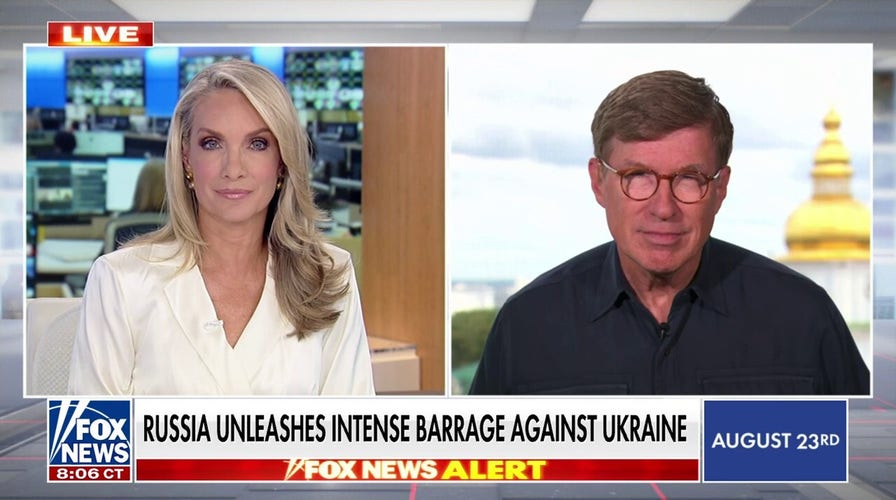 Video
Russia unleashes terror against Ukraine in act of retaliation
Senior foreign affairs correspondent Greg Palkot reports the latest from Kyiv. 
Russia has lost over 250,000 troops since Russian President Vladimir Putin launched his invasion of Ukraine on Feb. 24, 2022, according to the Ukrainian Ministry of Defense and its Ministry of Foreign Affairs. Russia has publicly disputed the large figure.
After the milestone was announced, Ukrainian President Volodymyr Zelenskyy said his country would ultimately be victorious in its war with Russia, as the larger country's military continues to struggle against the smaller Ukraine.
"Ukraine will win this war," Zelenskyy said on X, the social media platform formerly known as Twitter.
"The world will win this war. The truth will win this war," he added. "The key thing is for all of us in Ukraine and everyone in the world who values normal life to work one hundred percent without a break for the sake of victory."
US TROOPS IN UKRAINE ELIGIBLE TO RECEIVE HAZARD PAY IN MOVE THAT MAY RILE PUTIN: EXPERT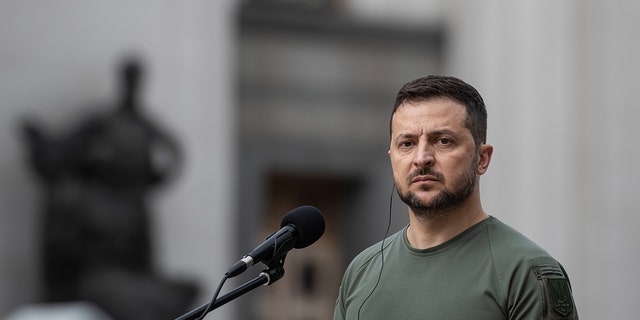 Ukrainian President Volodymyr Zelensky is seen during his joint press conference with Polish Prime Minister Mateusz Morawiecki and Latvian President Egils Levits on Sept. 9, 2022 in Kyiv, Ukraine. (Alexey Furman/Getty Images)
Russia's invasion of Ukraine crossed 500 days in July, the same month an independent study determined Russia had lost at least 50,000 troops in the conflict.
The 50k figure is nearly nine times larger than the number of deaths the Russian government has publicly acknowledged, which is approximately 6,000 soldiers.
NEARLY 50K RUSSIAN MEN HAVE DIED IN UKRAINE WAR, NEARLY 9X LARGER THAN RUSSIA'S OFFICIAL FIGURE: NEW STUDY
In a pair of tweets, Ukraine's Ministry of Defense announced the Russian death toll and, in a separate tweet, said: "Russia wants to be a millionaire."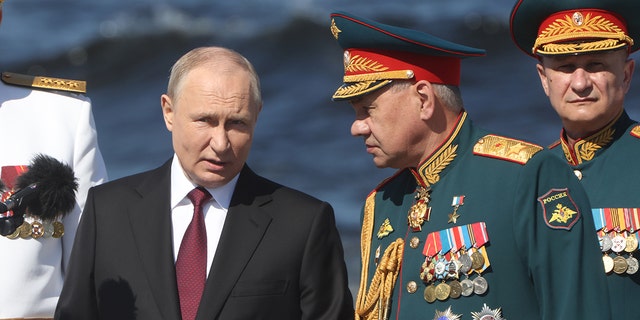 Russian President Vladimir Putin, left, talks to Defense Minister Sergey Shoigu as Russian navy's Commander-in-Chief Nikolai Yevmenov, right, looks on during the annual Navy Day Parade on July 30, 2023, in Saint Petersburg, Russia. (Contributor/Getty Images)
Ukraine's Ministry of Defense said its military also destroyed 315 Russian planes, over 4,200 tanks, nearly 5,000 artillery systems, more than 8,200 armored personnel vehicles and over 4,100 UAV drones.
Zelenskyy boasted Saturday night that his country downed another 178 of Russia's drones.
"In this week alone, Russian terrorists have already used 65 different missiles and 178 attack drones against us, including 87 'Shaheds.' We managed to shoot down a significant number of them," Zelenskyy wrote.
He added, "We will do our best to make the [Ukraine] sky shield only stronger. Here, in our skies, we can prove that terror is losing. All together we can prove it – all partners, the entire free world. Our warriors proved that we can shoot down Russian air-launched ballistic missiles – 'Kinzhals' that Moscow has long boasted about."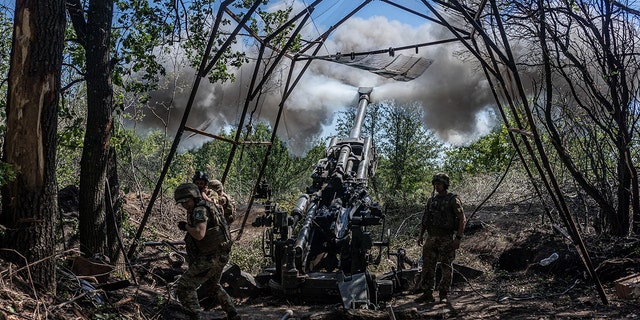 Ukrainian soldiers fire M777 artillery on Russian positions as the Ukrainian army conduct operations to target trenches of Russian forces through the Donetsk Oblast amid Russia and Ukraine war in Donetsk Oblast, Ukraine, on Aug. 6, 2023. (Diego Herrera Carcedo/Anadolu Agency via Getty Images)
"[The Russian] terrorist state is no longer able to undermine common security," he continued. "That is why the responsible position of each partner in supplying air defense systems and missiles to them is very important. Complete protection against terror is needed here, so that later there is no need to think about protecting other nations from it."
CLICK HERE TO GET THE FOX NEWS APP
"Ukraine can win this battle, and our sky shield will eventually guarantee security for the whole of Europe. I am grateful to every state and every leader who helps!" he concluded.