The UK and Turkey have agreed a new deal to disrupt people-smuggling gangs and tackle illegal migration.
The partnership includes a "centre of excellence" in Turkey to strengthen collaboration and increase intelligence-sharing between enforcement agencies.
The government said it would help to disrupt the supply chain of small boats parts through Europe.
But it does not include a deal to return failed Turkish asylum seekers.
Immigration minister Robert Jenrick, who visited Turkey last month, said the partnership was backed by some funding but he would not say how much, telling GB News it was "not primarily about money" but sharing information.
How many people cross the Channel in small boats?
How is the UK stopping Channel crossings?
The government said the new centre of excellence, which will be established by the Turkish National Police, would help the two countries share intelligence so staff could act more quickly on information.
It said more officers would also be deployed to Turkey to enable collaboration between National Crime Agency and Home Office staff based in the country and their Turkish counterparts.
A memorandum of understanding will also facilitate the quicker exchange of customs data and intelligence.
The Home Office said the export of small boats and parts across Europe to facilitate illegal crossings were "a vital element of smugglers' tactics", with hundreds of parts estimated to be transported for this purpose each year.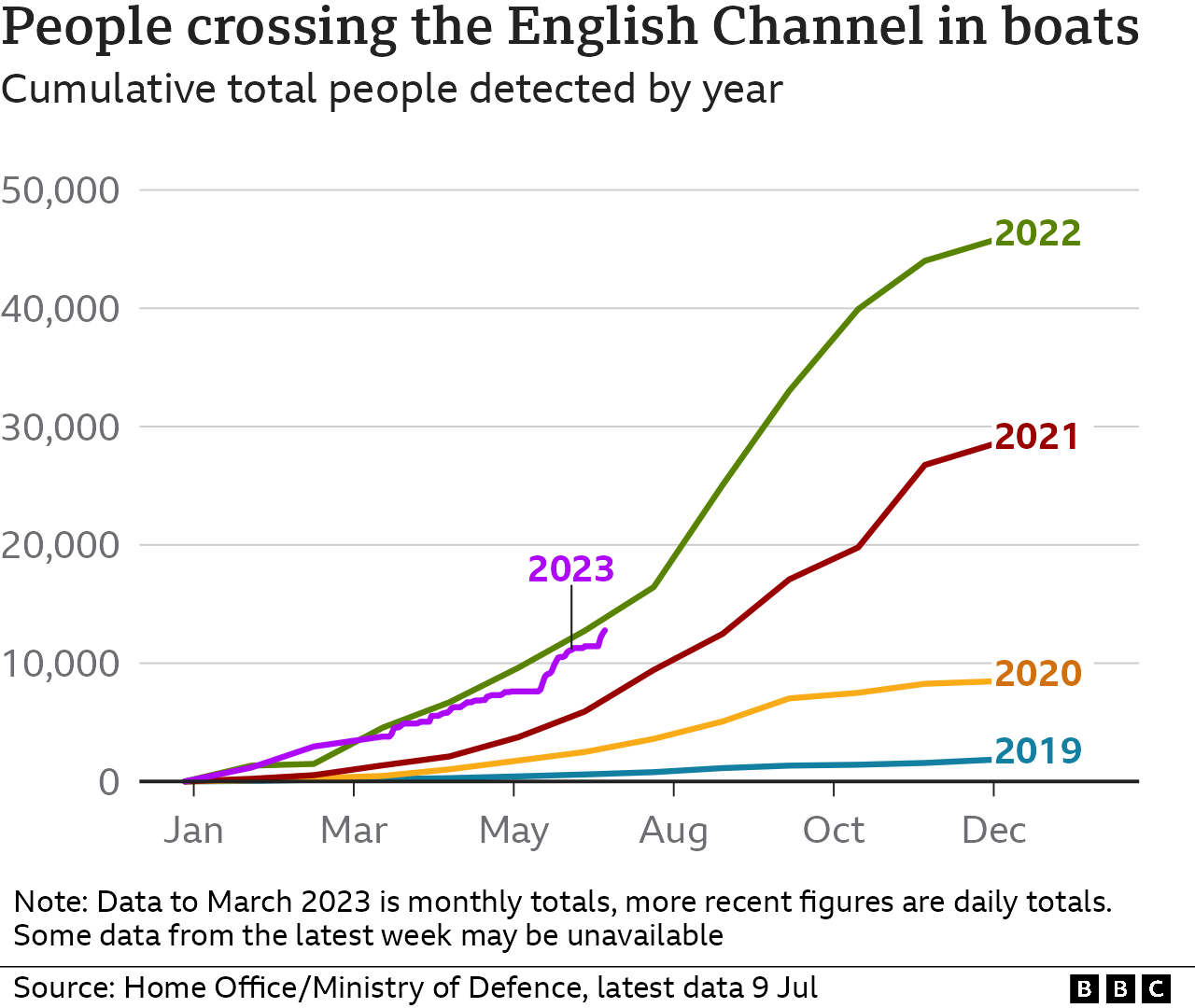 In the first seven months of this year 1,486 Turkish nationals crossed the Channel to the UK by small boat, becoming the second most common nationality to do so behind Afghans, according to Home Office figures.
There has been a steady increase in Turkish arrivals since last year, with the country suffering a devastating earthquake in February which left an estimated 1.5 million people homeless.
Turkey is also facing a worsening economic crisis, with inflation hovering stubbornly at just under 50%.
The UK returned 191 Turkish nationals in 2022, with 1,076 arriving by small boats that year.
However, the two countries have no formal returns agreement.
Mr Jenrick told BBC Radio 4's Today programme the UK was "working very closely" with Turkey to return Turkish nationals and putting in place arrangements to streamline the process.
The European Union has an agreement with Turkey to return migrants crossing from the country illegally into the bloc.
Since Brexit, the UK is no longer part of EU returns agreements.
Mr Jenrick said while the UK wanted to work with the EU, returns arrangements "didn't work well" when the UK was part of the bloc.
Labour's shadow home secretary Yvette Cooper called for "a comprehensive new agreement" with the EU, France and other neighbouring countries and for stronger security cooperation with Europe.
Home Secretary Suella Braverman said: "As I've made clear, we must do everything we can to smash the people smuggling gangs and stop the boats.
"Our partnership with Turkey, a close friend and ally, will enable our law enforcement agencies to work together on this international problem and tackle the small boat supply chain."