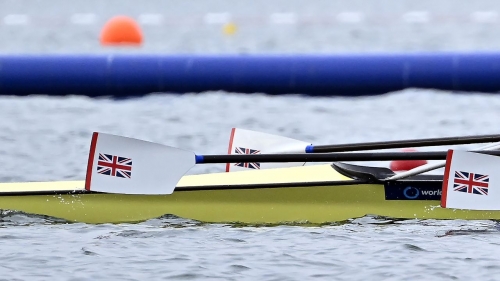 British Rowing's new policy on participation in women's events will come into force in September.
Aurelien Meunier/Getty Images
London
CNN
—
Transgender women will not be allowed to compete in the women's category of British Rowing events, the sport's UK governing body has announced ahead of a change in policy due to come in later this year.
Only athletes "assigned female at birth" will be allowed to compete in the women's category in competitions under its jurisdiction, or be selected to represent Great Britain or England at international events, British Rowing said in a media release published Thursday.
Meanwhile, any athletes are eligible to compete in an "Open" category, while competitions can stage "Mixed" events at any level of competition, providing 50% of crew are eligible to compete as women, British Rowing added.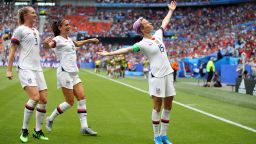 Megan Rapinoe of the USA celebrates with teammates Alex Morgan and Samantha Mewis after scoring her team's first goal during the 2019 FIFA Women's World Cup France Final match between The United States of America and The Netherlands at Stade de Lyon on July 7, 2019 in Lyon, France.
Richard Heathcote/Getty Images
The ever-evolving debate over women playing sports
The policy includes athletes who compete in rowing and para-rowing, and applies at all levels including the Olympics and Paralympics, British Rowing added.
"All rowers are fully welcome in our sport, and we will not tolerate any form of discrimination so we urge the community to come forward should they experience any issues," the governing body said
British Rowing's new policy differs from that of World Rowing, which issued guidance in March that transgender women can compete in the women's category if their "serum testosterone concentration has been less than 2.5 nmol/L continuously for a period of at least the previous 24 months." This was a reduction in the allowable testosterone level from the previous competition standards.
British Rowing's updated policy, which comes into effect September 11, follows similar decisions from other governing bodies.
In April 2022, British Cycling banned trans and non-binary riders from competition, while the International Swimming Federation (FINA) voted in 2022 to approve a new policy that will restrict most transgender athletes from competing in elite women's aquatics competitions.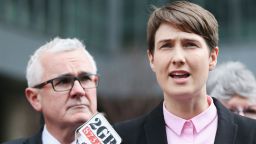 MELBOURNE, AUSTRALIA – SEPTEMBER 07: Marriage equality advocate and Human Rights Lawyer Anna Brown speaks to media after the High Court delivered their in favour of having a same sex marriage postal vote on September 7, 2017 in Melbourne, Australia.
Michael Dodge/Getty Images
World Athletics regulations on transgender women athletes risk human rights violations, rights groups say
In March, World Athletics introduced rules that prohibit athletes who have gone through what it called "male puberty" from participating in female world rankings competitions. WA said the exclusion would apply to "male-to-female transgender athletes who have been through male puberty."
Mermaids, a UK-based charity that supports transgender children and their families, said in a statement: "Our recent report into the experiences of trans young people in sport highlighted the importance of inclusion, and yet more and more barriers are being put in their way.
"We want to see sporting bodies like British Rowing listening to trans people and taking proactive steps to make everyone feel welcome and accepted rather than creating unfair policies based on limited science and moral panic," they added.
CNN has approached several LGBT+ and trans advocacy groups for comment.