close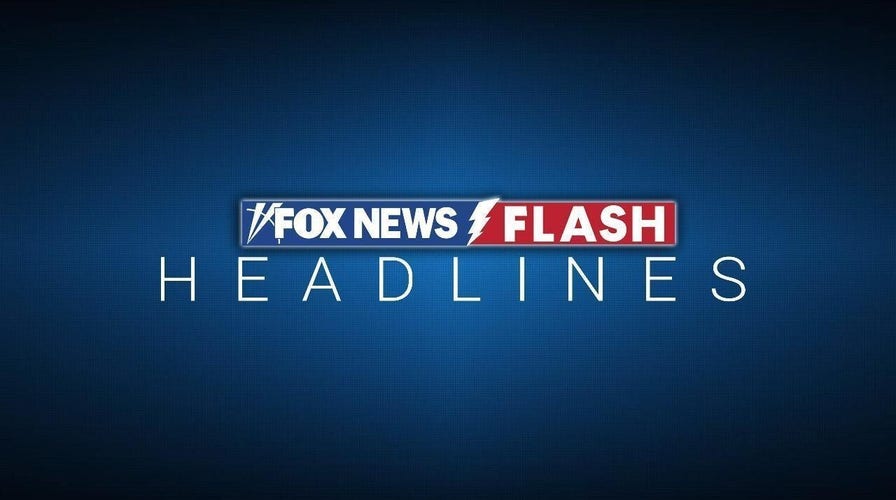 Video
Fox News Flash top headlines for May 26
Fox News Flash top headlines are here. Check out what's clicking on Foxnews.com.
U.K. parents convicted of killing their 10-month-old son in a "savage and brutal" campaign of abuse have been sentenced to life in prison for his murder.
Shannon Marsden and Stephen Boden will serve a minimum of 27 years and 29 years, respectively, after they were found guilty in the murder of Finley Boden, who died on Christmas Day 2020. The couple were tried and convicted at Derby Crown Court, where a judge described the horrific details of Finley's torture at their hands.
During sentencing, Mrs. Justice Amanda Tipples called the pair "persuasive and accomplished liars" who hid their son's abuse from authorities, leading to his death, according to The Independent.
"The pair, who showed no emotion as they were sentenced, lied to social workers, claiming he had COVID to prevent their seeing him, before killing their son on Christmas Day 2020 – the culmination of what prosecutors said was a 'savage and brutal' campaign of abuse," the outlet reported.
MACHETE-WIELDING NYC PROFESSOR CHASES DOWN FAST FOOD AFTER ARRAIGNMENT FOR MENACING REPORTER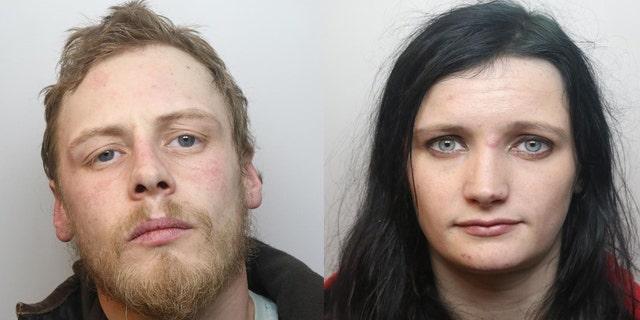 Stephen Boden (left) and Shannon Marsden were sentenced to life in prison for the murder of their 10-month-old son, Finley Boden.  (Derbyshire Police/PA)
Prosecutors reportedly told the court that Finley had been taken away from the couple at birth due to their habitual drug use, but they lied about being drug-free to regain custody of their son in November of that year.
In his parents' custody, Finley suffered. The infant boy had 130 separate injuries when he died, including 71 bruises, 57 bone breaks and fractures, and burns. He was also sick with sepsis and endocarditis, an infection around the lining of his heart, which proved fatal, The Independent reported. The judge said that medical intervention could have saved Finley's life, but his parents refused to seek help, because they knew he would be taken away from them.
Marsden and Boden reportedly did not display emotion as Tipples read their sentence.
"Finley was a lovely baby. He was happy, smiley and chuckling," the judge said in court.
PENNSYLVANIA NURSE ACCUSED OF KILLING 2 PATIENTS, INJURING 3RD 'FELT BAD FOR THEIR QUALITY OF LIFE': POLICE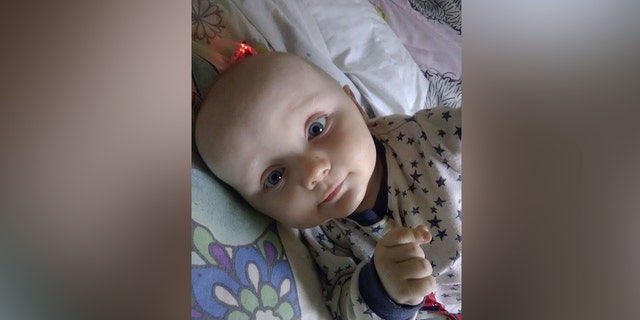 10-month-old Finley Boden had 130 separate injuries when he died, including 71 bruises, 57 bone breaks, fractures, and burns.   (Derbyshire Police/PA)
"The facts in relation to the last days of Finley's life are terrible to describe and extremely distressing," she told the parents. "You both knew that Finley was very seriously ill and dying … yet you deliberately failed to seek any medical help for him, and you made sure that he was not seen by anyone that could have rescued him and taken him away from your care.
"He was subject to repeated abuse on multiple occasions. Once the injuries had been inflicted, Finley's daily experience was one of considerable pain, distress and suffering.
"It was obvious to both of you by December 16 that Finley was very seriously injured, and he was utterly miserable.
"He was no longer able to sit up and play with his toys. He was unable to feed himself."
She added: "By the evening of December 23 he was plainly dying. There was nothing subtle about this at all. It was plainly obvious to both of you."
When Finley's parents finally sought medical help, it was too late. The judge said the pair had lied to doctors at their home about the cause of Finley's injuries, including 46 rib fractures and 12 other bone fractures.
These injuries were the result of "considerable force" and indicated that the boy could not breathe properly, which caused the infection, Tipples said.
MADELEINE MCCANN SEARCH IN PORTUGAL OVER, ITEMS COLLECTED FOR TESTING: POLICE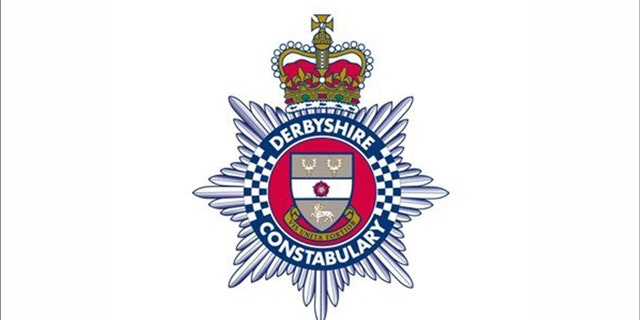 Derbyshire Police said 10-month-old Finley Boden was murdered by his parents at their Chesterfield home on Christmas Day, 2020. The parents have received a combined sentence of 56 years in prison. (Derbyshire Police/PA)
Prosecutors introduced photographic evidence at trial showing a cluttered house with cannabis paraphernalia next to expired baby formula and blood- and fecal-stained infant's clothes, The Independent reported.
The filthy conditions of the home were discovered by a social worker who made an unannounced visit days before Finley's death. Boden lied and told the social worker Finley had COVID to cover up the abuse, the judge said.
CLICK HERE TO GET THE FOX NEWS APP
"I'm sure the injuries to Finley were inflicted in your home," Tipples told the parents, suggesting that one of them put a hand over the infant's mouth to keep his screams from being heard by neighbors.
A statement from a relative of one of the defendants, read by prosecutors, said that Finley suffered "the most horrific abuse" and called his parents "monsters."
After the sentence came down, a U.K. child protective services spokesperson said, "The cruelty and abuse inflicted on Finley leading up to his tragic death was appalling and heartbreaking.
"The death of a child in such brutal circumstances leaves many of us asking questions and we await the Child Safeguarding Practice Review to establish exactly what happened and any ways in which Finley could have been better protected, in order to help prevent future tragedies."
Chris Pandolfo is a writer for Fox News Digital. Send tips to c[email protected] and follow him on Twitter @ChrisCPandolfo.