Allies of the British royal family are firing back against claims made by Prince Harry in his new memoir, "Spare."
Ahead of the book's release on Tuesday, the British media countered Harry's claims that the monarchy "failed to nurture or support him," according to the Associated Press.
Unnamed "royal insiders" even suggested Harry's public attacks on his own family took a "toll" on the health of Queen Elizabeth II amid her death in September.
PRINCE HARRY'S 'SPARE' IS 'NOTHING SHORT OF A BETRAYAL' FOR THE ROYAL FAMILY, EXPERT CLAIMS
Meanwhile, friends of King Charles III, including veteran journalist Jonathan Dimbleby, responded to Harry's actions and noted that his revelations were the type "that you'd expect…from a sort of B-list celebrity."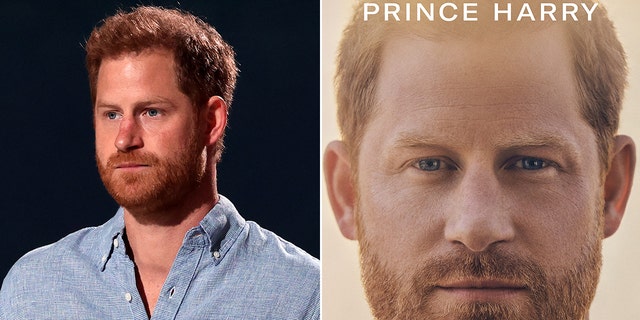 Prince Harry Memoir Spare book
(Getty/Penguin Random House)
"His concern … is to act as head of state for a nation which we all know is in pretty troubled condition," Dimbleby said to the BBC.
"I think he will think this gets in the way."
Since Harry and wife Meghan Markle announced they were taking "a step back" as senior members of the royal family, the pair have been releasing several public projects, while speaking out against the monarchy.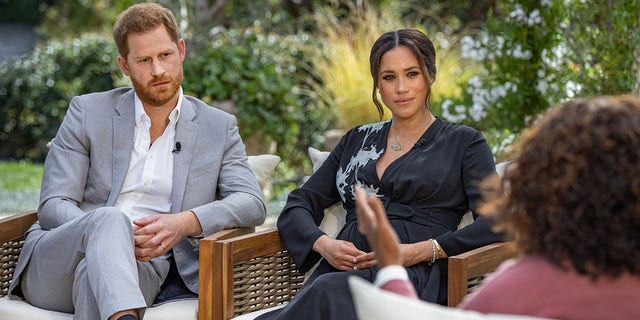 Oprah Winfrey interviewed Prince Harry and Meghan Markle for a special in 2021 where they revealed their struggles with royal life.
(Harpo Productions/Joe Pugliese via Getty Images)
In 2021, they spoke about their decision to leave with Oprah Winfrey in an interview that was viewed by nearly 50 million people globally.
Harry and Markle released a tell-all docuseries on Netflix on December 8, 2022.
PRINCE HARRY'S COMMENTS ON MILITARY SERVICE MAY INCITE TALIBAN VIOLENCE, FORMER COMMANDER SAYS: 'PROPAGANDA'
Royal experts claimed that the Duke and Duchess of Sussex attempted to steal the spotlight from the Prince and Princess of Wales as Prince William and his wife Kate Middleton were on their first U.S. trip in eight years at the same time the documentary went public.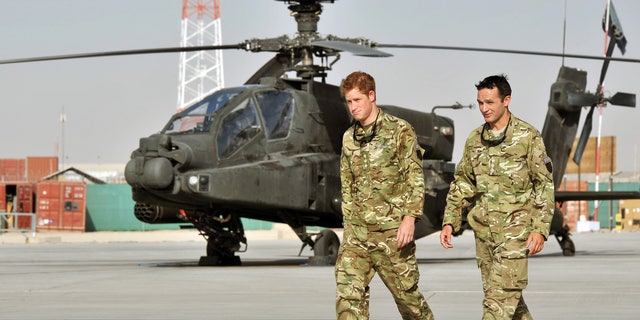 Britain's Prince Harry is shown the Apache helicopter flight line by an unidentified member of his squadron at Camp Bastion, Afghanistan September 7, 2012.  
(Reuters/John Stillwell/Pool)
In the tell-all memoir, Harry opened up about grieving his mother's death in 1997 and his long-simmering resentment at the role of royal "spare," overshadowed by the "heir" — older brother Prince William. He recounted arguments and a physical altercation with William, revealed how he lost his virginity and confessed to using illicit drugs.
PRINCE HARRY DETAILS LOSING HIS VIRGINITY TO AN OLDER WOMAN WHO TREATED HIM LIKE 'A YOUNG STALLION'
Harry additionally wrote in his memoir that he was trained by the army to "other" his opponents, the Taliban, and that the army "trained me well" in this respect. He served as a helicopter pilot in Afghanistan and called in strikes, which resulted in 25 kills.
Bestselling author Christopher Andersen, who has recently written a book about King Charles III, told Fox News Digital that Harry will continue to speak out against the palace in hopes of finally being heard. That, he said, should make the palace concerned.
"William's silence speaks volumes," said Andersen. "Both the king and the Prince of Wales have epic tempers, and I shudder to think what is happening right now behind closed doors… It's impossible to imagine that Harry's book won't just be another nail in the coffin of his relationship with the rest of the royals."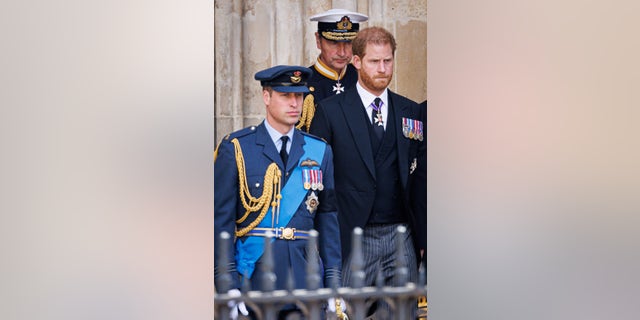 Prince William, Prince of Wales and Prince Harry, Duke of Sussex during the State Funeral of Queen Elizabeth II at Westminster Abbey. 
(Patrick van Katwijk)
"It might be the final nail in the coffin. If Harry really wants his father and brother back in his life, he has a very peculiar way of showing it."
Harry has said he expects counterattacks from the palace after the release of his memoir.
He has long complained of "leaks" and "plants" of stories to the media by members of the royal household.
CLICK HERE TO SIGN UP FOR THE ENTERTAINMENT NEWSLETTER
In an interview due to be broadcast on ITV on Sunday — one of several he has recorded to promote the book — Harry says people who accuse him of invading his family's privacy "don't understand or don't want to believe that my family have been briefing the press."
CLICK HERE TO GET THE FOX NEWS APP
"I don't know how staying silent is ever going to make things better," he said.
The Buckingham Palace has not immediately responded back to Fox News Digital's request for comment.
Fox News Digital Ashley Papa, Stephanie Nolasco and the Associated Press contributed to this report.