close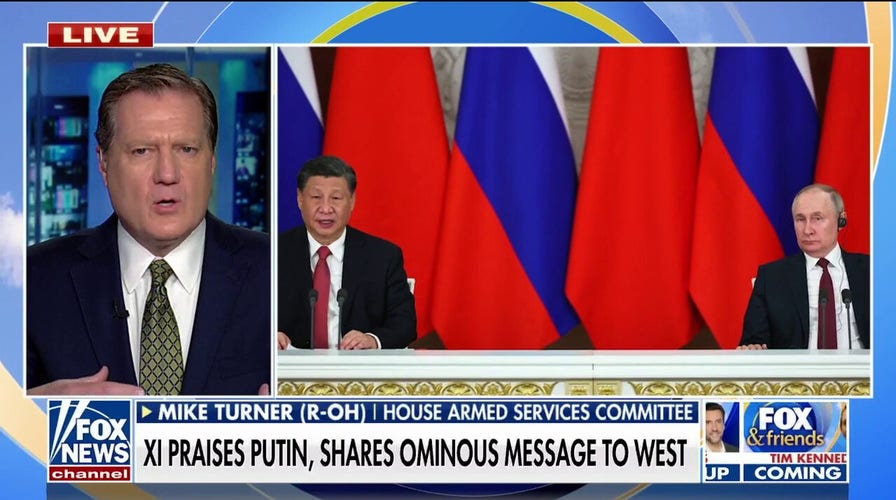 Video
China's Xi meets with Putin, sends warning to West
Rep. Mike Turner, R-Ohio, says it would be a 'game-changer' if China supports Russia with weapons for the war in Ukraine.
The U.K. on Wednesday clapped back at Russian President Vladimir Putin after he appeared to ramp up the threat of nuclear warfare in Ukraine in response to ammunitions aid London pledged to Kyiv this week.
Putin on Tuesday said Moscow would react "accordingly" after the U.K. said it would send munitions that contain depleted uranium for their Challenger 2 tanks to Kyiv.
"There is no nuclear escalation. The only country in the world that is talking about nuclear issues is Russia. There is no threat to Russia, this is purely about helping Ukraine defend itself," British Foreign Secretary James Cleverly said, according to Reuters.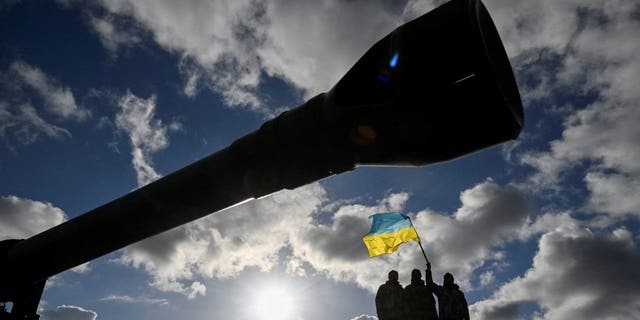 Ukrainian personnel hold a Ukrainian flag as they stand on a Challenger 2 tank during training at Bovington Camp, in southwestern Britain, Feb. 22, 2023. (Reuters/Toby Melville)
PUTIN SAYS RUSSIA WILL REACT 'ACCORDINGLY' IF WEST SENDS AMMUNITION WITH DEPLETED URANIUM
Cleverly looked to counter Putin's claims that the ammunitions contained a "nuclear component" and told reporters that "just because the word uranium is in the title of depleted uranium munitions, they are not nuclear munitions, they are purely conventional munitions."
Depleted uranium has been used for decades in modern warfare because of the added penetrating power it provides.
Depleted uranium is not as radioactive as nuclear munitions, though it is still considered hazardous to humans if it penetrates the skin through shrapnel and some instances of "hot spots" have been recorded.
This is not the first time Russia has looked to justify the use of nuclear weapons not only in Ukraine but against the U.K.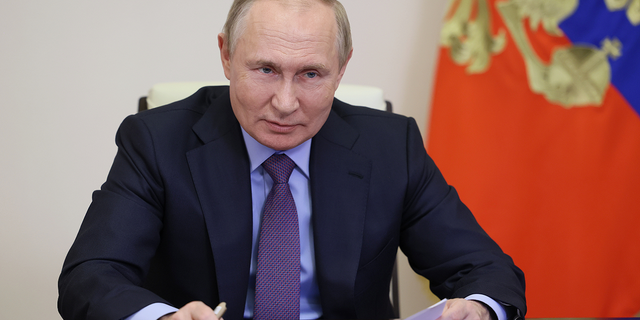 Russian President Vladimir Putin speaks via videoconference at the Novo-Ogaryovo state residence, outside Moscow, Russia, on Jan. 30. (Mikhail Klimentyev, Sputnik, Kremlin Pool Photo via AP)
ZELENSKYY SHARES SHOCKING FOOTAGE OF RUSSIAN MISSILE ATTACK ON CIVILIAN APARTMENTS IN UKRAINE
In September a former adviser to Putin joined a BBC radio show and before being asked any questions began a tirade over how the Western world, including the U.S. and the U.K, would be the "target" of a nuclear attack over their aid to Ukraine.
The Kremlin has also been linked to numerous suspicious and deadly attacks in the U.K. that have used hazardous and radioactive substances against its former operatives living there.
The attacks have notoriously happened in broad daylight, often in public, and frequently without any trace of the culprits who have notoriously used common-looking items like poisonous umbrellas and have attacked in unsuspecting areas like quiet countryside towns.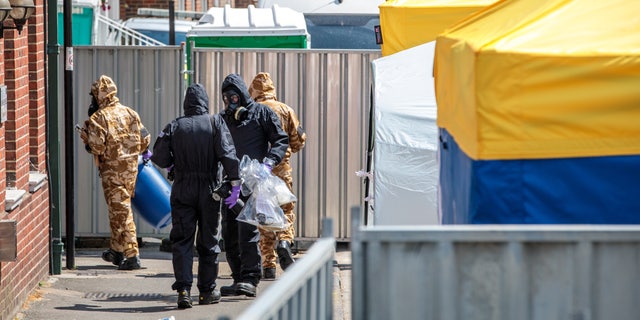 Emergency workers in protective suits search an area after a man and woman were exposed to the Novichok nerve agent on July 6, 2018, in Salisbury, England. (Jack Taylor/Getty Images)
CLICK HERE TO GET THE FOX NEWS APP
Belarusian President Alexander Lukashenko, a top ally to Putin, also entered the conversation Wednesday and warned that "Russia does not only have depleted uranium."
"We have to lower this trend toward escalation in the conflict and move toward a peaceful settlement," he added.
Caitlin McFall is a Reporter at Fox News Digital covering Politics, U.S. and World news.