close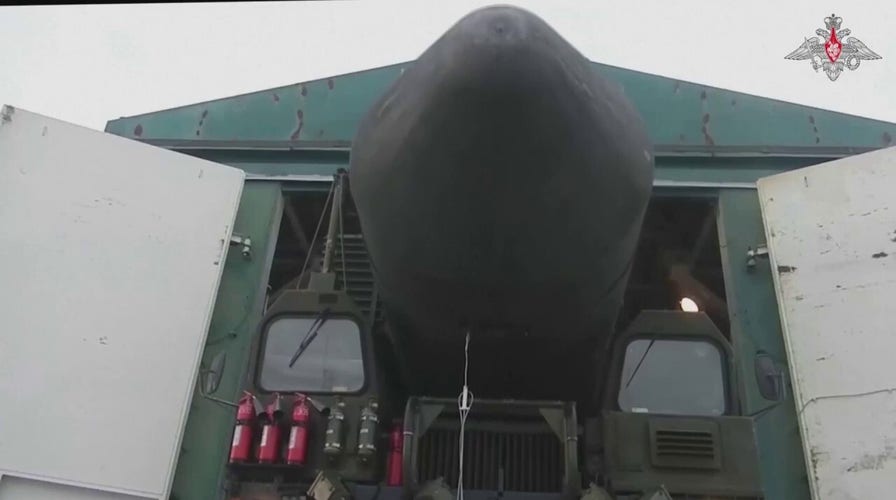 Video
Russia holds nuclear missile forces drills in Siberia to practice secret deployment
Russia's Defense Ministry on Wednesday released video of nuclear missile forces drills conducted in Siberia.
The U.K.'s top defense official Wednesday said Russia has seen some 220,000 deaths and injuries since the war began in an estimate that more than doubled figures released less than six months ago.
Defense Secretary Ben Wallace made the pronouncement while speaking with his Swedish counterpart during a London press event, citing figures provided by a U.S. assessment.
Though the Pentagon has not released a casualty estimate quite this high, Chairman of the Joint Chiefs of Staff Gen. Mark Milley told lawmakers in a Senate Armed Services Committee hearing Tuesday that the U.S. assesses that "the Russians have well over 200,000 casualties."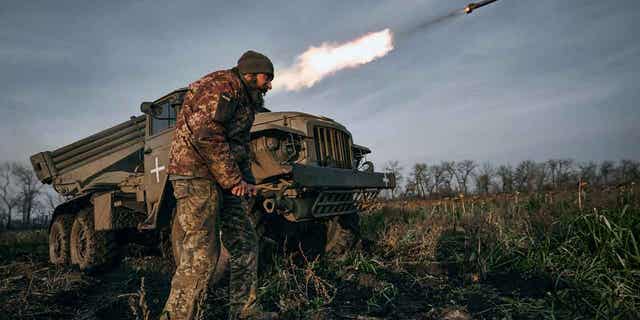 A Ukrainian military unit fires rockets at Russian positions in the frontline near Bakhmut, Donetsk region, Ukraine, Nov. 24, 2022. (AP Photo/LIBKOS, File)
RUSSIAN FORCES STALLED IN EASTERN AND SOUTHERN UKRAINE AS KYIV CLAIMS TO BE 'STABILIZING' BAKHMUT SECTOR
"Their offensive aspirations have come essentially to a halt. Their capabilities have been, their ground forces have been absolutely impaled on this Ukrainian bayonet, so to speak," he continued. "And that is largely due to the resources that the United States and other countries have provided."
Reports surfaced last month suggesting that Russian casualties were estimated to be nearing 200,000 with the number of dead and wounded hovering around 180,000.
The last time Milley released U.S. estimates on the number of Russian casualties was in November, when the U.S. believed roughly 100,000 were dead or wounded on both sides of the war effort.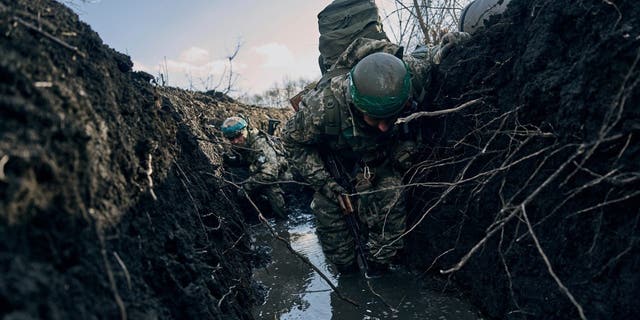 Ukrainian soldiers seek cover in a trench during Russian shelling on the front line close to Bakhmut, Donetsk region, Ukraine, Sunday, March 5, 2023. (AP Photo/Libkos, File)
RUSSIA HOLDS NUCLEAR MISSILE FORCES DRILLS IN SIBERIA TO PRACTICE SECRET DEPLOYMENT
This means that, according to U.S. estimates, Russia has lost roughly 100,000 soldiers in less than six months, with up to 40,000 of them either killed of injured since early February.
Ukraine has repeatedly claimed that Moscow is seeing significant losses on the battlefield and Western defense officials have said Russia's war effort, particularly in fiercely contested areas like Bakhmut, has slowed in recent days.
The U.K. defense ministry also assessed on Wednesday that Moscow has likely begun to see "personnel shortages," as at least 5,000 Wagner penal recruits have been pardoned after serving six months in the war.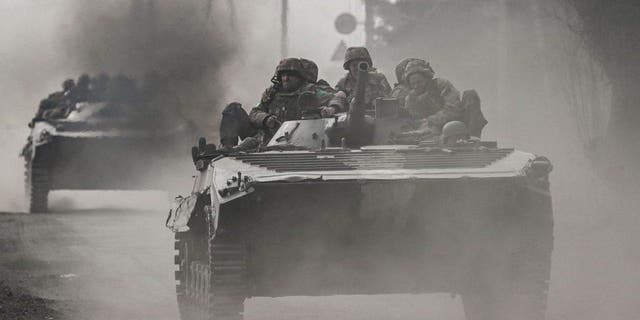 Ukrainian troops head toward Bakhmut in BMP infantry fighting vehicles, in eastern Ukraine on March 22, 2023. (Aris Messinis/AFP via Getty Images)
CLICK HERE TO GET THE FOX NEWS APP
Ukraine has been preparing for another counteroffensive as more advanced Western aid continues to pour in and as concerns over Russia's stalled winter offensive fade.
Reports have suggested that Ukraine has been able to strike more deeply into Russian-held territory in the south and Kyiv's troops in Donetsk are reportedly beginning to "stabilize" the situation around Bakhmut.
Caitlin McFall is a Reporter at Fox News Digital covering Politics, U.S. and World news.