The parents of Tyre Nichols and Brandon Tsay, the hero who stopped suspected California mass shooter Huu Can Tran from inflicting more damage following an attack at a Monterey Park dance studio this month, are expected to attend President Biden's upcoming State of the Union.
Nichol's mother RowVaughn Wells and his stepfather Rodney Wells accepted an invitation to the Feb. 7 address by Rep. Steven Horsford, D-Nev., according to a tweet from Vincent Evans, the executive director of the Congressional Black Caucus. Fox News Digital has reached out to the Caucus for further comment.
Tyre Nichols of Memphis, Tennessee, died on Jan. 10 after being beaten by Memphis police officers during a traffic stop days earlier. Five officers linked to the incident have been fired and are facing multiple charges, including second-degree murder, while a sixth who allegedly used his taser on Nichols was terminated as well, police there confirmed to Fox News Digital on Monday.
Tsay works at the Lai Lai Ballroom in Alhambra, California, where surveillance cameras caught him earlier this month stopping a suspected mass shooter from carrying out an attack at a second site after ultimately killing 11 at the Star Ballroom Dance Studio in Monterey Park.
TYRE NICHOLS' MOM SAYS MEMPHIS OFFICERS 'SHAMED THEIR FAMILIES'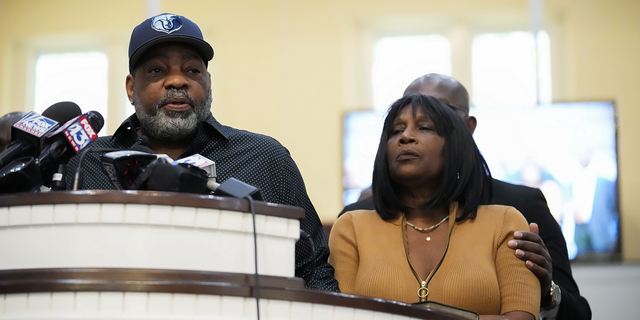 Rodney Wells, stepfather of Tyre Nichols, who died after being beaten by Memphis police officers, speaks at a news conference with civil rights Attorney Ben Crump, seen comforting Tyre's mother RowVaughn Wells, in Memphis, Tennessee, on Friday, Jan. 27.
(AP/Gerald Herbert)
On Sunday, the city outside of Los Angeles held a ceremony recognizing Tsay for his actions.
CALIFORNIA MASS SHOOTING: GUNMAN HUU CAN TRAN DIDN'T KNOW MONTEREY PARK DANCE HALL VICTIMS, SHERIFF SAYS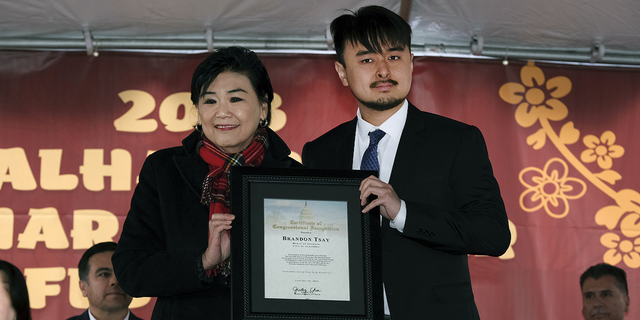 Congresswoman Judy Chu representing the 28th District of California presents Brandon Tsay with a Congressional Certificate of Recognition on Sunday, Jan. 29, in Alhambra, California.
(AP/Richard Vogel)
"I know that had he not done what he did, that the carnage, the killing would have been double what it was in Monterey Park. So I just have to amplify the incredible courage that he displayed at that moment," said Rep. Judy Chu, D-Calif.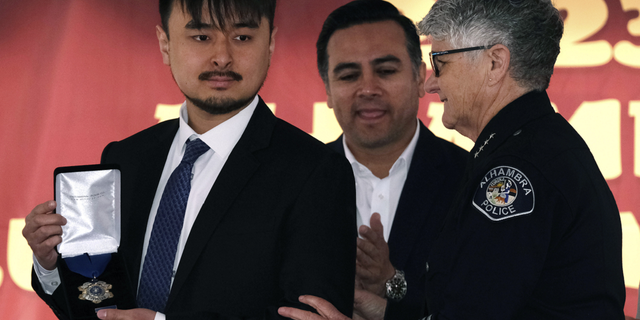 Brandon Tsay displays a Metal of Courage award after being presented to him by Alhambra Police Chief Kelley Fraser, right, on Sunday, Jan. 29, 2023 in Alhambra, California
(AP/Richard Vogel)
"His story was so amazing that I called Brandon and asked him to be my guest at the president's State of the Union address next week," she continued. "But guess what, only an hour after I talked to him, President Biden himself asked him to be his guest at the State of the Union.
CLICK HERE TO GET THE FOX NEWS APP
"Brandon, how could you turn me down for the president?" she quipped.
Fox News' Anders Hagstrom contributed to this report.