close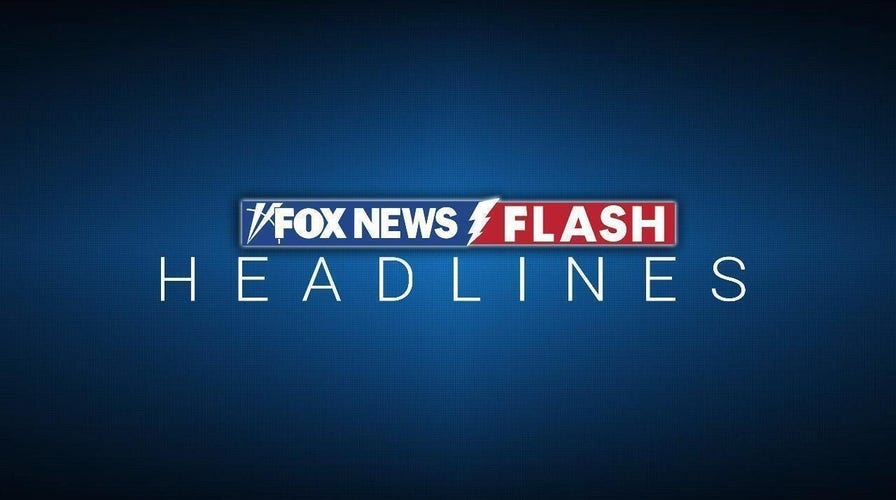 Video
Fox News Flash top headlines for November 5
Fox News Flash top headlines are here. Check out what's clicking on Foxnews.com.
An 18-hour "hostage situation" involving a Turkish father accused of plowing through the gates of a German airport with his four-year-old daughter inside his vehicle before igniting several explosives and firing into the air, sparking evacuations and canceled flights, ended Sunday with authorities taking the suspect into custody and assuring the child appeared unharmed.
"The hostage situation is over," Hamburg Police wrote on X, formerly Twitter.
"The suspect got out of the car with his daughter. The man was arrested by the emergency services without resistance. The child appears to be unharmed."
The airport in the northern German city of Hamburg had been closed to passengers and flights canceled since Saturday night when the 35-year-old armed man, who was not identified by police in accordance with the country's privacy laws, broke through an airport gate with his vehicle and fired twice into the air with a weapon, according to German news agency dpa.
GERMAN AUTHORITIES CHARGE 3 TEENS WITH HOMELESS MAN'S FATAL BEATING, FILMING ATTACK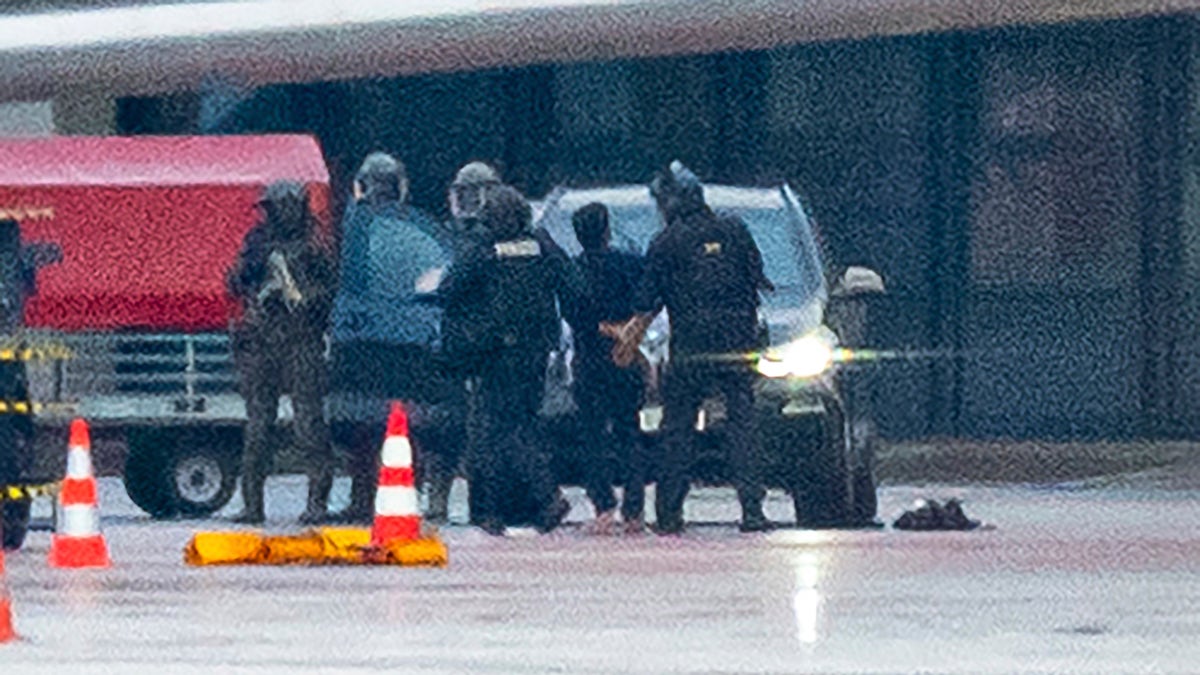 A man is led away by the police at the airport in Hamburg, Germany, Sunday, Nov. 5, 2023.  (Jonas Walzberg/dpa via AP)
The man, a Turkish citizen, drove the vehicle just outside a terminal building and parked it under a plane.
At that time, the commercial aircraft was almost ready to take off and was full of passengers.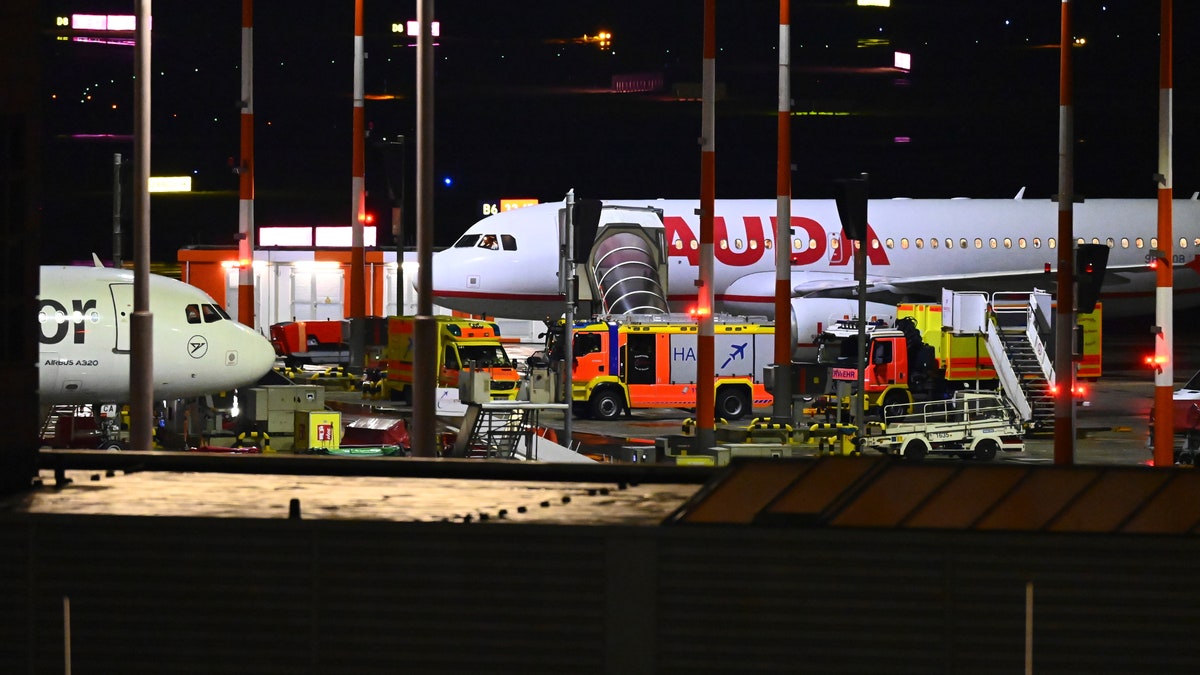 Fire Department vehicles arrive at a security scene at the Hamburg Airport, Saturday, Nov. 4, 2023, in Germany.  (Jonas Walzberg/dpa via AP)
The passengers on the aircraft were evacuated by the emergency services who arrived and taken to the adjacent terminal without any further incident.
Hamburg police said the man is also said to have set off two incendiary devices next to his Audi car, which were immediately extinguished by the airport fire department.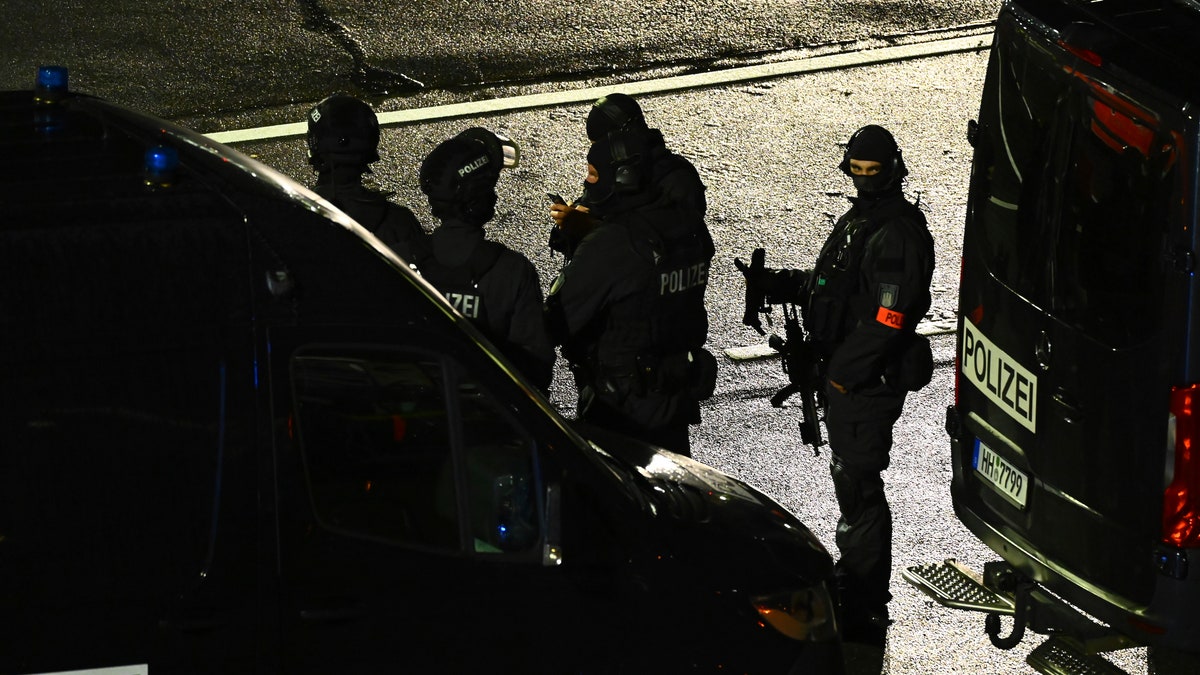 Police guard the scene of a security breach at the Hamburg Airport, Saturday, Nov. 4, 2023, in Hamburg, Germany.  (Jonas Walzberg/dpa via AP)
"At around 10 p.m., officers managed to make contact with the 35-year-old and enter into negotiations with him. Despite this, he was initially unwilling to give up his plan, so the static situation continued for hours. There was almost constant contact with the father throughout the entire phase," police said in a press release. "Ultimately, the suspect left his Audi early on Sunday afternoon with his daughter in his arms, handed the girl over to the special forces on hand and was then temporarily arrested at 2:25 p.m. without resistance."
Local media reported that the man, who parked his car next to a Turkish Airlines plane during the standoff, had demanded that he and his daughter could leave Germany and fly to Turkey.
Authorities said the man's ex-wife in Stade, Germany, had previously contacted them about a child abduction.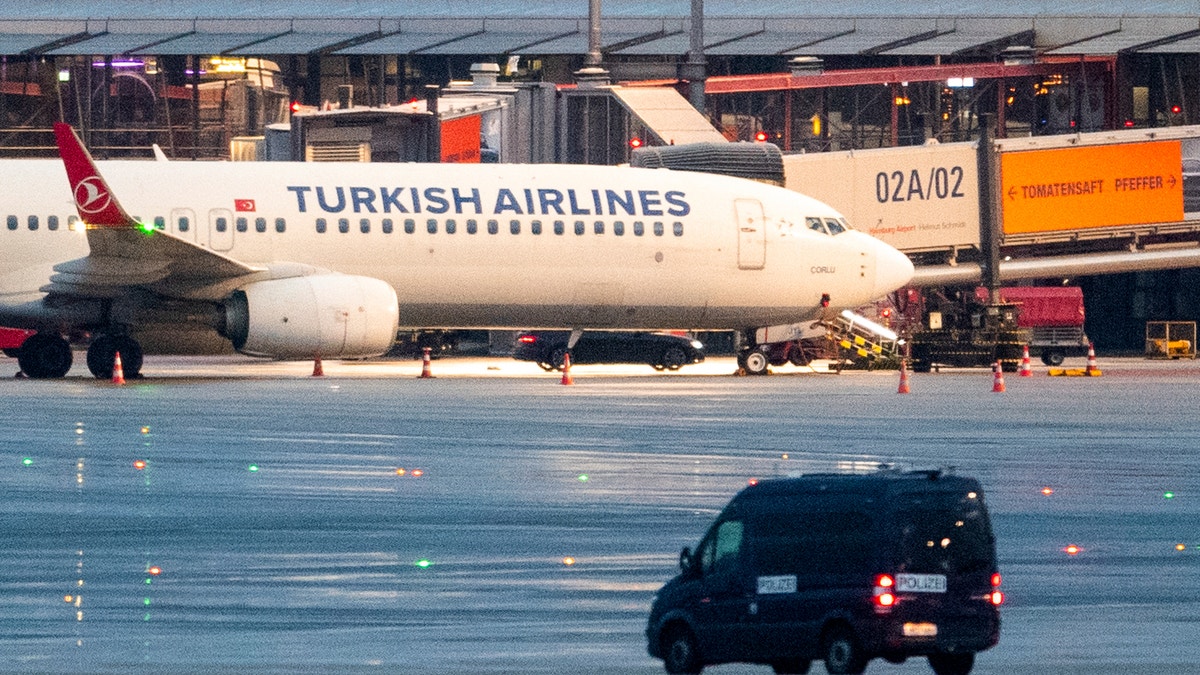 A police vehicle is parked in front of an airplane at the airport, where a car with a hostage-taker is parked, in Hamburg, Germany, Sunday, Nov. 5, 2023.  (Daniel Bockwoldt/dpa via AP)
MAN CHARGED WITH MURDER, OTHER OFFENSES IN ATTACK ABROAD OF 2 WOMEN NEAR FAMOUS CASTLE
Police said the suspect had his daughter inside the car after reportedly taking her by force from the mother in an ongoing custody battle.
More than 100 flights were canceled and several planes were rerouted during the 18-hour hostage situation. Thousands of travelers had been affected by the standoff and hundreds were put up at hotels close by. Flight operations at the airport resumed on Sunday night, almost 24 hours after the hostage situation began.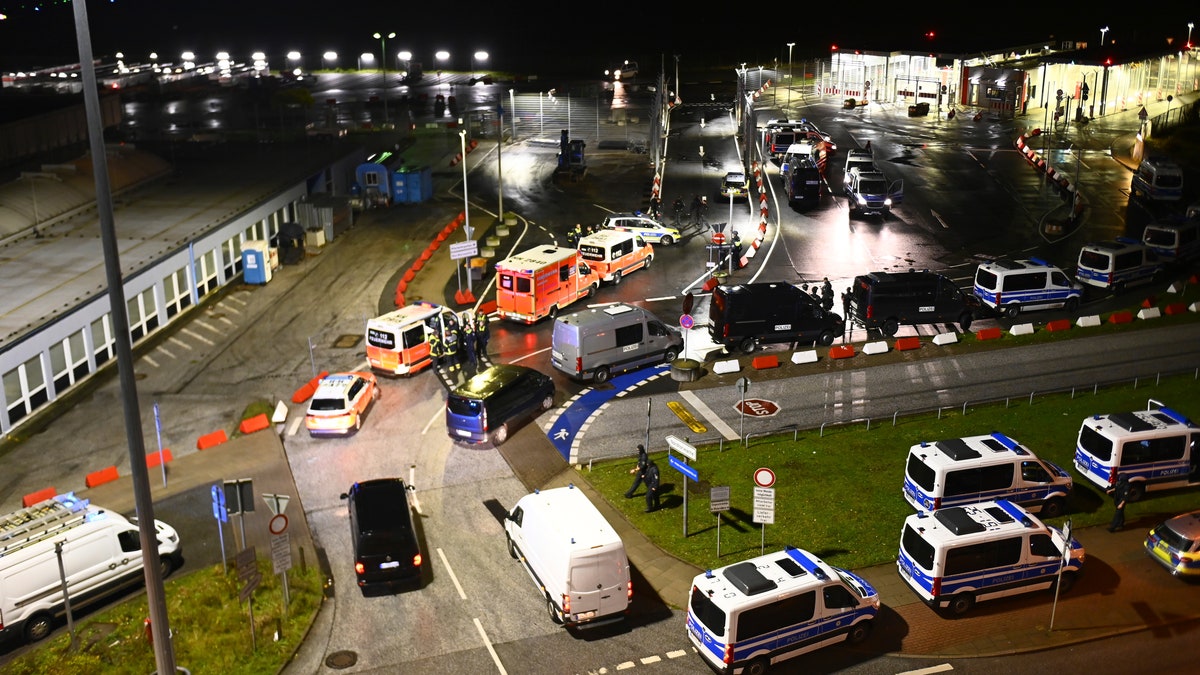 Police vehicles and ambulances arrive at the scene of a security breach at the Hamburg Airport, Saturday, Nov. 4, 2023, in Germany. (Jonas Walzberg/dpa via AP)
Hamburg Mayor Peter Tschentscher expressed relief that nobody was injured in the incident.
"The hostage-taking at Hamburg Airport is over after long, dramatic hours," Tschentscher wrote on X, thanking police. "I wish the mother, the child and her family a lot of strength to cope with these terrible experiences."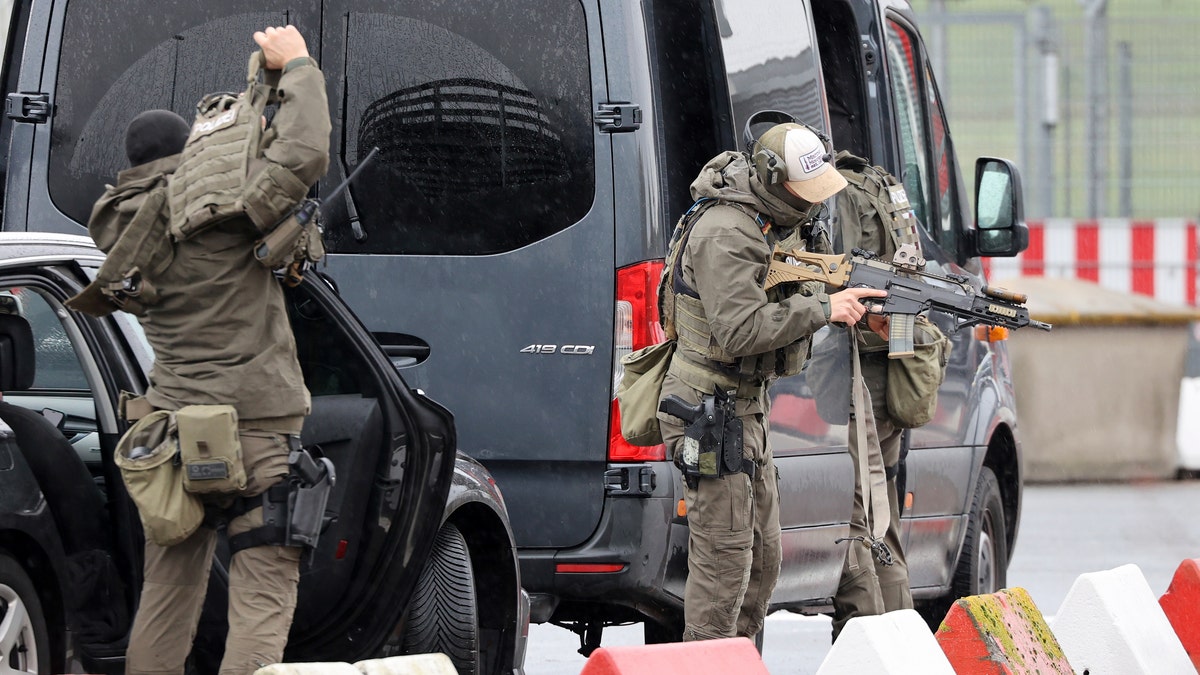 Heavily armed special police forces prepare for an operation at the airport, in Hamburg, Germany, Sunday, Nov. 5, 2023.  (Bodo Marks/dpa via AP)
As early as March 2022, the suspect was investigated in Stade on suspicion of kidnapping minors. At that time, he had traveled to Turkey with his daughter without authorization. However, the child was later brought back to Germany by the mother.
CLICK HERE TO GET THE FOX NEWS APP
A psychologist had been negotiating with the man for several hours. Nobody was injured during the standoff after all passengers had evacuated the airport, police said.
A total of around 920 emergency services were involved, police said.
The Associated Press contributed to this report.
Danielle Wallace is a reporter for Fox News Digital covering politics, crime, police and more. Story tips can be sent to [email protected] and on Twitter: @danimwallace.