close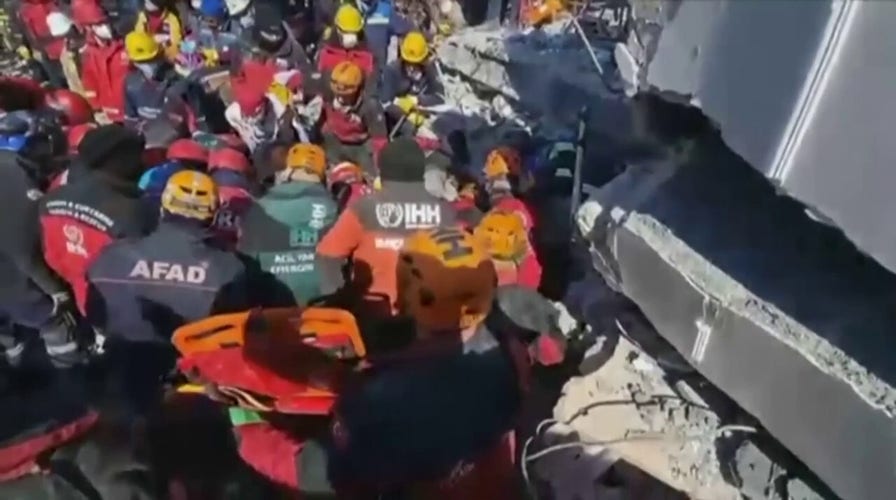 Video
Turkey-Syria earthquake: 5 family members pulled from rubble after 129 hours as death toll tops 25K
A family of five were rescued in Nurdagi, Turkey, Saturday, as the death toll from the Monday earthquake topped 25,000. (IHH)
Rescuers in Turkey pulled a family of five to safety on Saturday after they had spent five days in their collapsed home following an earthquake that is responsible for the deaths nearly 25,000 people in Turkey and Syria.
The mother and daughter, Havva and Fatmagul Aslan, were the first retrieved from the debris in the town of Nurdagi, according to HaberTurk.
Later on, the teams reached the father, Hasan Aslan, but he insisted that his other children be saved first.
As the father was brought out after 129 hours under the rubble, rescuers cheered: "God is Great!"
TURKEY, SYRIA EARTHQUAKE: TEEN, CHILD PULLED ALIVE FROM RUBBLE AS DEATH TOLL SOARS ABOVE 22,000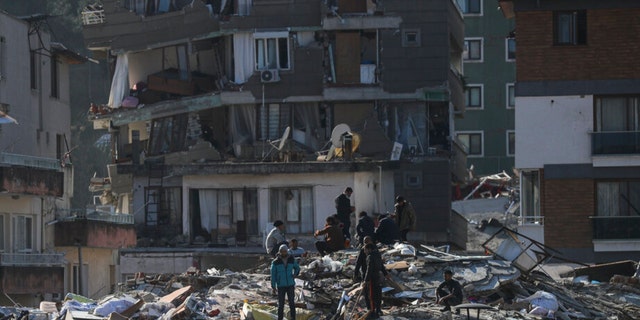 Men walk among the debris of collapsed buildings in Hatay, southern Turkey, Thursday, Feb. 9, 2023. Emergency crews made a series of dramatic rescues in Turkey on Friday, pulling several people, some almost unscathed, from the rubble, four days after a catastrophic earthquake killed more than 20,000.  (AP Photo/Can Ozer)
Rescues brought slivers of hope amid the devastation from Monday's 7.8-magnitude quake. The tremor collapsed thousands of buildings, leaving millions of people homeless. Hours later, another earthquake that was nearly just as strong caused more destruction hours later.
Another 80,000 were injured, some of which are treated by the Indian Army's medical assistance team in a temporary field hospital in Iskenderun.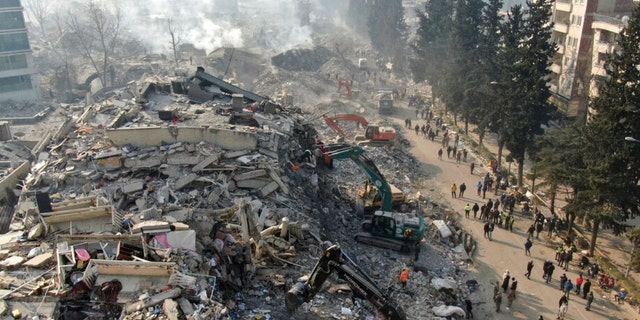 Aerial photo showing collapsed buildings in Kahramanmaras, southern Turkey, Saturday, Feb. 11, 2023. Rescuers in Turkey miraculously continued to pull earthquake survivors out of the rubble on Saturday.  (IHA via AP)
Sukru Canbulat was at the hospital, his left leg badly injured with deep bruising, contusions and lacerations. After receiving first aid, he was released without proper treatment for his injuries.
STAGGERING TURKEY EARTHQUAKE DEATH TOLL INCLUDES AT LEAST 3 US CITIZENS: STATE DEPARTMENT
″I buried (everyone that I lost), then I came here,'' he said, counting his dead relatives: "My daughter is dead, my sibling died, my aunt and her daughter died, and the wife of her son" who was eight-and-a-half months pregnant.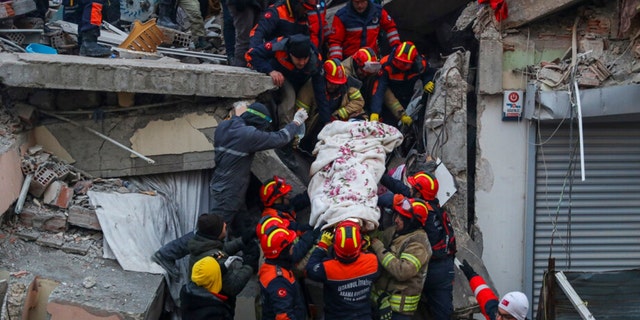 Turkish rescue workers carry Ergin Guzeloglan, 36, to an ambulance after pulled him out from a collapsed building five days after an earthquake in Hatay, southern Turkey, early Saturday, Feb. 11, 2023.  (AP Photo/Can Ozer)
Rescuers have shifted to thermal cameras to assist in the effort, and temperatures have remained below freezing across the region.
The United Nations refugee agency estimated that as many as 5.3 million people have been left homeless in Syria, with the first aid convoy crossing from Turkey into northwestern Syria on Friday.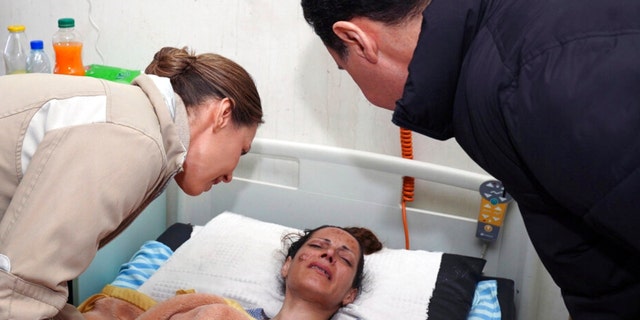 In this photo released by the official Syrian state news agency SANA, Syrian President Bashar Assad, left, and his wife Asma, visit a wounded survivor of a devastating earthquake, at a hospital in the coastal city of Latakia, Syria, Saturday, Feb. 11, 2023.  ((SANA via AP))
The head of the World Health Organization, Tedros Adhanom Ghebreyesus, arrived in Syria's northern city of Aleppo on Saturday, according to state news agency SANA.
CLICK HERE TO GET THE FOX NEWS APP
The total dead in Syria was 3,533, while Turkish officials counted 21,043 dead through Saturday.
The opposition Syrian Civil Defense – also known as White Helmets – said Saturday that it "is almost impossible to find people alive."
The Associated Press contributed to this report.
Julia Musto is a reporter for Fox News and Fox Business Digital.