close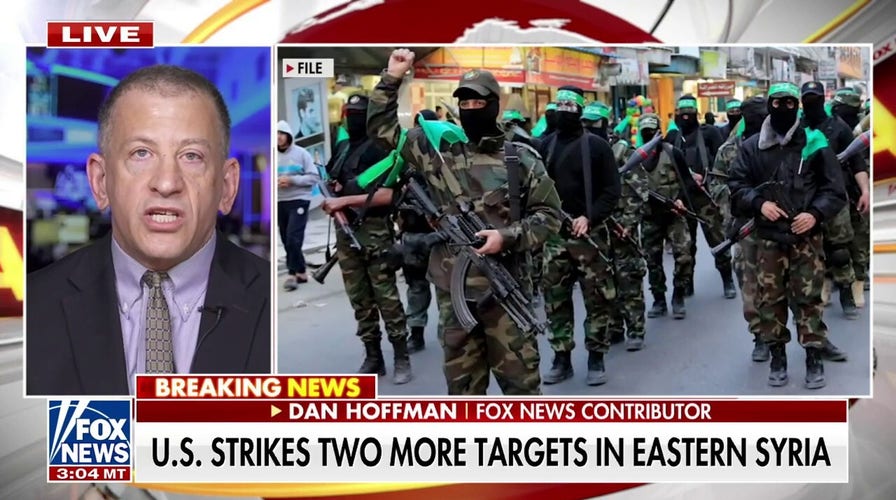 Video
Iran wants to ensure there's 'no reconciliation' between Saudi Arabia, Israel: Dan Hoffman
FOX News contributor Dan Hoffman joined 'FOX & Friends First' to discuss heightening tension between the U.S. and Iran as the war between Israel and Hamas continues. 
Turkey's rhetoric and positions on the Israel-Hamas war have paved the way for closer ties with Iran, which both nations will explore as they seek to resolve long-standing issues.
"Compartmentalization has long been the name of the game for the Iran-Turkey relationship under the Islamic Republic and AKP, respectively," Behnam Ben Taleblu, a senior fellow at the Foundation for Defense of Democracies, told Fox News Digital. Turkish President Recep Tayip Erdogan is the chairman of the AKP political party.
"While traditionally the two non-Arab Muslim Middle Eastern powers have competed as to who can champion the Palestinian street, the post-Arab Spring Middle Eastern order has led to more opportunities for a NATO member and the world's foremost state sponsor of terrorism to channel their political ire and more at Israel," Taleblu said.
Turkey has found itself at odds with its NATO allies, most of whom have backed Israel's right to defend itself following the Hamas terrorist attack on Oct. 7, while Turkey has echoed the stances of other Middle Eastern nations in questioning Israel and defending the Palestinians.
WATCH: BIDEN OFFICIAL, REPORTER CLASH IN HEATED DEBATE OVER ADMIN ALLOWING BILLIONS IN FUNDING FOR IRAN
Erdogan took things a step further and defended the Hamas terrorists who carried out the attack, calling the group a "mujahideen," or freedom fighters, "defending their lands." He has also continued to push for a ceasefire, accusing the West of being "too weak" to call for one — a stance that seems common among the Organization of Islamic Cooperation (OIC) members.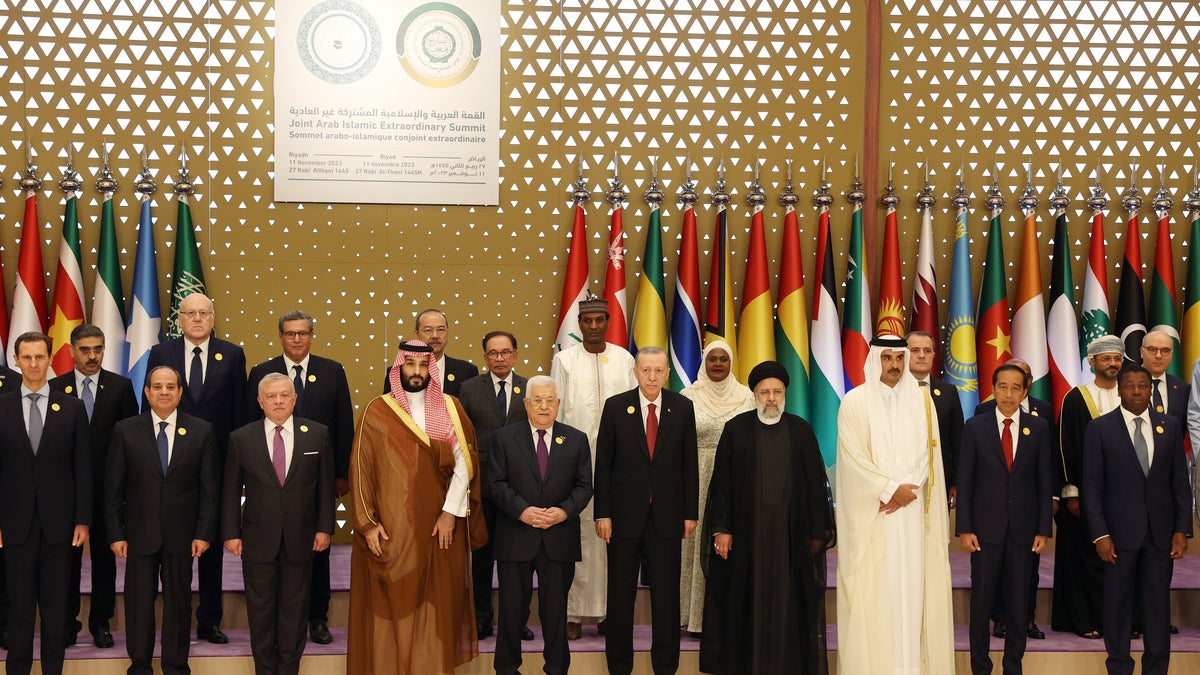 Turkish President Recep Tayyip Erdogan (5th R) poses for a family photo next to Iran's President Raisi, during the Extraordinary Joint Summit of the Organization of Islamic Cooperation and the Arab League at King Abdulaziz International Conference Center in Riyadh, Saudi Arabia on November 11, 2023. (Mustafa Kamaci/Anadolu via Getty Images)
Israeli Foreign Ministry spokesperson Lior Haiat condemned Erdogan's rhetoric as "harsh words" about a "terrorist organization," the Times of Israel reported.
That more hardline stance has endeared Ankara to Tehran, prompting the two nations to explore a rapprochement, or resumption of harmonious relations. They previously attempted a similar engagement in 2009 after Erdogan lambasted Israeli President Shimon Peres at the Davos conference and in 2010 again after an incident with Israel, according to Al-Monitor.
IDF FACING 'CHALLENGING SITUATION' WITH GAZA HOSPITALS
"Along with Qatar, Russia, and the U.N., Turkey was a prime target of Iranian diplomatic overtures following the deadly terrors attacks that Tehran helped underwrite on Oct. 7," Taleblu said. "The more shocks between Turkey and Israel and the Western bloc, the more confident Tehran feels about the ascendency of its regional message."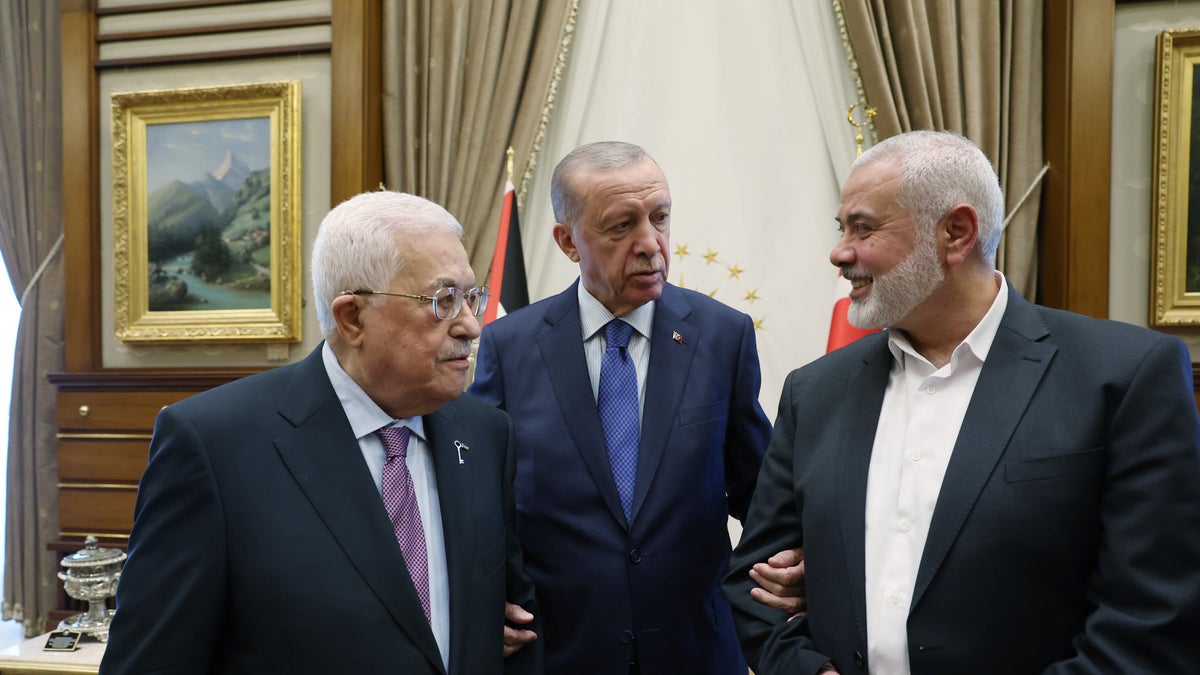 Turkish President Recep Tayyip Erdogan (C) meets with Palestinian President Mahmoud Abbas (L) and Head of the Hamas Political Bureau Ismail Haniyeh (R) at the Presidential Complex in Ankara, Turkiye on July 26, 2023. ( Mustafa Kamaci/Anadolu Agency via Getty Images)
The Turkish embassy in Washington, D.C. did not respond to a Fox News Digital request for comment.
Turkey has maintained a nebulous role in the conflict, first due to its membership in NATO and ties to the United States against its support of Hamas. At the same time, Ankara asked Hamas leader Ismail Haniyeh to leave Istanbul following the Oct. 7 attack over fears of looking like a supporter of terrorism.
ERDOGAN-BACKED LAW CARRYING JAIL TIME FOR 'DISINFORMATION' UPHELD BY TURKISH HIGH COURT
Turkey has remained in conversation with Haniyeh as well as Israel, Al-Monitor reported.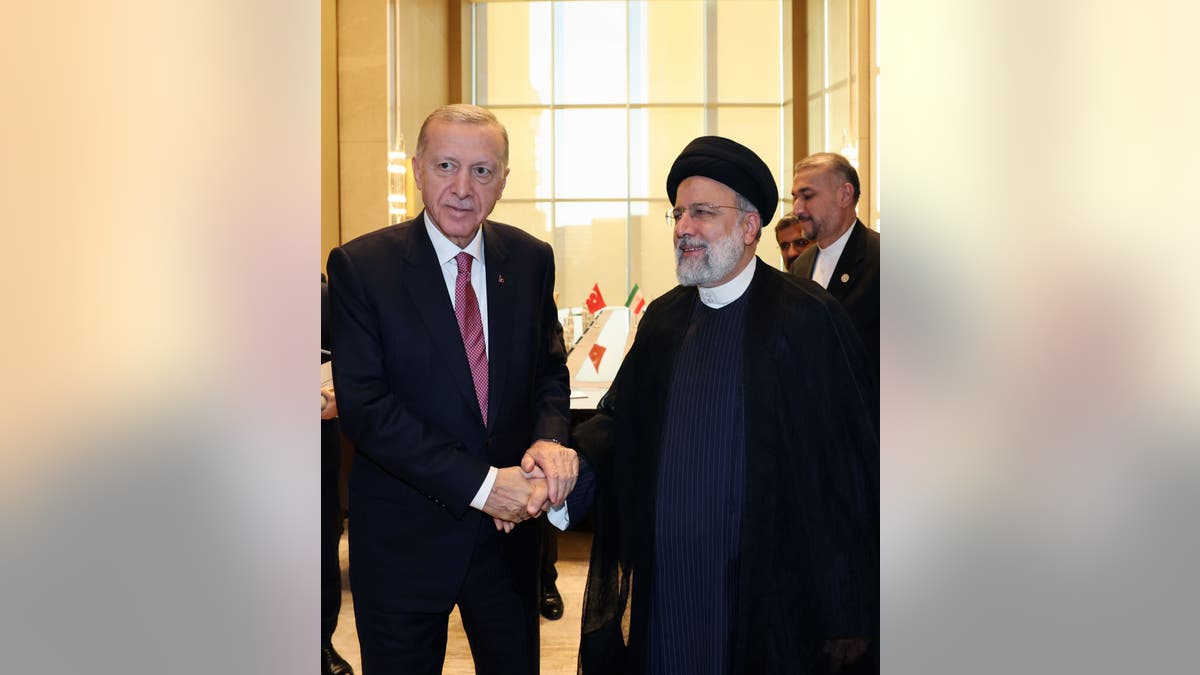 TASHKENT, UZBEKISTAN – NOVEMBER 09: Turkish President Recep Tayyip Erdogan (L) meets Iranian President Ebrahim Raisi (R) at the 16th Economic Cooperation Organization (ECO) Summit in Tashkent, Uzbekistan on November 09, 2023.  (Photo by TUR Presidency / Murat Cetinmuhurdar / Handout/Anadolu via Getty Images))
In his speech before the Turkish parliament last month, Erdogan also slammed Western powers for supporting Israel's operation in the Gaza Strip, which the Hamas-controlled Gaza Health Ministry claimed has taken the lives of over 11,000 Palestinians.
The Biden administration has repeatedly cast doubts on those numbers, and critics have noted that the ministry does not distinguish between civilian and combatant deaths. Stephan Dujarric, spokesperson for United Nations Secretary-General Antonio Guterres, told Fox News Digital that the U.N. has found the ministry's numbers "reliable" in the past.
CLICK HERE TO GET THE FOX NEWS APP
Dujarric acknowledged that the U.N. will only have a chance to verify the numbers after the conflict ends, though, he stressed that the number will likely remain very high. He did not comment on the lack of distinction between civilian and combatant deaths.
Reuters contributed to this report.
Peter Aitken is a Fox News Digital reporter with a focus on national and global news.