Former President Trump will turn himself in Thursday night at the Fulton County jail in Atlanta, Georgia after he was charged with 13 counts stemming from the state probe into his alleged efforts to overturn the 2020 presidential election in the state.
The court set Trump's bail at $200,000, and he is expected to be quickly processed and released. Fox News Digital has learned his formal arraignment, where he is expected to plead not guilty, will take place sometime early next month.
It is expected that Trump will be required to take a mugshot. Others charged out of Fulton County District Attorney Fani Willis' probe, like former Trump lawyers Rudy Giuliani, Sidney Powell, Jenna Ellis and more had their photos taken during processing.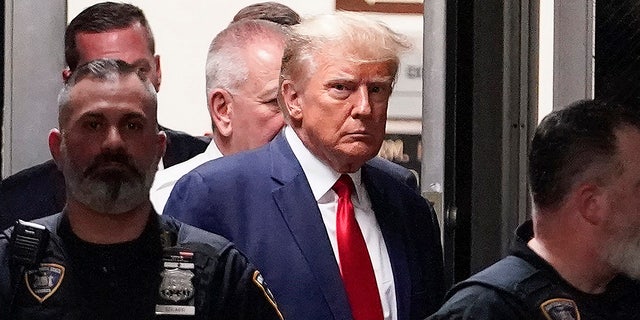 FILE – Former President Donald Trump is escorted to a courtroom, April 4, 2023, in New York.  (AP Photo/Mary Altaffer, File)
TRUMP SAYS GEORGIA INDICTMENT COMES DURING 'DARK PERIOD' FOR US, VOWS TO FIX IT BY WINNING
"NOBODY HAS EVER FOUGHT FOR ELECTION INTEGRITY LIKE PRESIDENT DONALD J. TRUMP," Trump posted on Truth Social. "FOR DOING SO, I WILL PROUDLY BE ARRESTED…IN GEORGIA GOD BLESS THE UNITED STATES OF AMERICA!!!
Trump was charged with one count of violation of the Georgia RICO Act, three counts of criminal solicitation, six counts of criminal conspiracy, one count of filing false documents and two counts of making false statements.
Trump was first charged in March out of Manhattan District Attorney Alvin Bragg's years-long investigation related to hush-money payments made during the 2016 presidential campaign.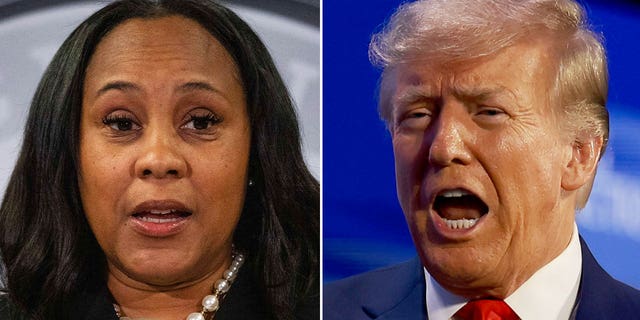 Fani Willis and Donald Trump (Getty Images)
The indictment out of Georgia was the fourth for Trump, who is the first former president in United States history to face criminal charges.
TRUMP BOND SET AT $200,000 AFTER GEORGIA INDICTMENT; HE WILL BE PROCESSED THURSDAY
Bragg alleged that Trump "repeatedly and fraudulently falsified New York business records to conceal criminal conduct that hid damaging information from the voting public during the 2016 presidential election."
Trump pleaded not guilty to all 34 felony counts of falsifying business records in the first degree in New York.
Those charges from Bragg came amid Special Counsel Jack Smith's investigation into Trump's alleged improper retention of classified records from his presidency at his Mar-a-Lago home in Palm Beach, Fla.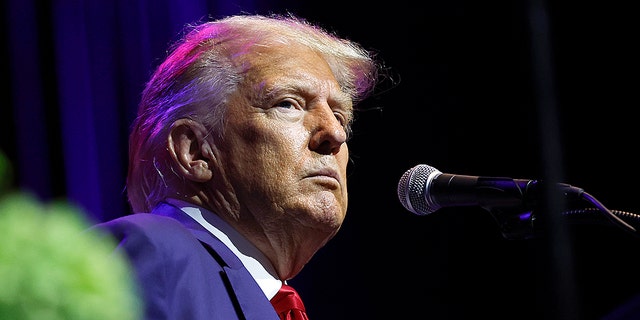 Former President Donald Trump speaks at a fundraiser event for the Alabama GOP, Friday, Aug. 4, 2023, in Montgomery, Ala.  (AP Photo/Butch Dill, File) (AP Photo/Butch Dill, File)
Trump pleaded not guilty to all 37 felony charges out of that probe. The charges include willful retention of national defense information, conspiracy to obstruct justice and false statements.
CLICK TO GET THE FOX NEWS APP
Last month, on July 27, Trump was charged with an additional three counts as part of a superseding indictment out of Smith's investigation — an additional count of willful retention of national defense information and two additional obstruction counts.
Smith was also investigating whether Trump was involved in the Capitol riot on Jan. 6, 2021, and any alleged interference in the 2020 election result.
On Aug. 1, Trump was indicted on four federal charges out of Smith's Jan. 6 probe.
Trump pleaded not guilty to all charges, which included conspiracy to defraud the United States; conspiracy to obstruct an official proceeding; obstruction of and attempt to obstruct an official proceeding; and conspiracy against rights.