Former President Trump is seen on newly released video obtained Tuesday by Fox News Digital pleading the Fifth Amendment again and again during a deposition last August. It was just a month before New York Attorney General Letitia James filed a still-ongoing $250 million civil case seeking to drive Trump's family-run business out of the state.
"This is the greatest witch hunt in the history of our country," Trump, wearing a navy suit, red tie and American flag lapel pin, said in his opening statement Aug. 10, 2022.
His deposition under oath in New York City came just days after the FBI raided the former president's private residence at Mar-a-Lago in Florida.
"There has never been another president or perhaps even another politician who has been persecuted, harassed and in every other way unfairly treated like President Donald J. Trump. What Letitia James has tried to do the last number of years is a disgrace to the legal system and an affront to the New York state taxpayers and a violation of the solemn rights and protections afforded by the United States Constitution," Trump continues in the roughly 38 minutes of clips of the deposition obtained by Fox News Digital.
TRUMP VOLUNTARILY DISMISSES SECOND LAWSUIT AGAINST NEW YORK ATTORNEY GENERAL LETITIA JAMES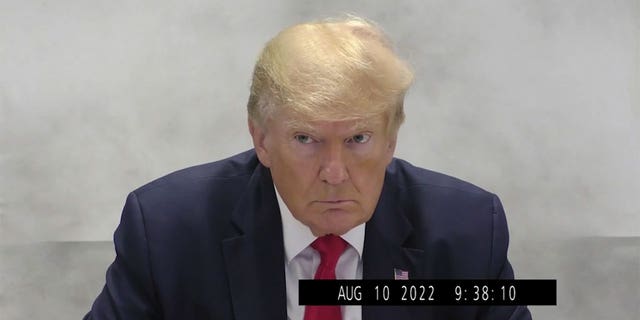 Former President Trump Aug. 10, 2022 during a deposition before New York Attorney General Letitia James. 
(New York Attorney General's Office)
"She developed a political platform and made a career out of maliciously attacking me and my business before she even understood or was elected or reviewed one of the millions of pages of documents we willingly produced. We willingly produced these documents. James proclaimed that she, quote, looks forward to going into the office of attorney general every day, suing me and then going home.
"During her campaign, she announced that she was obsessed with, quote, taking me on, taking me on, and that her eyes were set on, quote, Trump Tower. She even assured her supporters as an election promise very strongly that, quote, 'We're going to definitely sue him' before she even knew anything about me. 'We're going to be a real pain in his a–,'" Trump said, referring to James. "He's going to know my name personally, and she claimed I was … an illegitimate president, quote, illegitimate president.
"In her AG speech, she promised to, quote, 'shine a bright light into every dark corner of Trump's real estate holdings.' Shortly thereafter, she vowed to, quote, 'use every area of the law to investigate President Trump and his business transactions, and that his — that of his family as well,'" he said. "She knows nothing about us. This is when she knew absolutely nothing about us. It was very unfair. This whole thing is very unfair."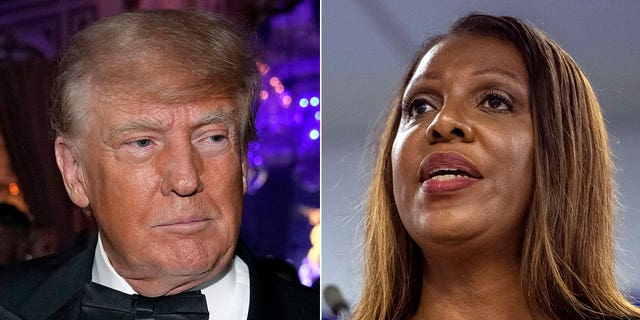 Former President Trump, left, dropped a second lawsuit against New York Attorney General Letitia James last week. 
(AP)
Fox News obtained the video as it became part of the public domain through Freedom of Information law. Fox News also reached out to Trump's attorneys for comment but did not immediately hear back.
The video clips corresponded with portions of transcripts already made public in October as exhibits in James' $250 million lawsuit against Trump, three of his children and their family-run business. Other parts of the deposition are still considered confidential amid an ongoing law enforcement investigation.
Trump continued opening remarks before declining to answer any of the attorney general office's questions. He pleaded the Fifth roughly 60 times in the 38 minutes of footage obtained.
As a pretense for commencing what Trump declared a "bogus" and "obsessive" investigation, the former president said James relied on testimony from Michael Cohen, who Trump described as a "convicted felon and liar."
"I once asked, 'If you're innocent, why are you taking the Fifth Amendment?' I was asking that question," Trump said of himself. "Now I know the answer to that question. When your family, your company and all the people in your orbit have become the targets of an unfounded, politically motivated witch hunt, supported by lawyers, prosecutors and even the fake news media, you really have no choice. We cannot permit a renegade and out-of-control prosecutor to use this investigation as a means of advancing her political career.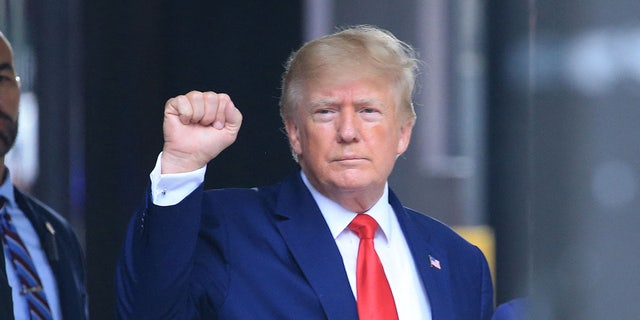 Former President Trump outside of Trump Tower in New York City Aug. 10, 2022. Trump declined to answer questions under oath in New York over alleged fraud at his family business.
(Stringer/AFP via Getty Images)
"New York deserves better, and this country deserves better. Being a prosecutor is a very important thing. This is a vindictive and self-serving fishing expedition, the likes of which this country has perhaps never seen before. If there was any question in my mind the raid on my home two days ago, Mar-a-Lago, Palm Beach, Florida, by the FBI just two days prior to this deposition. Think it wiped out any of that uncertainty. I have absolutely no choice because the current administration and many prosecutors in this country have lost all moral and ethical bounds of decency," Trump said. "Anyone in my position not taking the Fifth Amendment would be a fool, an absolute fool.
"The United States Constitution exists for this very purpose, and I will utilize it to the fullest extent and defend myself against this malicious attack by this administration, this attorney general's office and all other attacks on my family, my business and our country," Trump added. "Accordingly, under the advice of my counsel and for all of the above reasons, I respectfully decline to answer the questions under the rights and privileges afforded to every citizen under the United States Constitution. This will be my answer to any further questions."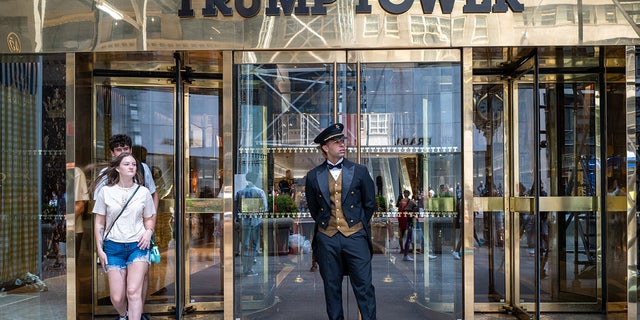 People walk out of Trump Tower in Manhattan Aug. 10, 2022, in New York City. According to a recent report, the FBI was looking for nuclear-related documents among others when it searched Mar-a-Lago.  
(Spencer Platt/Getty Images)
For the first several questions, Trump, at the advice of his counsel, responded with a prepared statement: "For all of the reasons provided in my answer, which is incorporated herein — in its entirety — I decline to answer the question."
In the interest of time, he was later allowed to respond repeatedly, "same answer."
Earlier this month, Trump's legal team said the former president "voluntarily" withdrew two lawsuits, first in Florida, then in New York, within a matter of days against James relating to her investigation seeking to drive Trump's family-run business out of New York state.
The move came after a Florida federal judge, Donald M. Middlebrooks, accused Trump of a "pattern of abuse of the courts" for filing frivolous lawsuits for political purposes, including what he said was a bogus lawsuit against Trump's 2016 rival Hillary Clinton and others. The judge said Trump and his lawyer, Alina Habba, were liable for nearly $1 million in that case.
Meanwhile, James wants a New York judge to fine Trump $250 million.
CLICK HERE TO GET THE FOX NEWS APP
Her lawsuit alleges that Trump, with the help of children Donald Trump, Jr., Ivanka Trump and Eric Trump and other senior executives at the Trump Organization, falsely inflated his net worth by billions of dollars to induce banks to lend money to the Trump Organization on more favorable terms than would otherwise have been available to the company, to satisfy continuing loan covenants, to induce insurers to provide insurance coverage for higher limits and at lower premiums and to gain tax benefits, among other things.
James' case is set to go to trial in October.