Former President Donald Trump is leading both Florida Gov. Ron DeSantis and Sen. Tim Scott, R-S.C., garnering 42% support in a new poll of Iowa's likely Republican caucusgoers.
Trump is leading 23 percentage points over DeSantis, who garnered 19% support in the Des Moines Register/NBC News/Mediacom Iowa Poll of 406 likely Republican caucusgoers conducted August 13-17.
Scott came in third place with 9% support, while former United Nations ambassador Nikki Haley and former Vice President Mike Pence tied for fourth at 6%. Former New Jersey governor Chris Christie garnered 5% support, and 4% of respondents said they would support tech entrepreneur Vivek Ramaswamy.
While several indicators pointed toward Trump's strength at this stage, J. Ann Selzer, president of Selzer & Co., the firm that conducted the poll, told the Des Moines Register the contest may be "closer than it may first seem," suggesting that much could change in the about five months until Caucus Day on January 15.
CRITICS RIP DESANTIS FOR TRUMP COMMENT THEY SAY MAKES HIM SOUND LIKE 'CROOKED HILLARY'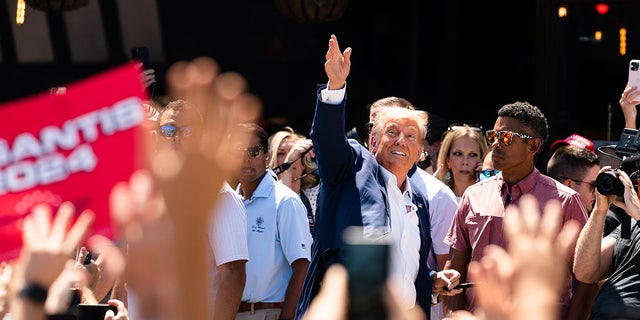 Former President Donald Trump tosses a hat in the air while supporters cheer at the 2023 Iowa State Fair on Saturday August 12, 2023.  (Demetrius Freeman/The Washington Post via Getty Images)
The poll found that 63% of likely Republican caucusgoers said they would support Trump as their first or second choice or that they were actively considering the former the president.
That's only slightly above the 61% who answered the same for DeSantis.
The poll also found that Trump's fourth indictment – handed down by a Georgia grand jury August 15 – seemingly boosted his Iowa footprint. Trump's first-choice support, second choice and those actively considering him soared by 12 percentage points after the Fulton County indictment was announced – from 55% to 67%. In the days the poll was being conducted before the indictment, Trump led DeSantis 38% to 20%. Afterward, the poll found Trump's lead increased to 43% over DeSantis' 18%.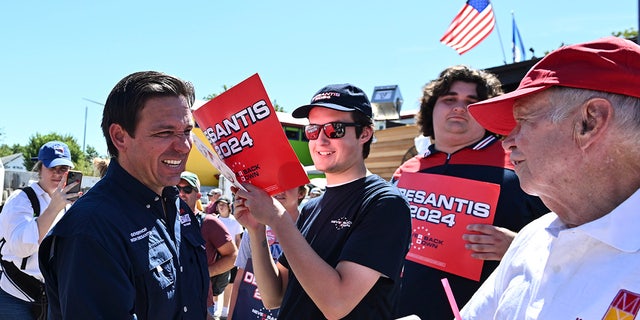 Republican presidential candidate and Florida Gov. Ron DeSantis meets and greets as he makes his way through the Iowa State Fair on August 12, 2023.  (Ricky Carioti/The Washington Post via Getty Images)
WHITE HOUSE HOPEFUL OPTIMISTIC TRUMP WILL MAKE LAST-MINUTE DECISION TO JOIN FIRST GOP DEBATE
The majority of likely GOP caucusgoers – or 52% – said they had a first choice for president and could still be convinced to support a different GOP contender. The Iowa Poll, considered the first test of the field of 14 Republican candidates competing to take on President Biden, found 40% of respondents already decided on their pick.
Seven percent of respondents said they were considering only one presidential candidate. The poll, which has a margin of error of plus or minus 4.9 percentage points, found that 17% of respondents said they are considering two candidates; 19% say three, and 55% four or more.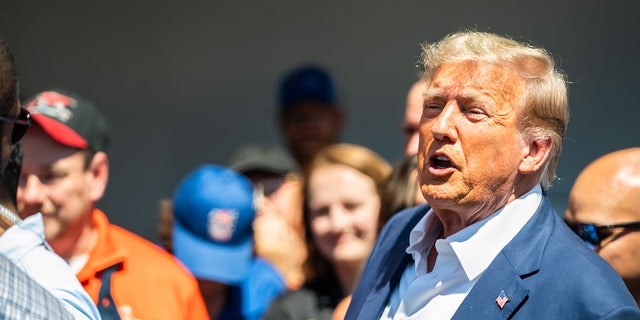 Former President Donald Trump greets visitors at the Iowa Pork Producers booth during the 2023 Iowa State Fair on Saturday, August 12, 2023.  (Demetrius Freeman/The Washington Post via Getty Images)
CLICK HERE TO GET THE FOX NEWS APP
Sixty-five percent of likely GOP caucusgoers said it is most important to find a candidate who comes closest to their own perspectives on issues, while 29% said it's most important to choose someone who has the best chance of victory against Biden. Fox News is hosting the first GOP primary debate in Milwaukee on Wednesday.