An unnamed employee of former President Donald Trump has retracted "false testimony" to a grand jury after changing lawyers, federal prosecutors said Tuesday.
The employee, referred to as "Trump Employee 4" in court documents from special counsel Jack Smith's office, retracted statements from an earlier testimony and gave information implicating Trump and others over alleged efforts to delete security footage at the former president's Mar-a-Lago estate in Florida.
ALL EYES ON THE GOP PRESIDENTIAL PRIMARY DEBATE! SIGN UP NOW TO STREAM LIVE
The court documents say Trump Employee 4 "repeatedly denied or claimed not to recall" any contacts or conversations about security footage when they testified before a D.C. grand jury in March 2023.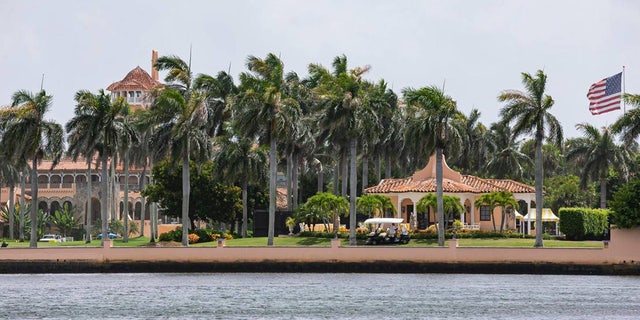 A view of former President Donald Trump's Mar-a-Lago home on Tuesday, Aug. 9, 2022, in Palm Beach, Fla.  (Matias J. Ocner/Miami Herald/Tribune News Service via Getty Images)
But in July, after being advised that he was a target of the investigation and that his lawyer might have a conflict of interest because of his representation of others in the probe, the witness received a new attorney from the federal defender's office and provided the Justice Department with information that helped form the basis of the revised indictment against Trump, his valet Walt Nauta and a third defendant, Carlos De Oliveira, the court filing says.
TRUMP BOND SET AT $200,000 AFTER GEORGIA INDICTMENT
The new information from the witness was presented to prosecutors weeks before Smith secured an updated indictment accusing Trump and two others in a plot to delete surveillance video at the Florida property.
Prosecutors described the witness interaction in a filing that seeks a hearing in Florida about potential conflicts of interest involving the defense lawyer, Stanley Woodward, who also represents Nauta.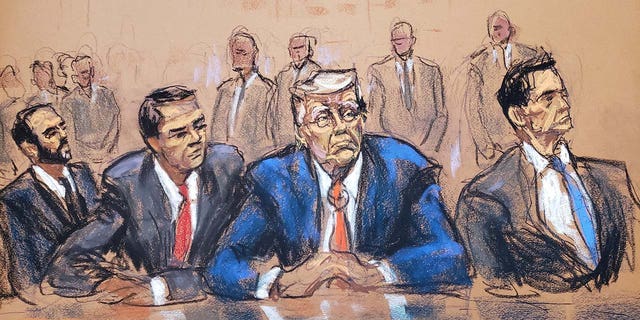 Former President Donald Trump sits between his attorneys Todd Blanche and John Lauro as he faces charges before Magistrate Judge Moxila A. Upadhyaya that he orchestrated a plot to try to overturn his 2020 election loss, at federal court in Washington, U.S. August 3, 2023, in a courtroom sketch. At far left is Special Counsel Jack Smith.  (REUTERS/Jane Rosenberg)
They said that encounter helps explain why they continued to use a grand jury in Washington to investigate potential false statements in that district even after they had secured an indictment in Florida.
"The target letter to Trump Employee 4 crystallized a conflict of interest arising from Mr. Woodward's concurrent representation of Trump Employee 4 and Nauta," prosecutors wrote.
GEORGIA INDICTMENT: 2 TRUMP CO-DEFENDANTS BOOKED IN FULTON COUNTY JAIL
They added: "Advising Trump Employee 4 to correct his sworn testimony would result in testimony incriminating Mr. Woodward's other client, Nauta; but permitting Trump Employee 4's false testimony to stand uncorrected would leave Trump Employee 4 exposed to criminal charges for perjury."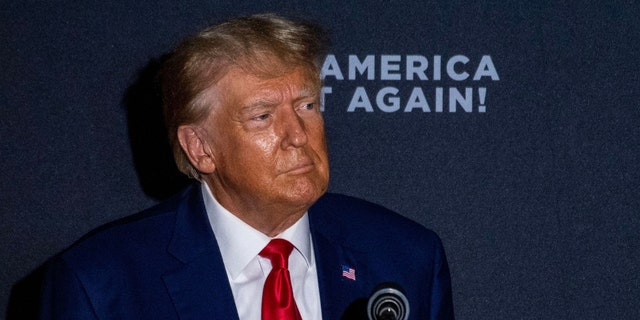 Former US President and 2024 presidential hopeful Donald Trump speaks during a campaign rally at Windham High School in Windham, New Hampshire. (JOSEPH PREZIOSO/AFP via Getty Images)
A trial has been set for May 20, 2024, in the classified documents case. Trump has pleaded not guilty and denied any wrongdoing.
CLICK HERE TO GET THE FOX NEWS APP
Trump is facing another prosecution by Smith, over efforts to overturn the results of the 2020 presidential election, as well as a criminal case in Georgia over attempts to subvert that state's vote and another in New York in connection with hush money payments to a porn actor.
The Associated Press contributed to this report.