A Georgia court set bond for former President Trump at $200,000, after he was charged by Fulton County prosecutors with 13 counts last week related to its investigation into his alleged efforts to overturn the 2020 election.
Trump was charged by Fulton County District Attorney Fani Willis with one count of violation of the Georgia RICO Act, three counts of criminal solicitation, six counts of criminal conspiracy, one count of filing false documents and two counts of making false statements.
Judge Scott McAfee of the Fulton County Superior Court set bond for the former president, and current 2024 GOP presidential frontrunner, at $200,000.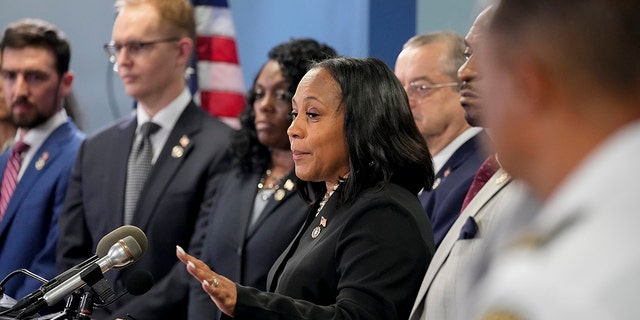 Fulton County District Attorney Fani Willis, center, speaks in the Fulton County Government Center during a news conference, Monday, Aug. 14, 2023, in Atlanta.  (AP Photo/John Bazemore)
The filing, reviewed by Fox News Digital, reveals that Trump may "post bond as cash, through commercial surety, or through the Fulton County Jail 10% program."
TRUMP INDICTED OUT OF GEORGIA PROBE INTO ALLEGED EFFORTS TO OVERTURN 2020 ELECTION
The filing also says Trump "shall perform no act to intimidate any person known to him or her to be a codefendant or witness in this case or to otherwise obstruct the administration of justice."
The filing notes that includes, but is not limited to, "posts on social media or reposts of posts made by another individual on social media."
Trump and more than a dozen others were charged out of the Fulton County probe, including his former White House chief of staff Mark Meadows, his former attorneys Rudy Giuliani, Sidney Powell, Jenna Ellis, Kenneth Chesebro, Jeff Clark, John Eastman, among others.
TRUMP SAYS GEORGIA INDICTMENT COMES DURING 'DARK PERIOD' FOR US, VOWS TO FIX IT BY WINNING
The charges include violating the Georgia RICO Act—the Racketeer Influenced And Corrupt Organizations Act; Solicitation of Violation of Oath by a Public Officer; Conspiracy to Commit Impersonating a Public Officer; Conspiracy to Commit Forgery in the First Degree; Conspiracy to Commit False Statements and Writings; Conspiracy to Commit Filing False Documents; Conspiracy to Commit Forgery in the First Degree; Filing False Documents; and Solicitation of Violation of Oath by a Public Officer. Not everyone faces the same charges.
Trump's indictment out of Fulton County is his fourth.
Trump is the first former president in United States history to face criminal charges.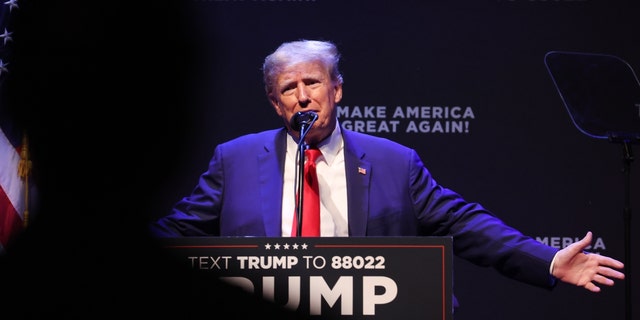 Former President Donald Trump speaks at the Adler Theatre on March 13, 2023 in Davenport, Iowa.  ((Photo by Scott Olson/Getty Images))
He was indicted out of Special Counsel Jack Smith's investigation into the Capitol riot on Jan. 6, 2021 earlier this month. He pleaded not guilty to all charges–conspiracy to defraud the United States, conspiracy to obstruct an official proceeding, obstruction of and attempt to obstruct an official proceeding, and conspiracy against rights.
FULTON COUNTY DA DEFLECTS ON HOW INDICTMENT LEAKED: 'I CAN'T TELL YOU ANYTHING'
Smith also charged Trump in June in his investigation into his alleged improper retention of classified records from his presidency.
Last month, Trump was charged with an additional three counts as part of a superseding indictment out of that probe.
And in April, Trump pleaded not guilty to 34 counts in New York in April stemming from Manhattan District Attorney Alvin Bragg's investigation. Trump is accused of falsifying business records related to hush-money payments made during the 2016 campaign.
Willis gave Trump and the 18 other defendants until Aug. 25 to surrender. Willis, Monday night during a press conference, said she would like a trial to take place within six months – which would be by February 2024 – right as the GOP presidential primaries are ramping up.
Fox News' Claudia Kelly-Bazan and David Lewkowict contributed to this report.