Former President Donald Trump blasted the Biden administration's "two-tiered justice system" claiming that his successor was getting the "white glove treatment" after classified documents were found in his home.
"There are two standards of justice in our country: One for people like you and me, and one for the corrupt political class of which there are many," Trump said in a video posted on Donald Trump Jr.'s Twitter.
In Trump's first video appearance since Biden's attorneys "unexpectedly" discovered the first batch of classified documents at the Penn Biden Center in Washington, D.C., the former president compared the two special counsel investigations.
"At the very same moment when my ultra secure Mar-a-Lago home was raided by the FBI, Joe Biden was harboring classified documents in his China-funded Penn Center in his unsecured garage … right on the floor, piles of paper." Trump started in a two-minute video. "Yet while I'm being persecuted by a Trump-hating Special Counsel…Joe Biden, in the meantime, is being given white glove treatment by an establishment hack who tried to cover up the Russia hoax."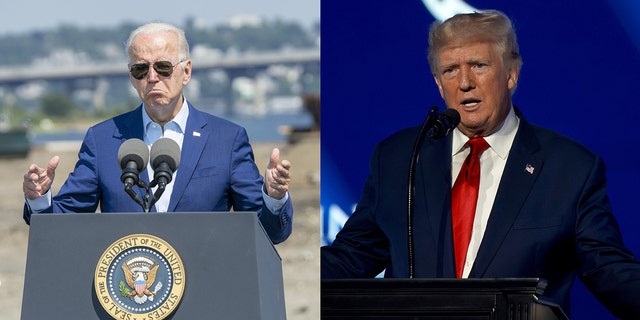 A photo combination of President Joe Biden and formerPresident Donald Trump. Biden speaks at the former Brayton Point Power Station in Somerset, Massachusetts, on July 20, 2022. Trump speaks at the Tampa Convention Center in Tampa, Florida on July 23, 2022. 
(Getty Images)
On Jan. 12, Attorney General Merrick Garland appointed a special counsel to investigate Biden's handling of classified documents months after officials discovered the classified documents at the Penn Center on Nov. 22. Garland tapped Robert Hur, a former U.S. attorney, to handle the investigation. On Thursday, officials announced that they found a second small batch of documents with classified markings in a storage space in Biden's garage in Wilmington, Delaware, with one document being located in Biden's personal library in his home.
PRESIDENT BIDEN IGNORES QUESTION ON WHY CLASSIFIED DOCUMENTS WERE FOUND AT HIS THINK TANK
Last week, Biden attempted to reassure the public by saying the stolen classified documents were in a locked garage next to his Corvette.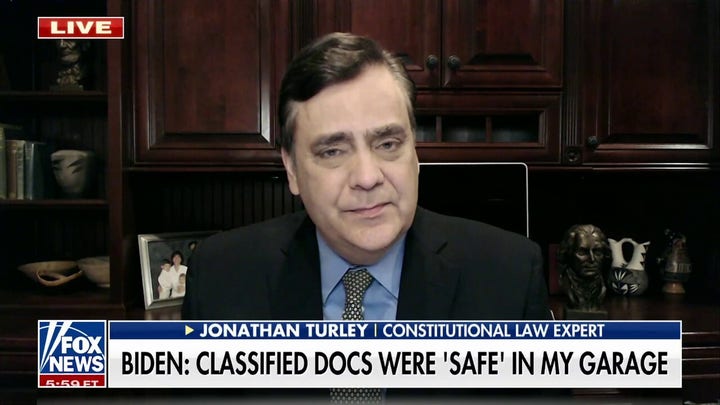 Video
Just last year, the FBI raided Trump's Mar-a-Lago home in Florida recovering some 300 classified documents which ensued calls from House Republicans and allies of the former President to defend the FBI after allegations that the Biden administration had "weaponized" the Justice Department.
TOP REPUBLICAN TORCHES HUNTER BIDEN WRINKLE IN DOCS PROBE
Trump continued, saying that since Biden was serving as former President Barack Obama's Vice President, and not president, he did not have had the power to declassify files like he did.
"It's a travesty." the former president continued. "Biden lied to the American people and weaponized the Justice Department, or what I like to say-the Injustice Department, to go after me for the very crime he actually committed. And he wasn't president, so he didn't have the right to declassify as I did."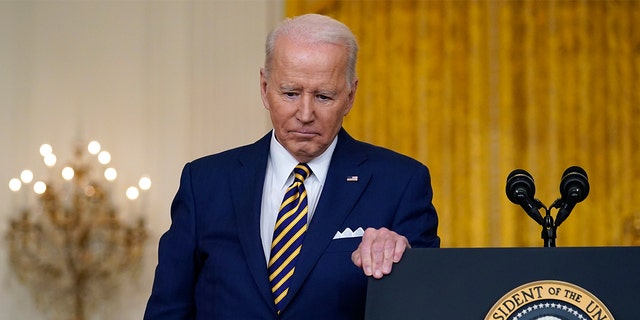 President Biden listens to a question during a news conference in the East Room of the White House in Washington, Jan. 19, 2022. 
(AP Photo/Susan Walsh, File)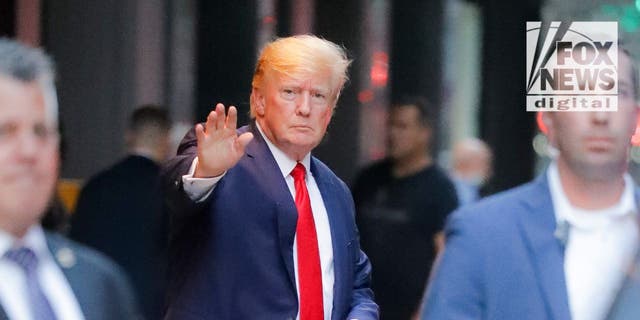 Donald Trump is seen in New York City following the FBI raid on his Mar-a-Lago resort.
(Felipe Ramales: Fox News Digital)
On Thursday morning, the former president had teased a "big political speech" he planned to deliver, promising supporters "wild and exciting" rallies as he rolls out his 2024 presidential campaign.
"Making a big political speech today at TRUMP DORAL, in Miami," Trump said in a post on his social media platform Truth Social on Thursday morning.
CLICK HERE TO GET THE FOX NEWS APP