close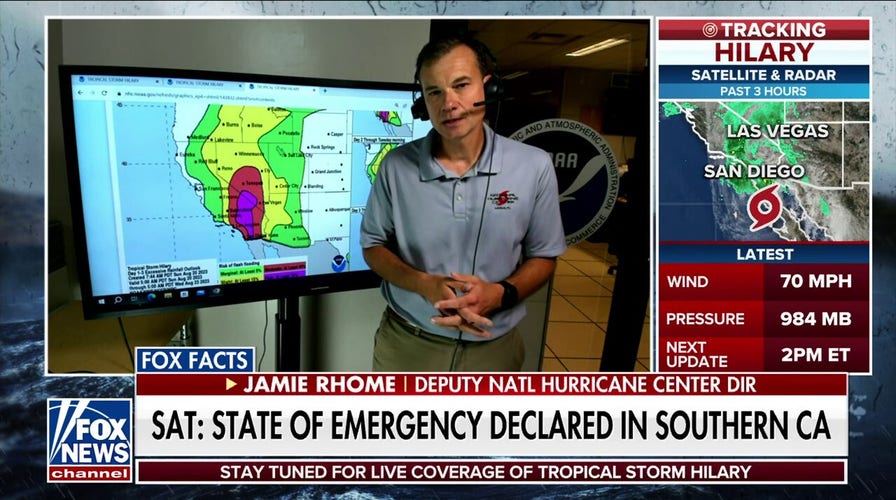 Video
Heavy rain, flooding threat has not 'diminished' as Hurricane Hilary becomes tropical storm: Jamie Rhome
Deputy National Hurricane Center Director Jamie Rhome tells 'Fox News Live' that portions of California are still at 'high risk' of 'life-threatening' flooding.
Tropical Storm Hilary made landfall over Mexico's Baja California peninsula late Sunday morning before setting its sights on Southern California and prompting flash flood warnings in the areas surrounding Los Angeles.
Hilary had weakened from a Category 1 hurricane to tropical storm status early Sunday. The National Weather Service had predicted the storm was likely to bring "catastrophic and life-threatening" flooding to the region and cross into the southwestern U.S. as a tropical storm.
NWS also announced on X, formerly known as Twitter, that the Los Angeles, Long Beach and Glendale areas are all under a flash flood warning until 7:45 p.m. local time. Los Angeles Unified School District officials also announced that schools will be closed on Monday due to the storm.
According to NBC LA. Eisenhower Medical Center in Riverside County had flooded. A tornado warning was also issued for San Diego County, where power outages were reported.
SOUTHERN CALIFORNIA RESIDENTS FEEL MAGNITUDE 5.1 EARTHQUAKE JUST AS TROPICAL STORM HILARY ARRIVES IN REGION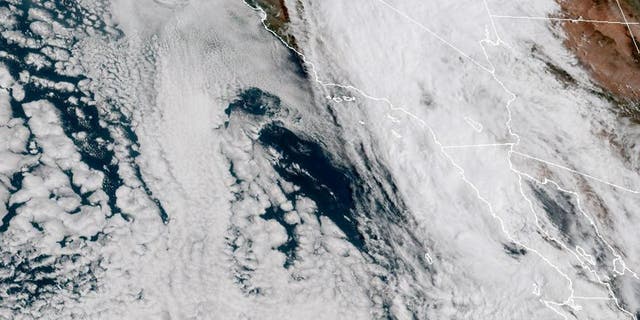 In this NOAA handout image taken by the GOES satellite, Tropical Storm Hilary approaches the California coast, Aug. 20, 2023.  (NOAA via Getty Images)
The worst of the flooding in Southern California and the Southwest, Fox Weather reported, are expected to be felt late Sunday. Nevada Gov. Joe Lombardo declared a state of emergency for the Silver State, with storm impact anticipated in Clark, Mohave and Nye Counties.
"Hurricane Hilary represents a serious threat to our communities, and once again, I implore all Nevadans to prepare for flooding, remain vigilant, and to follow all guidance from state and local emergency officials," Lombardo's statement read, according to FOX 5 Vegas.
Some Western Arizona residents are also bracing for impact, with the Mohave County Sheriff's Office announcing an evacuation for parts of Lake Mead National Park. Officials asked anyone in the Temple Bar and Willow Beach areas to move to higher elevations.
Rainfall, considered the biggest hazard for the storm, was continuing to increase across portions of southern California, including Los Angeles basin and portions of the desert of southeastern California. The center of the storm is expected to move northward out of Baja California and into southern California over the next 18 to 24 hours, National Hurricane Center Director Dr. Michael Brennan said.
"We continue to be very concerned for the potential for life-threatening flash flooding, potentially catastrophic impacts," Brennan said during a NWS forecast, noting the especially high risk of flash flooding in the deserts between Los Angeles and Las Vegas, Nevada.
"Gusty east to northeast winds are beginning to strengthen along and below the coastal slopes of the mountains with gusts exceeding 40 mph at Crestwood in the San Diego County mountains and Fremont Canyon in the Santa Ana Mountains," NWS San Diego wrote on X earlier Sunday.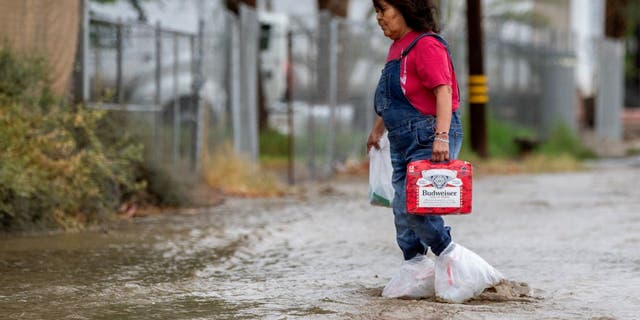 Nannie Auclair wears plastic bags on her feet as she traverses through flood waters carrying a case of Budweiser she just bought at a neighborhood market as tropical storm Hilary dumps torrential rain on the area, Aug. 20, 2023 in Thermal, Calif. (Gina Ferazzi / Los Angeles Times via Getty Images)
HURRICANE HILARY: STATE OF EMERGENCY DECLARED IN CALIFORNIA AS MILLIONS BRACE FOR LIFE-THREATENING FLOODING
The Mexican cities of Ensenada and Tijuana remained directly in the tropical storm's path, and meteorologists warned that despite weakening, the storm remained treacherous.
A previous advisory from the NWS based in Miami at 2 a.m. had said that Hilary was about 30 miles south of Punta Eugenia, Mexico, and 385 miles from San Diego, California. The maximum sustained wind speed remained unchanged at 85 mph while spreading "heavy rains" northward over the peninsula.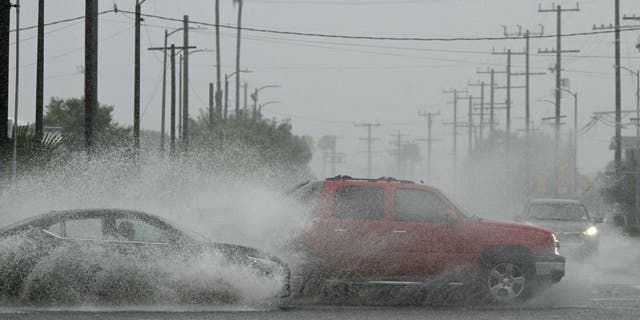 Vehicles splash up water during heavy rains from Hurricane Hilary, in south Los Angeles, Calif., Aug. 20, 2023. (ROBYN BECK/AFP via Getty Images)
One person drowned Saturday in the Mexican town of Santa Rosalia, on the peninsula's eastern coast, when a vehicle was swept away in an overflowing stream. Rescue workers managed to save four other people, said Edith Aguilar Villavicencio, the mayor of Mulege township.
It was not immediately clear whether officials considered the fatality related to the hurricane, but video posted by local officials showed torrents of water coursing through the town's streets.
DESANTIS OFFERS TO ASSIST CALIFORNIA WITH HURRICANE HILARY 'IN ANY WAY WE CAN'
Forecasters said the storm was still expected to enter the history books as the first tropical storm to hit Southern California in 84 years, bringing flash floods, mudslides, isolated tornadoes, high winds and power outages. The forecast prompted authorities to issue an evacuation advisory for Santa Catalina Island, urging residents and beachgoers to leave the tourist destination 23 miles off the coast.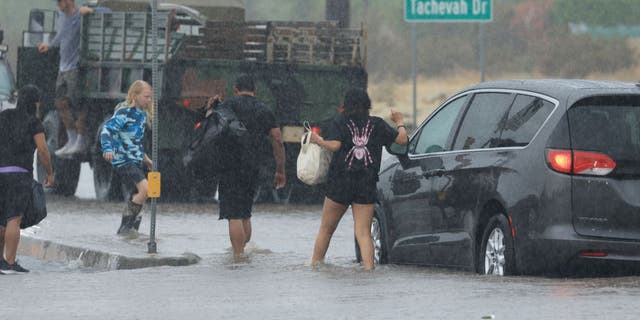 Motorists leave their vehicle stuck on a flooded road during heavy rains from Tropical Storm Hilary in Palm Springs, Calif., on Aug. 20, 2023. (DAVID SWANSON/AFP via Getty Images)
California Gov. Gavin Newsom on Saturday signed an emergency declaration in preparation of the storms.
He said 7,500 personnel were activated in southern California, with close to 4,000 California Highway Patrol members, 2,000 Caltran workers and mutual aid across the region. Newsom warned residents to take seriously any alerts of flash floods, lighting and possibility of tornadoes.
In Tijuana, fire department head Rafael Carrillo voiced the fear at the back of everyone's mind in the border city of 1.9 million people, particularly residents who live in homes on steep hillsides. Tijuana ordered all beaches closed Saturday, and set up a half dozen storm shelters at sports complexes and government offices.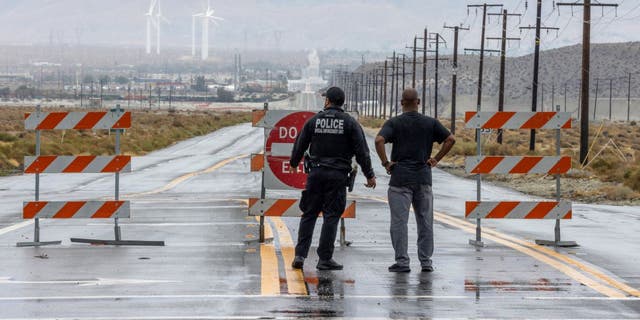 Police guard a road closure of Indian Canyon Drive where it crosses a usually dry wash section of the Whitewater River near wind turbines as the remnants of Tropical Storm Hilary spread possibly catastrophic rain, flash floods and winds across the desert regions of Southern Calif., Aug. 20, 2023, in Palm Springs, California.  (David McNew/Getty Images)
Mexico's navy evacuated 850 people from islands off the Baja coast, and deployed almost 3,000 troops for emergency operations. In La Paz, the picturesque capital of Baja California Sur state on the Sea of Cortez, police patrolled closed beaches to keep swimmers out of the whipped-up surf.
Authorities in Los Angeles scrambled to get the homeless off the streets and into shelters, and officials ordered all state beaches in San Diego and Orange counties closed.
Across the region, municipalities ran out of free sandbags and grocery shelves emptied out as residents stockpiled supplies. The U.S. National Park Service closed California's Joshua Tree National Park and Mojave National Preserve to keep visitors from becoming stranded amid flooding.
CLICK HERE TO GET THE FOX NEWS APP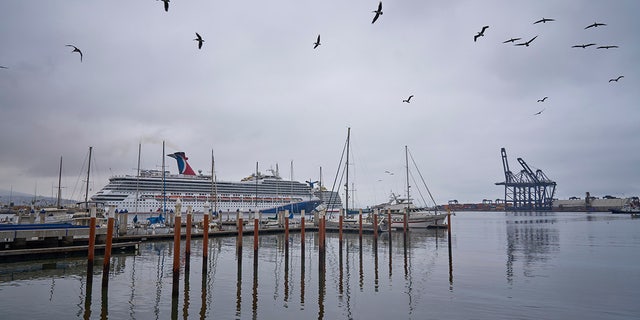 Birds fly over the pier before the arrival of Hurricane Hilary, in Ensenada, Mexico, Saturday, Aug. 19, 2023.  (AP Photo/Alex Cossio)
Major League Baseball rescheduled three Sunday games in Southern California, moving them to Saturday as part of split doubleheaders, and SpaceX delayed the launch of a satellite-carrying rocket from a base on California's central coast until at least Monday.
The Associated Press contributed to this report.
Danielle Wallace is a reporter for Fox News Digital covering politics, crime, police and more. Story tips can be sent to [email protected] and on Twitter: @danimwallace.