close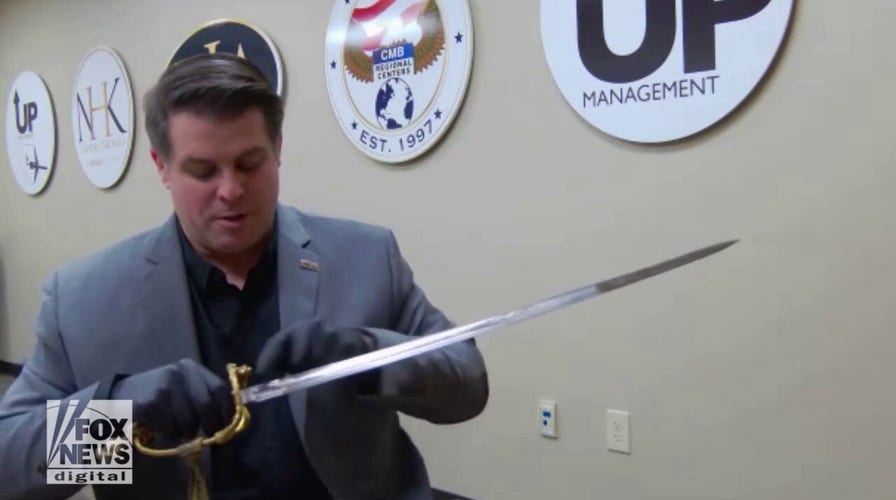 Video
Rock Island Auction Company of Illinois shows off rare Civil War, WWI items made by Tiffany & Co.
Rock Island's Joel Kolander shares details with Fox News Digital on three military antiques up for auction.
Items belonging to former British Prime Minister Margaret Thatcher, including rare art and personal items, have emerged for sale at auction after an unnamed landfill worker saved them from a storage unit.
"The exact circumstances of how these items came to be thrown away are unknown, although it is typical for storage companies to dispose of the contents of units when accounts are closed," Mark Wilkinson, an auctioneer at Sworders Fine Art Auctioneers in Essex, England, said of the collection.
"There are some historic objects in the collection, items that point towards some of the important relationships and events in Margaret Thatcher's tenure as the PM."
The rare collection of art pieces and personal belongings is a 22-inch tall bronze plaster bust of President Ronald Reagan, who had a close friendship with Thatcher during their overlapping administrations.
SCHOLARS RECALL REAGAN'S VISION AS AMERICA'S MORAL FABRIC 'FRAYS,' WARNING 'OUR ACCOMPLISHMENTS COULD VANISH'
Reagan may have presented the bust to her as a gift during her state visit to the U.S. following the end of the Falklands War in 1982. The statue bore an "indistinct" signature and was dated "-82."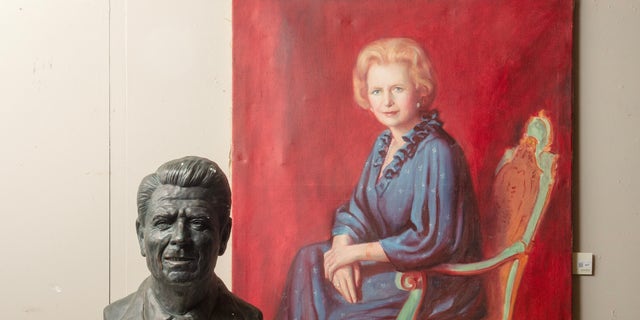 A large bronze plaster bust of President Ronald Reagan and an oil painting of Margaret Thatcher seated in a blue dress in a green armchair. (ZacharyCulpin/BNPS)
The statue was estimated to fetch as much as £700 (roughly $850) at auction: It ended up selling for a whopping £9000, or just under $11,000 – far more than any of the other items on offer from the collection.
ON THIS DAY IN HISTORY, FEB. 6, 1911, PRESIDENT RONALD REAGAN IS BORN IN ILLINOIS
The landfill worker found the items in the early 2000s as they were taken out of storage and shipped off to the landfill, following standard protocol. Amazed at what he had found, the worker took the items home to keep them safe.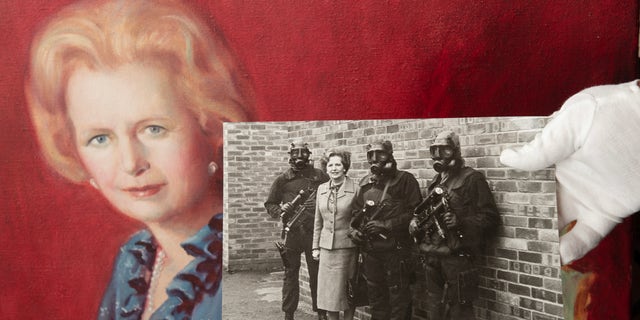 Another stand-out item is a photograph presented to the former prime minister by the 22nd SAS Regiment after the successful storming of the Iranian Embassy after the siege in 1980. (ZacharyCulpin/BNPS)
Following his death, the man's son has decided to put the items up for auction.
I WORKED FOR RONALD REAGAN AND LEARNED THE SECRET OF WHO HE WAS
The collection also included a rare black and white photo of Thatcher flanked by three members of Britain's elite SAS in gas masks holding assault rifles. The photo bore the inscription, "To Mrs. Thatcher from 22 SAS Regt."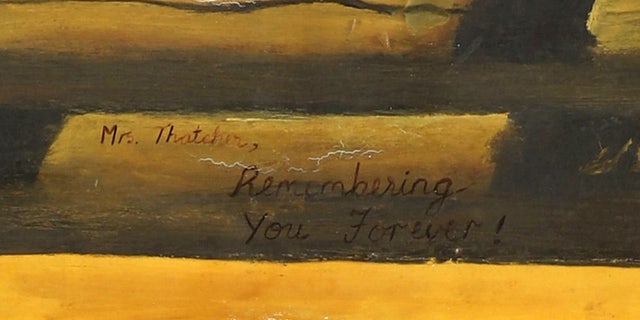 A painting of a study of a kilim textile suspended in a doorway, bearing presentation inscription 'Mrs. Thatcher, Remembering you Forever' was also part of the sale (Sworders/BNPS)
The 22nd SAS regiment successfully freed 26 hostages at the embassy in London after a six-day siege, which significantly boosted Thatcher's profile at the time.
The photo, estimated to go for around £600 ($750) sold for more than double that at £1,500 (just over $1800).
Sworders estimated that the highest-selling item would have been a painting of Thatcher seated in a blue dress in a green armchair, bearing a brass plaque that read, "From a true friend and admirer with sincere best wishes on your birthday, 13th October 1995."
CLICK HERE TO GET THE FOX NEWS APP
Despite the very clear and personal nature of the piece, and the signature of Professor Bacharuddin Jusuf Habibie, at the time future Prime Minister of Indonesia, the piece sold for just over £1,100 on an estimate of £700.
Peter Aitken is a Fox News Digital reporter with a focus on national and global news.