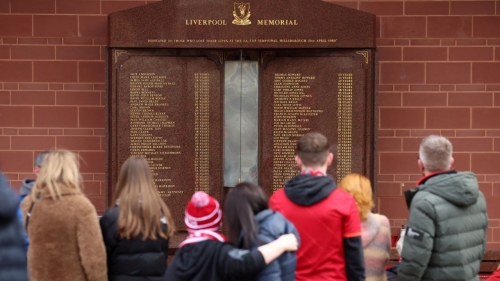 Fans look at the memorial in memory of the victims of the Hillsborough disaster outside Anfield.
Phil Noble/Reuters

CNN
—
Described as "vile" and "unacceptable" and fueled by "the need to hurt," 'tragedy chanting' is becoming an increasing concern to soccer authorities.
In England, the phenomenon is defined as the singing of songs about disasters that have befallen other clubs or their fan bases.
'Tragedy chanting' has marred a number of matches already this season, though they tend to only occur at matches involving one or both of Manchester United and Liverpool, with some opposition fans referencing the Munich air disaster or stadium tragedies of Hillsborough and Heysel.
In February 1958, 23 people – including eight Manchester United players and three members of the club's staff – died as the team's plane tried to take off from Munich's airport.
In May 1985, 39 fans – 32 from Italy, four from Belgium, two from France and one from Northern Ireland – were killed in a stampede ahead of the European Cup final between Juventus and Liverpool at the Heysel Stadium in Brussels.
Then, in 1989, overcrowding in the stands ahead of the FA Cup semifinal between Liverpool and Nottingham Forest at Hillsborough Stadium led to the deaths of 97 Liverpool fans.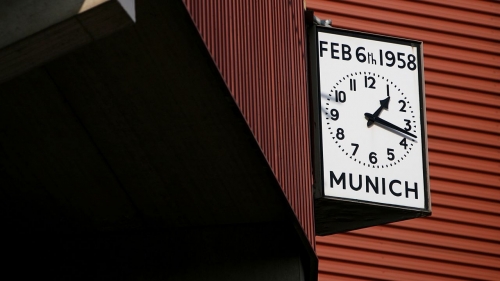 The Munich Clock at Old Trafford is frozen at the time the plane crashed.
Mike Egerton/PA Images via Getty Images
Chris Rowland, editor of the website "The Tomkins Times," which covers Liverpool FC, says "it's hard to explain" why supporters of clubs that have experienced tragedies in the past would engage in tragedy chanting towards other fanbases.
"It's as if they've forgotten," Rowland tells CNN Sport. "It's almost as though the need to hurt exceeds everything else, as far as I can see.
"The need to hurt the opposing supporters, it seems to me, is the driving influence here. Any club that's been involved [in a tragedy], nobody from those clubs should ever do it again."
While most fans are quick to condemn the offensive chanting, the practice shows no sign of going away.
In February, Leeds and Manchester United released a joint statement following the club's Premier League fixture after incidents of tragedy chanting from both sets of fans, which targeted both the Munich air disaster and the death of two Leeds fans in 2000 the day before a UEFA Cup semifinal against Galatasaray in Istanbul.
Another case of tragedy chanting by a group of Chelsea fans in a 0-0 draw against Liverpool at Stamford Bridge in early April – which the London club condemned as "hateful" – caused the Premier League to issue a statement saying it would be addressing the issue "as a priority and as a matter of urgency."
Additionally, some Manchester City and Nottingham Forest fans have been criticized this season for singing songs about Hillsborough in matches against Liverpool.
However, in the return fixture against Liverpool at Anfield, the traveling Forest supporters were praised for unveiling a banner calling for respect for the victims and the end to tragedy chanting.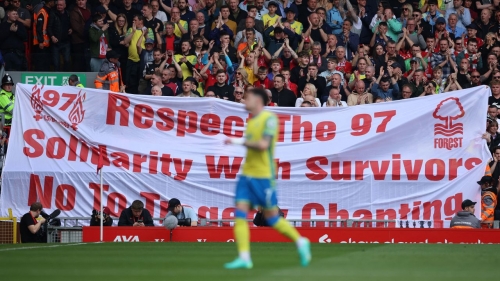 Nottingham Forest fans hold up a banner in memory of the 97 victims of the Hillsborough disaster.
Phil Noble/Reuters
In an attempt to eradicate the issue, the Premier League has set up a working group with top-flight clubs to educate supporters about the tragedies in question and the impact such chanting has on fans.
The working group has also been in contact with the Crown Prosecution Service (CPS) to discuss whether convictions can be pursued for fans that engage in tragedy chanting.
Geoff Pearson, a professor at Manchester University who has specialized in football crowd disorder, says self-policing within a fan base is "absolutely the key" to eradicating the practice, especially as the chants "aren't by their content unlawful."
This makes asking the police to get involved "quite challenging," he explains.
"The most powerful thing is when the fan in front of you just turns around and says: 'Shut up, we don't do that at this club,' because that is a powerful message," Pearson told CNN Sport.
"It's humiliating for the fan that's done that and I think this explains for a large part why we have almost eradicated overt racist chanting in English football stadiums.
"You go away with England [the national team] and you go into certain bars, and you will hear racist chanting, but you don't hear it in the stadium because that's where it has become unacceptable.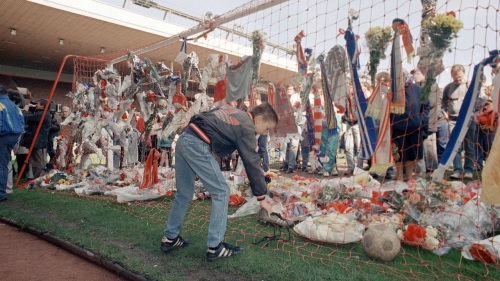 A young Liverpoo fan places a pair of football boots in the goal at the Kop end of Anfield Stadium on April 16, 1989.
Peter Kemp/AP
"But a combination of messaging and, occasionally – if you have a really entrenched problem – banning some individuals or taking criminal action if you can against some individuals has also made an impact."
CNN has reached out to the UK government's Football Policing Unit, but has yet to receive a response.
Neil Atkinson, a writer for Liverpool FC website "The Anfield Wrap," echoes those sentiments, telling CNN the first thing fans should do if a fellow supporter begins engaging in tragedy chanting is to "drown it out" with other songs.
"If it isn't the majority of supporters, it shouldn't be the majority of the noise and there is an immediate practical step [people can take]," he says.
"The next thing is education through action by the clubs. Leeds United have been looking to do that," Atkinson adds, referring to the anti-chanting campaign launched by the Yorkshire club last year.
"Arsenal and Fulham have both visited the [Hillsborough] memorial. I still think a wider societal understanding of what happened in 1989 and the smears that have followed would be no bad thing in general."
Last month, Arsenal and Fulham's team managers and captains laid wreaths at the Hillsborough memorial to mark the 34th anniversary of the disaster.
Our thoughts are with our friends at Liverpool FC and all the families of the victims of the Hillsborough disaster – April 15, 1989. pic.twitter.com/d5vRMYK7WX

— Arsenal (@Arsenal) April 8, 2023
In the immediate aftermath of the Hillsborough disaster and in the years that followed, the Sun newspaper and local South Yorkshire police launched a campaign of misinformation that tried to place the blame on Liverpool supporters, according to an independent inquest.
Ahead of Manchester United's visit to Anfield last month, managers Jurgen Klopp and Erik ten Hag released a joint statement urging supporters of both clubs to stop chants in stadiums and online abuse relating to the tragedies.
"It is unacceptable to use the loss of life — in relation to any tragedy — to score points, and it is time for it to stop," United boss ten Hag said.
"Those responsible tarnish not only the reputation of our clubs but also, importantly, the reputation of themselves, the fans, and our great cities."
Liverpool's Klopp added that chants about tragedies "have no place in football."
"If we can keep the passion and lose the poison it will be so much better for everyone," he said.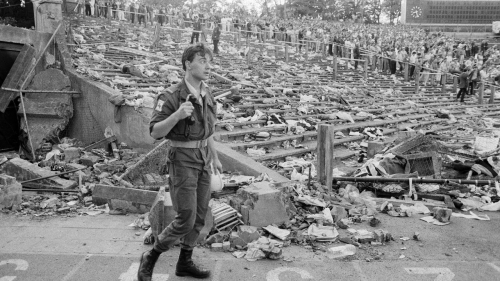 The aftermatch of the. Heysel Stadium Disaster, May 1985.
Liverpool Echo/Mirrorpix/Getty Images
While this is by no means a new issue – Pearson notes some of the earliest Munich chants happened during the 1957/58 season – it has undoubtedly become more prevalent this season.
Charlotte Hennessey, whose father James was one of the 97 fans who died at Hillsborough, created a petition calling for tragedy chanting to be made a criminal offense, which has received more than 17,000 signatures.
Speaking to the Mirror earlier this month, she described what it feels like to hear opposition fans singing about the tragedy.
"All I wanted to do was watch the football in my own home with my children," she said of Liverpool's match at City. "Then I hear the hate chanting.
"The chanting starts, and I can't even watch the match," said Charlotte, 40. "I have to explain to my children why people are so cruel, and how the lies go all the way back to 1989."
For those affected by the tragedies, hearing those chants "hurts us all," Rowland says, "certainly those of us who were there.
"You only have to imagine how that hurts those who lost relatives and friends."