close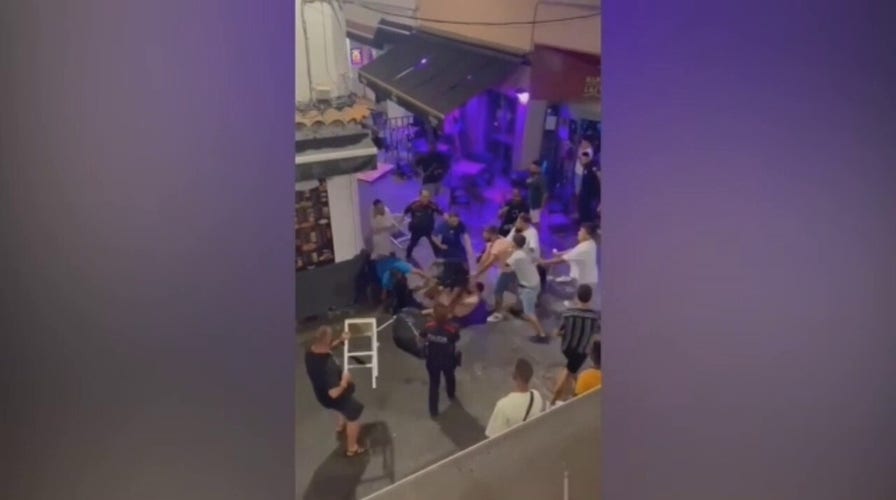 Video
Brawl breaks out on Spain's Sin Street
Drinkers got violent and started smashing each other with chairs and bottles in a massive brawl on a popular tourist street. (SOURCE: CEN)
Five French tourists and one Swiss tourist were arrested after allegedly gang-raping an 18-year-old British woman at a popular tourist destination in Spain.
Spanish Civil Guard police announced the arrests of the French and Swiss tourists Wednesday on the island of Mallorca in the popular tourist town of Calvià, according to a report from The Associated Press.
Police say the alleged rape happened Monday, when they were alerted to the case by the staff of a hotel on the island who had discovered the British woman crying in desperation following the alleged assault.
The alleged victim told police she met the suspected rapists Monday and went to the hotel room of one of the suspects and was subsequently sexually assaulted by all six. Police also said a judge on the case found video clips of the alleged rape on at least one of the suspects' phones.
6 MEN ARRESTED FOR ALLEGED GANG RAPE OF TEEN TOURIST AT EUROPEAN VACATION HOTSPOT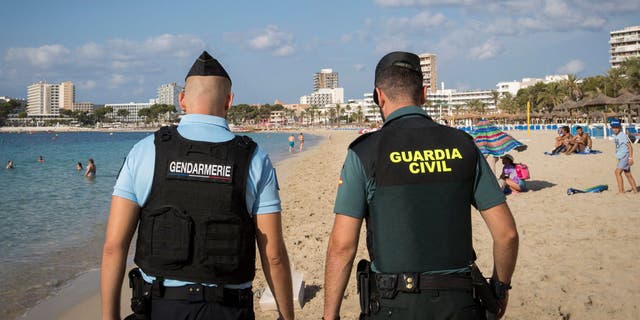 A French gendarme, left, and a Spanish civil guard patrol officer along the beach in the Magaluf holiday resort in Calvià, on the Balearic island of Mallorca. (Jaime Reina/AFP via Getty Images)
The alleged victim, who has not been named by police, received immediate medical attention and counsel, police said, while the six suspects, all reported to be 20 years old, were detained shortly after the incident was reported.
The Civil Guard took the six detainees before a judge in a court in Palma de Mallorca Tuesday, and they continue to be held in jail. None of them have been formally charged, and the investigation is still ongoing. Further details about the suspects and there identities have yet to be released by police.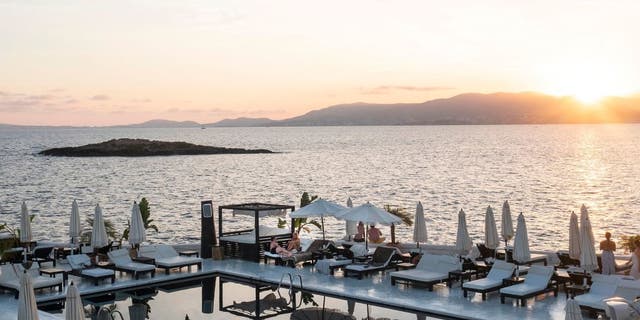 Tourists enjoy the sunset from a beach club at Can Pastilla in Palma de Mallorca Aug. 5, 2021. (Jaime Reina/AFP via Getty Images)
The incident marks the second case of an alleged gang rape by tourists on the island in a matter of weeks. In mid-July, six young German men were arrested for allegedly gang-raping an 18-year-old German tourist at a hotel on Mallorca.
PILOT ASKS 20 PASSENGERS LEAVING SPANISH VACATION HOTSPOT TO DEPLANE OVER FLIGHT BEING 'TOO HEAVY'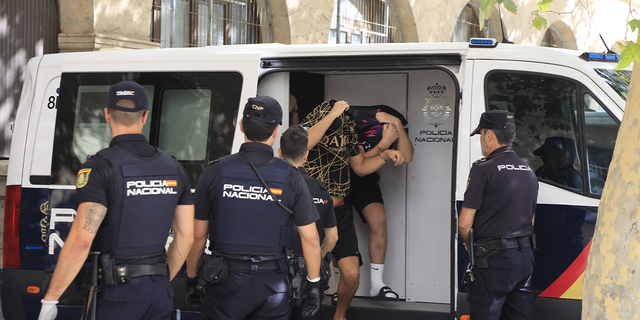 Police officers lead suspects to a hearing with a magistrate on the Balearic island July 15, 2023, in Palma de Mallorca. Allegations have been made against six vacationers from Germany on Mallorca. The police are investigating a gang rape. A judge will now decide whether the men must remain in custody. (Clara Margais/picture alliance via Getty Images)
CLICK HERE TO GET THE FOX NEWS APP
The crime of gang rape can carry a prison sentence of up to 15 years in Spain, according to The Associated Press.
The Associated Press contributed to this report.
Michael Lee is a writer at Fox News. Follow him on Twitter @UAMichaelLee