close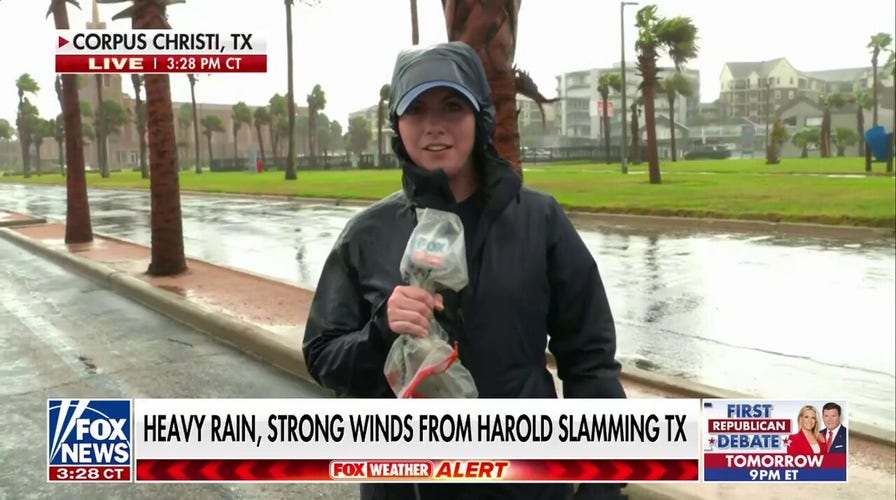 Video
Tropical Storm Harold is racing towards Texas
Fox News correspondent Katie Bryne has the latest on the stormy weather on 'Your World.'
Severe storms battered Michigan this week, leaving five people dead as a number of tornadoes touched down in the state Thursday, authorities said.
An EF-1 tornado with speeds of 90 mph crossed Ingham County's Interstate 96 Thursday evening, the National Weather Service confirmed, leaving one person dead, several seriously injured and, more than two dozen cars damaged, FOX Weather reported.
Four other EF-1 tornadoes were reported in Bellville and Gibraltar in Wayne County, and in South Rockwood and near Newport in Monroe County.
On Friday, Gov. Gretchen Whitmer declared a state of emergency in Monroe and Wayne, making additional resources available to the hard-hit areas.
HEAVY RAINFALL TRIGGERS FLOODING ACROSS MULTIPLE AREAS, INCLUDING OHIO HIGHWAY AND LAS VEGAS STRIP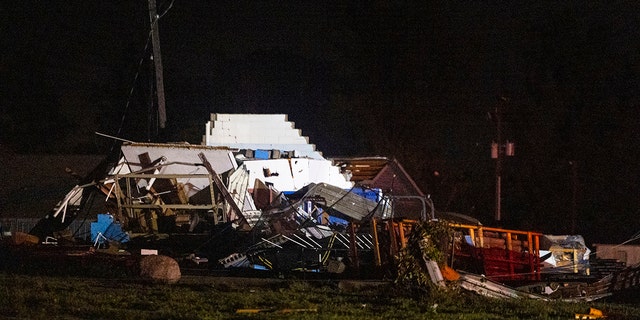 A storm destroyed a building in Kent County on Thursday night.  (Joel Bissell/Kalamazoo Gazette via AP)
In the central part of the state, two tornadoes with winds of 125 mph left EF-2 damage in Webberville and Williamston, according to FOX Weather.
A 21-year-old woman and a 3 and 1-year-old died in a head-on crash in Spencer Township in the Western part of the state after the driver of the car hydroplaned during torrential rains and veered into oncoming traffic, FOX Weather reported.
The 22-year-old driver was seriously injured and the driver of the other vehicle suffered minor injuries.
A person was also killed in Lansing after a tree fell on a house.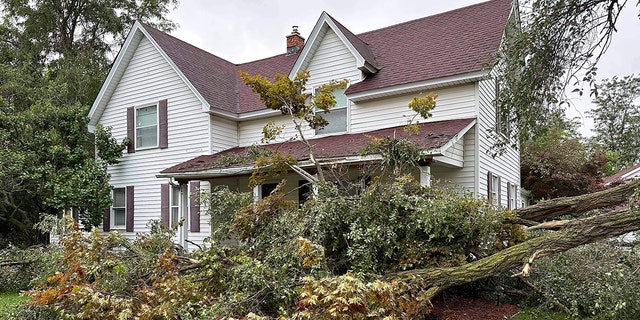 Trees were downed across the state in the storms, including this one in Canton Township, Mich.  (AP Photo/Mike Householder)
"Apparently, these storms have become our new normal," Public Works Commissioner Candice Miller said. "This has been like a tropical storm, and both government and residents will need to make appropriate preparations whenever possible."
More than 460,000 were left without power in the state as of Friday afternoon along with more than 218,000 in neighboring Ohio. An EF-1 tornado moved through Cleveland, Ohio Thursday night, leaving several buildings damaged, including the 143-year-old New Life at Calvary Church.
"2 Timothy 4:17 says, the Lord stood with me and gave me strength," Pastor Kellie Sullivan said in a press release. "Our church has faced major loss and we praise God that no one was hurt. Please pray for our church as we start to rebuild."
The Associated Press contributed to this report.