Tori Spelling is taking the high road and bringing her five kids along for the ride.
The "Beverly Hills, 90210" star posted a glimpse into her time with her family while they shared an RV together.
"as long as we have each other… #summer2023 #familytime #pricelessmemories #ontheroad #backtoschool," Spelling wrote in her Instagram caption.
TORI SPELLING SNUBS DEAN MCDERMOTT AMID DIVORCE RUMORS: 'DARKEST TIMES'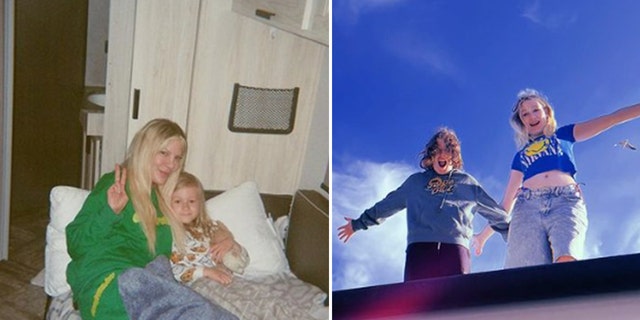 Tori Spelling shared photos of her five children having fun in an RV. (Tori Spelling/Instagram)
The carousel of photos included snaps of her cuddling in bed with one of her daughters, while some of her other children were all smiles giving a thumbs up in the candid pictures.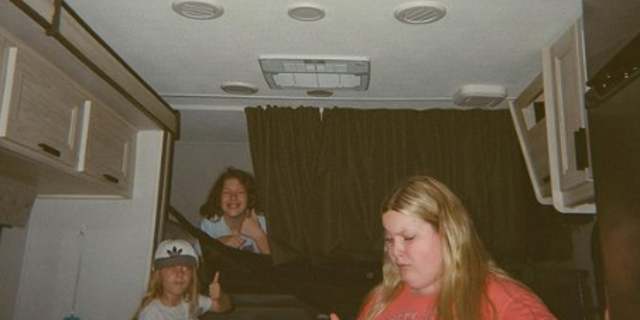 Tori Spelling included snaps of her children all smiles and giving a thumbs up in the candid pictures inside an RV. (Tori Spelling/Instagram)
The 50-year-old actress also shared a few photographs of her kids at the beach and included scenic photos of the coastline.
APP USERS CLICK HERE
          View this post on Instagram                      
Spelling's "priceless memories" moment with her children comes on the heels of divorce rumors with her husband of 17 years, Dean McDermott, who was not featured in any of her new photos.
McDermott, 56, announced in June that he and Spelling are on the verge of a divorce.
TORI SPELLING, DEAN MCDERMOTT GOING 'SEPARATE WAYS' AFTER 17-YEAR MARRIAGE, 5 KIDS: REPORT
"It's with great sadness and a very very heavy heart that after 18 years together and 5 amazing children, that @torispelling and I have decided to go our separate ways, and start a new journey of our own," McDermott wrote in a since-deleted Instagram post, according to the New York Post.
He added, "We will continue to work together as loving parents and guide and love our children through this difficult time. We ask that you all respect our privacy as we take this time to surround our family with love and work our way through this. Thank you all for your support and kindness."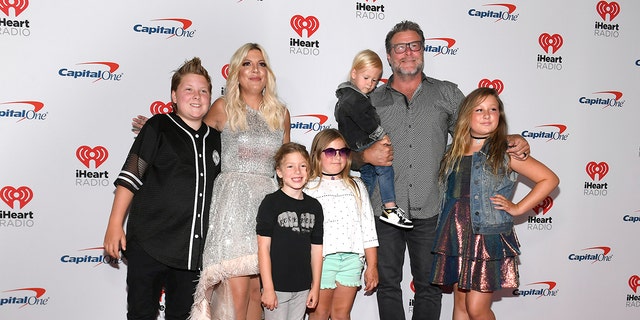 Tori Spelling and Dean McDermott pose for a photo with their five children. (Bryan Steffy/Getty Images)
The couple married in 2006 and have five children together: Liam, 16, Finn, 10, Beau, 6, Stella, 15, and Hattie, 11.
Spelling has not yet publicly commented about the separation.
TORI SPELLING SAYS SHE AND HER FAMILY NEED BRAIN SCANS BECAUSE OF MOLD POISONING
The possible divorce is not the only thing that the actress' family has been dealing with. In May, Spelling claimed the "mold infection" of her rented home has been "slowly killing" her family for the past three years.
The "Saved by the Bell" actress took to Instagram to ask for recommendations for a "mold lawyer."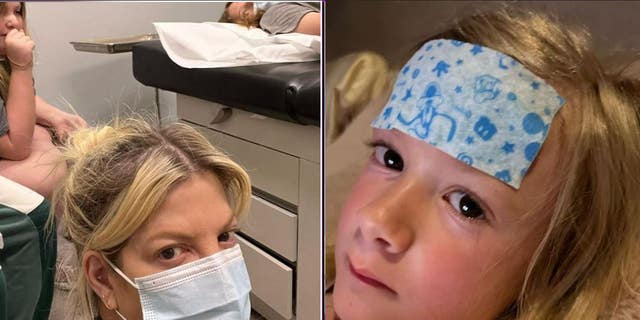 Tori Spelling previously took her children to Urgent Care because of mold poisoning. (Tori Spelling/Instagram)
"Does anyone know how to find a major great MOLD lawyer in CA that can help our family?" the actress wrote on her Instagram story. "Our troubles are next level with our mold problem and the house that's been slowly killing us for 3 years."
"My kids and I are so sick and can't get well and our family needs help. Overwhelmed," she continued. "We do need to start with an amazing lawyer who can guide us through this."
CLICK HERE TO SIGN UP FOR THE ENTERTAINMENT NEWSLETTER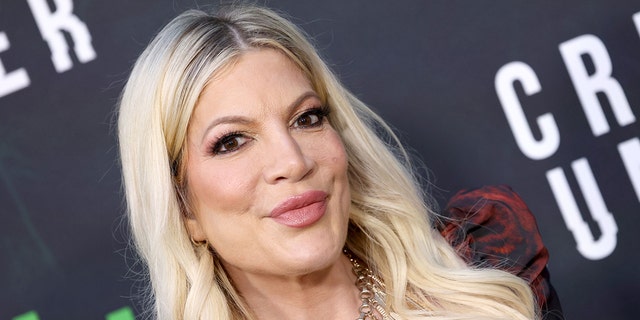 Tori Spelling has dealt with ongoing worried after mold was discovered in the home her family shares. (David Livingston/Getty Images)
Spelling previously shared her family had been in a "continual spiral of sickness" before finding out her rented home was infested with "extreme mold."
"Here we are again at Urgent Care," Spelling posted on Instagram in May along with photos of her and her children in an examination room. "We've all been on this continual spiral of sickness for months. Sick. Get better. To get sick again."
CLICK HERE TO GET THE FOX NEWS APP
Fox News Digital's Lauryn Overhultz contributed to this report.